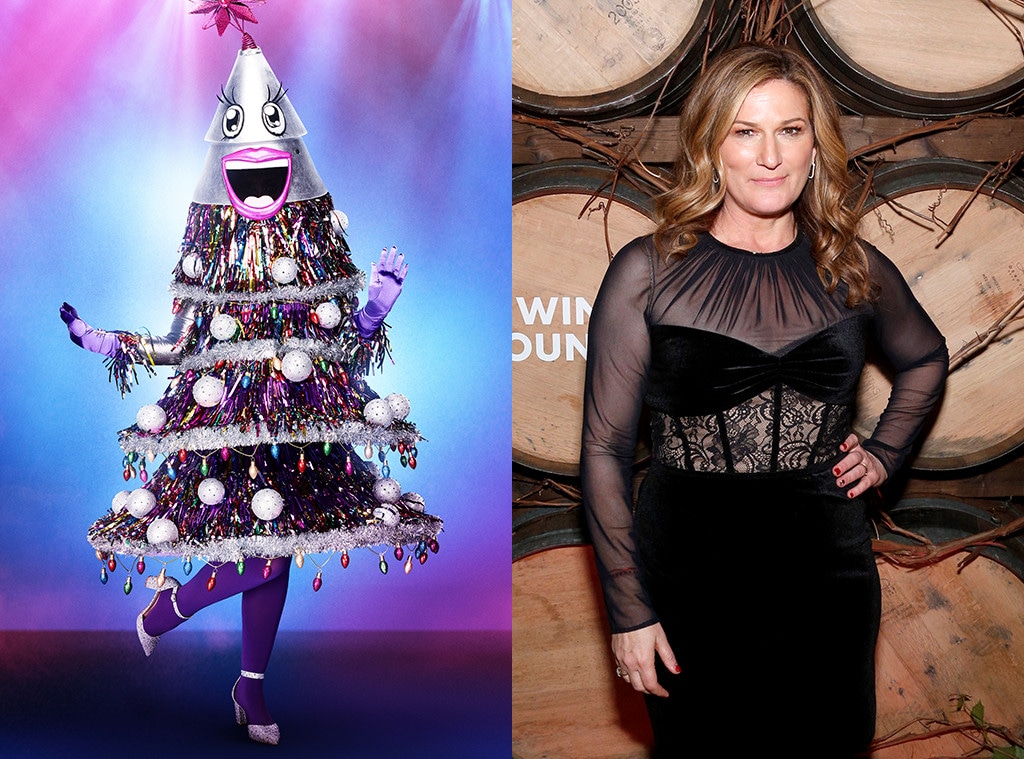 FOX/Getty Images
For this entire season of The Masked Singer, I've felt a special kinship with the Tree. 
Aside from the fact that a sparkly metallic Christmas tree is exactly the vibe I've wanted to have all of this holiday season, the Tree and I have a special one-sided bond due to the fact that she's the only masked celebrity singer whose identity I knew for sure all season long, since I was in the audience when she finally took off her mask and revealed she was none other than Ana Gasteyer. 
The Masked Singer has quickly earned a reputation as TV's most secretive show, perhaps with a little competition from Disney+'s The Mandalorian. Just as no one knew about Baby Yoda before its premiere, no one, at least publicly, seems to know who all the masked singers are. And that's quite a feat in this world run by social media, especially when you consider that there's a whole audience present in the room when that mask comes off...or at least that's how it appears on television. 
In truth, just like with most TV shows, there's a little bit of camera trickery being played here to make you think the room is much fuller than it is when each Masked Singer reveals who they actually are, but the audience has a major role to play throughout the show, whether they truly stay for the end reveal or not. Here's a few things we learned about the magic of television while sitting in that audience, and a few tips if you ever find yourself invited to sit in that studio for an afternoon of truly wild musical performances and more clapping than you ever knew you were capable of.
Watch:
Jenny McCarthy on If Donnie Wahlberg Would Do "Masked Singer"
It's a Long, Long Day
The episode I saw was the first time that all the remaining singers performed and took the stage together, and that day was also used to record a few intros and outros for the clip show that aired at the beginning of the season, with Nick Cannon introducing clip packages and making numerous entrances onto the stage. That made the day longer than usual (about eight full hours), but these tapings are always going to last several hours at least. 
It's a Lot of Clapping 
You're basically clapping for eight hours long, because nearly every thing that happens on that stage earns some applause, or some cheering, or some swaying. So just take a look at those people on screen towards the end of the show, and be impressed by the ones who still look enthused. It's hard to do! 
Prepare to Act
Sometimes, even being in the audience requires a bit of acting. On The Masked Singer, you sometimes have to act like you're excited to see a performance you've already seen several times, or to act like you're watching a performance that is not actually happening in front of you. We would watch the actual masked singer perform their song, and then we'd listen to the background singers perform the song again while cameras caught more audience shots. That meant we had to react, with full enthusiasm, to each song twice. 
There are also hand motions to go along with every single performer, which we learned before the show and then would have to do during performances. 
One thing that's not an act is the voting, which every audience member gets to do with a little device handed out before the show. 
The Unmasking 
So here's where things get tricky with this show. The entire audience is there for the first half of the unmasking, where the singer appears to struggle with taking their mask off and the whole room is yelling "Take it off! Take it off!" (See me, above.) Then, in the most anticlimactic and honestly disappointing moment ever, the masked singer does not remove their mask, while the audience still reacts as if they're shocked by the face they could be seeing underneath. The singer is then whisked away offstage while the majority of the audience is ushered out, to keep the secret for as many people as possible. 
Then, the remaining small chunk of audience is rearranged, clumped together right in front of the end of the stage where the reveal happens and encouraged to really give off some good energy for the performer who's about to actually remove their mask. From there, the reactions are pretty damn real, and everyone who gets to stay in the room gets to enjoy a second performance by the now unmasked celeb. 
They also get to watch the panelists lose their minds, especially when they're Ken Jeong and they were co-stars with the unmasked celeb, as he was with Ana Gasteyer in Fox's A Christmas Story Live in 2017.
By the time I was watching Ana Gasteyer perform "Edge of Glory" as Ana Gasteyer and not a tree, I was freezing in the air-conditioned studio,  I was starving for some dinner, and I had to force my sore hands to just keep clapping, but I felt like I'd learned a special secret that I shared with only the other people in that room. 
I then had to keep that secret for four months, which got tricky especially as the season started airing and I spent hours writing about and discussing the show each week, but I can't say it wasn't a good time, and I can't say I wasn't honored to keep this secret for one of my favorite funny ladies and my favorite insane TV show. 
The Masked Singer ends season two next Wednesday with a two-hour finale, starting at 8 p.m. on Fox.