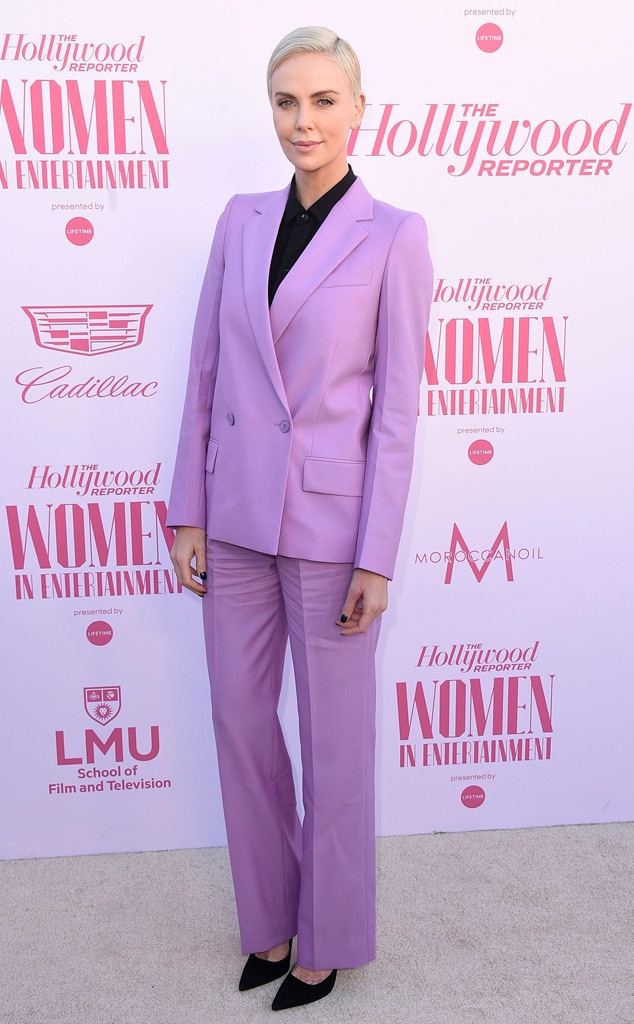 Jordan Strauss/Invision/AP/Shutterstock
Now this is a surprise worth celebrating!
Earlier today, Hollywood's biggest stars attended The Hollywood Reporter's 2019 Power 100 Women in Entertainment event presented by Lifetime.
Held at Milk Studios in Los Angeles, the event featured dozens of teens currently taking part in the Women in Entertainment Mentorship Program. In between hearing inspiring speeches from strong women like Reese Witherspoon, the students received a surprise of their own.
"For many years, WIE has been backed by two very special organizations, Lifetime and the Entertainment Industry Foundation. I'd like to thank Lifetime's Paul Buccieri and Michael Feeney and EIF's Nicole Sexton and Chris Silbermann for all their support," Charlize Theron shared on stage. "Thanks to them, every girl in this room—all 40 of them—will receive a $10,000 scholarship."
According to The Hollywood Reporter, Marilyn and Jeffrey Katzenberg created a $10,000 scholarship fund, which would allow every girl from the program direct access to the Katzenberg Fund, which helps provide books, tuition and travel.
If that wasn't enough, Charlize announced that the Wasserman Foundation would also be gifting every new girl in the program an Apple laptop.
"You get a laptop, you get a laptop, you get a laptop," Charlize joked to the students before pointing to the middle tables filled with celebs. "You guys do not get laptops."
Reese and Ronan Farrow were both honored at the star-studded event that featured John Legend, Mindy Kaling, Gretchen Carlson and Kerry Washington as presenters.
Connie Britton, Sophia Bush, Niecy Nash, Lori Greiner and Ginnifer Goodwin were also in attendance to witness the special announcement for young, deserving students.
Watch:
Charlize Theron Isn't Feeling So Rebellious at Glamour Awards
"Remember how you feel because in the path that you are going to walk, I guarantee you will continue to walk into rooms that make you uncomfortable and ask you to put your best foot forward. Rooms where you feel like you don't belong or you're not sure what to say or when you want to apologize for your big ceilings or your accent or whatever it is," Kerry shared during her speech. "I just want to remind you that is a sign that you are growing in the right direction."
She added, "Continue to step outside of your comfort zone and go to places that challenge you. I am so grateful that you are in this room today. Don't for a second think you don't deserve it. You are receiving the gifts today but we are receiving the gift of you. You are changing lives."