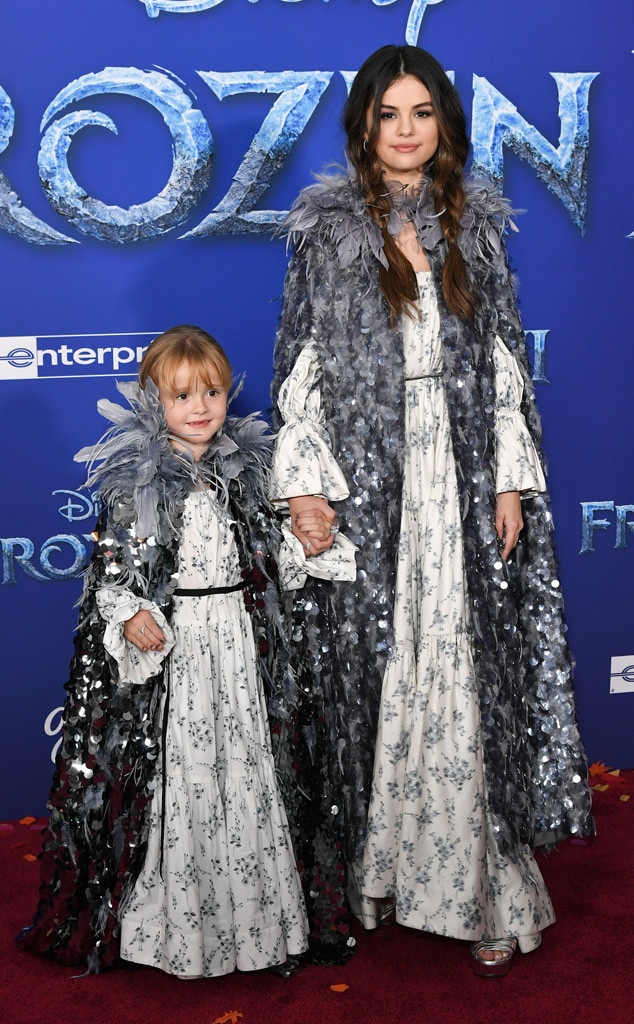 Rob Latour/Shutterstock
Selena Gomez is big sis goals!
Just last month, the 27-year-old star made everyone's hearts flutter when she took her little sister, Gracie Teefey, to the Frozen 2 premiere at the Dolby Theatre in Los Angeles, Calif. Aside from the fact that the two lit up the room with their matching Marc Jacobs ensembles, which included fabulous feather- and jewel-adorned capes, it also marked the six-year-old cutie's red carpet debut.
Speaking to Nick Grimshaw on BBC One's music show, Sounds, Gomez recently opened up about the magical time she and her little sister had at the Disney movie premiere.
"Honestly, it was the coolest feeling," the 27-year-old shared. "I said to her, 'This is my favorite carpet I have ever done.' Because she's never done any of that and we didn't force her to do that. Everything we do... to keep her safe, but my sister's become very dramatic now. She's all about the dresses, and the glitter."
The "Look at Her Now" singer admitted that she was a bit worried how her six-year-old sister would react to the chaos that ensues on the red carpet. 
Watch:
Selena Gomez & Sister Steal the Show at "Frozen 2" Premiere
Considering, Selena is a red carpet pro, she gave her lil' sis some sweet and heartwarming advice before they arrived to the event.
"I bent down and I looked at her before we stepped on and said, 'If you get nervous, if you get overwhelmed, just pull my hand and I'll take you off immediately,'" the pop star explained. "And she's like, 'K,' and walked straight on the carpet and has her full moment with the feathers."
She added, "I'm standing there, and I'm like, 'Gracie, get me in the picture too.'"
Michael Buckner/Variety/Shutterstock
All in all, it was certainly a night to remember for the two.
"She was just living her life," Gomez said. "She had the best time, it was like Disneyland."
With the holidays right around the corner, the "Lose You to Love" me star recently revealed that she plans to spend quality time with her loved ones. In fact, she's using this time to reflect on her past year, which she explained was really "powerful" for her.
"I think every time the holidays come up, there's some part of you where you kind of sit and reflect on the year," she told InStyle magazine. "This year was really, really powerful for me. I can say that I'm so proud of how hard I worked, and that I truly am excited to just sit back with my family, and enjoy, and turn off everything."
"I always just think about what happened, and where I want to go in life, and hope for the best," she added.