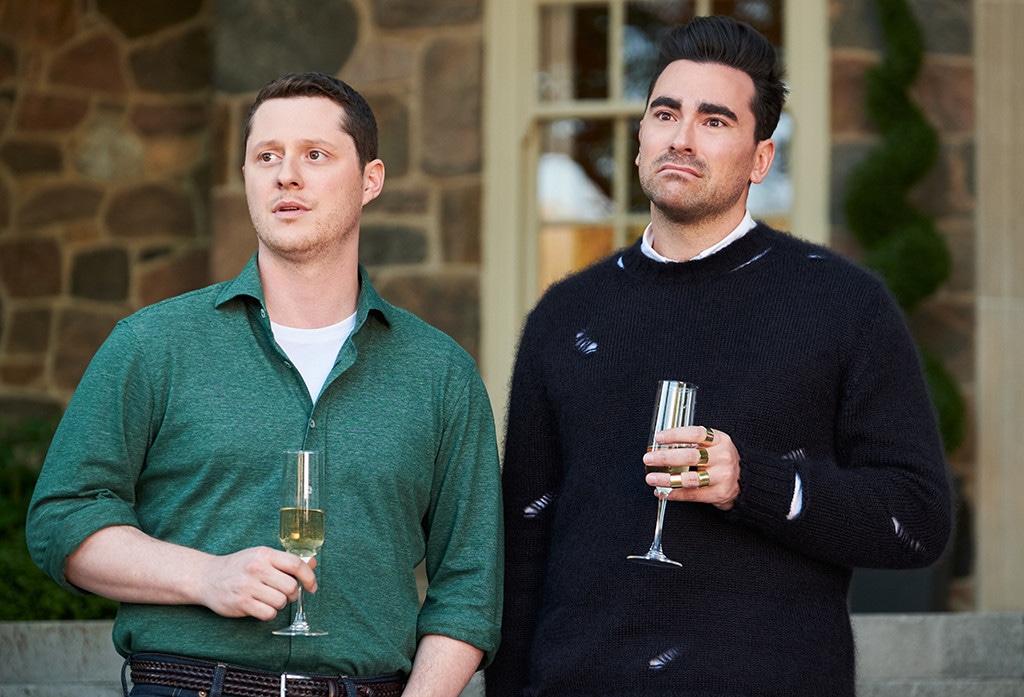 Pop
Dan Levy was startled awake by an early morning phone call on Wednesday, Dec. 11, but there was no need to worry.
"I got a phone call at like 7 a.m. and I was like, 'What the hell is going on?' Fortunately, it was good news. Usually when you get an early morning phone call it's because something dreadful has happened," Levy told E! News.
On the other end of this phone call was good news: Schitt's Creek, the show he stars in, writes, directs, serves as showrunner for and co-created with his father Eugene Levy, was nominated for a 2020 Screen Actors Guild Award for Outstanding Performance by an Ensemble in a Comedy Series. Catherine O'Hara, known to legions of fans as the iconic Moira Rose on the series, was also nominated for her individual performance.
"Nobody could get in touch with my dad this morning because he went for a walk. He's taking care of my dog, went for a walk and left his phone at home, so there was a blackout window where he just left. You know, I would kill for his just nonchalance when it comes to things like this," Levy laughed. "It's just very exciting."
The nominees for the SAG Awards are decided by actors, and no, it's not just a cliché actor statement when they say a nomination (and even better, a win) means so much to them because it comes from their peers.
Watch:
26th Annual SAG Award Nominations Complete List
"Oh my god, no!" Levy said when asked if it was just an actorly saying. "I think between the Critics' Choice and the SAG Awards, you can't get a collective of people that you value more as a creator and an actor. I mean, you want to be recognized by your peers and you want to be recognized by journalists who are respective in their fields. For me, this week has been incredibly humbling to say the least in terms of just the overwhelming gratitude we have for all of this."
Levy, O'Hara, Eugene Levy, Annie Murphy and the show itself all received Critics' Choice Awards nominations in addition to the SAG Awards news.
In early 2019, the Levy duo announced their plans to wrap up the Pop TV comedy (it airs on CBC in Canada) with its sixth season set to debut on January 7. All the acclaim—the show also received four Emmy nominations in 2019—has not made Levy rethink the decision to bid farewell to the Roses and the eccentric characters that populate the small town known as Schitt's Creek.
"Every step of this journey to me has been affirmed by the show's sort of continued success. I think something like this, breaking through into the SAG Awards, is such a huge accomplishment for the show, especially considering how far we've come and how small the show still is. I think the decision to end it, it just feels like, OK, yeah, everything is going to plan in terms of just more and more people finding out about it. I hope that by the time the sixth season airs in a month that this will have only helped us build an even larger viewership…because I really love it and think that, fingers crossed, that I think it's a really great end to a remarkable series," he said.
With the SAG Awards, Emmys, Critics' Choice, a sold-out cast speaking engagement tour, a fan pop-up experience, countless GIFs, Levy admitted it's all still so surreal.
"We will never not be the little show from Canada. That's just how we were born and it's how we were raised. I also just think psychologically, to enter these arenas we're entering this late in the game—it's like we've had four years of nobody knowing who we were or what we were doing," Levy said with a laugh. "So, I think anytime something huge like this happens it's always like, 'Oh, OK. Well, great. Sure. Let's do it!'…It continues to be such a treat."
And it's a reason to just be in each other's presence. After more than six years together, the Schitt's family is tight.
"For us, this is another opportunity for all of us to sort of get together and see each other, which for me is the most exciting part of all of this. Win or lose, we have another excuse to hang out as a group and that will always be a wonderful thing, especially because we don't get to see each other a lot," Levy said.
Schitt's Creek returns for its sixth and final season on Tuesday, Jan. 7 at 10 p.m. on Pop TV. A marathon of season five, which is also streaming on Netflix, will kick start at 12 p.m. on New Year's Eve.