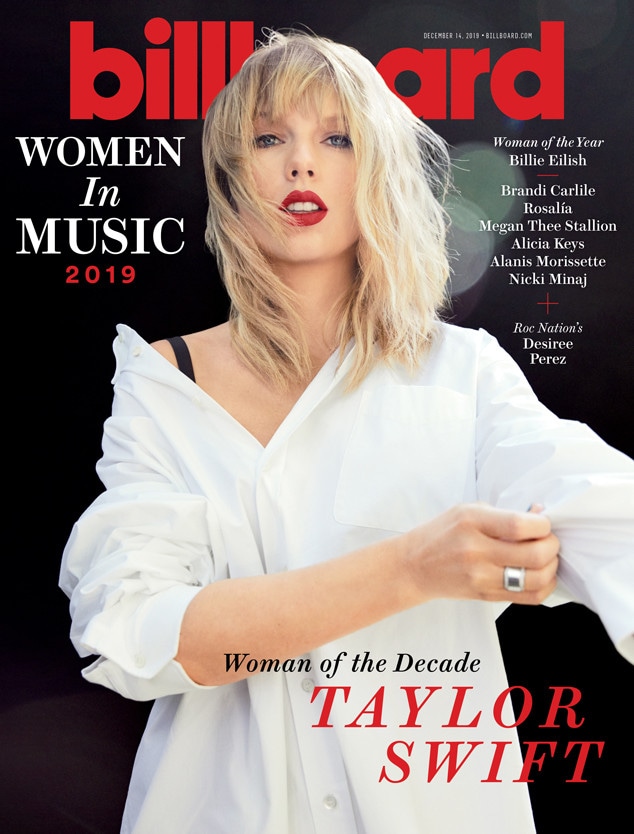 Sami Drasin
Taylor Swift is setting the record straight on all of the rumors surrounding her music battle.
As fans of the superstar singer will know, T.Swift has been at odds with Big Machine Records' Scott Borchetta and music executive Scooter Braun over the rights to her first six album masters. Earlier this year, the "Lover" singer took to Tumblr to react to the news that Braun had acquired Big Machine Records, the label under which Swift released her first six award-winning albums. In her message, Swift—who is now signed with Republic Records and Universal Music Group—said she felt "sad and grossed out" by the move, which was coordinated with Borchetta.
"For years I asked, pleaded for a chance to own my work. Instead I was given an opportunity to sign back up to Big Machine Records and 'earn' one album back at a time, one for every new one I turned in," Swift explained. "I walked away because I knew once I signed that contract, Scott Borchetta would sell the label, thereby selling me and my future."
Now, in her cover story for Billboard, the outlet's Woman of the Decade is opening up about her music battle, and how much she fought to own her work.
In her cover story interview, Swift explained why she wanted to speak up about the injustices in the industry. She also clarified once again, she wasn't given the opportunity to purchase her masters outright.
"I spent 10 years of my life trying rigorously to purchase my masters outright and was then denied that opportunity, and I just don't want that to happen to another artist if I can help it," the 29-year-old star told Billboard. "I want to at least raise my hand and say, 'This is something that an artist should be able to earn back over the course of their deal -- not as a renegotiation ploy -- and something that artists should maybe have the first right of refusal to buy.'"
"God, I would have paid so much for them!" Swift said, referring to her masters. "Anything to own my work that was an actual sale option, but it wasn't given to me."
Though she doesn't own her masters, Swift still has a bit of power with her old music as a songwriter.
"Thankfully, there's power in writing your music. Every week, we get a dozen synch requests to use 'Shake It Off' in some advertisement or 'Blank Space' in some movie trailer, and we say no to every single one of them," Swift shared. "And the reason I'm rerecording my music next year is because I do want my music to live on. I do want it to be in movies, I do want it to be in commercials. But I only want that if I own it."
In 2020, Swift will kick off her Lover Fest, which only has four show dates in the U.S. As for the reason behind this tour approach, Swift explained, "This is a year where I have to be there for my family -- there's a lot of question marks throughout the next year, so I wanted to make sure that I could go home."
Watch:
Why Taylor Swift & Katy Perry's Truce Is What We Need Right Now
Swift, who will soon celebrate her 30th birthday, was also asked the advice she would give to younger self.
"Oh, God -- I wouldn't give myself any advice. I would have done everything exactly the same way," Swift told Billboard. "Because even the really tough things I've gone through taught me things that I never would have learned any other way. I really appreciate my experience, the ups and downs. And maybe that seems ridiculously Zen, but … I've got my friends, who like me for the right reasons. I've got my family. I've got my boyfriend. I've got my fans. I've got my cats."
Swift and Billie Eilish will be recognized at Billboard's 14th annual Women in Music event on Dec. 12 in Los Angeles.