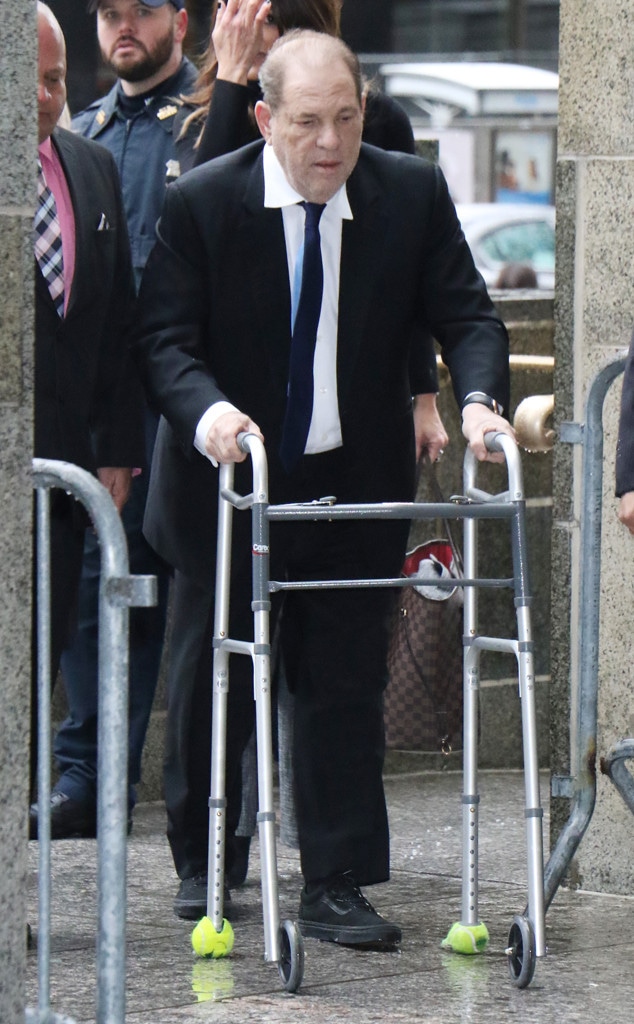 MediaPunch/Shutterstock
Harvey Weinstein used a walker as he arrived to a court hearing on his criminal sexual assault case in New York City on Wednesday, while a judge increased the disgraced Hollywood producer's bail to ensure he will not flee ahead of his trial after he allegedly failed to wear his electronic ankle monitor.
The 67-year-old is scheduled to undergo back surgery on Thursday to relieve back pain sustained from a car accident in August, his attorney Donna Rotunno said at the hearing, adding that his legal team insisted he use a walker, according to reports.
"We wanted him to use a walker last week and Mr. Weinstein didn't want the press to think he was seeking sympathy," Rotunno said, according to CNN. "He is in pain, he's having surgery, and we will be back in court on January 6 for trial."
At a hearing last week, Weinstein did not use a walker but was held up physically by another man as he walked to the court, while another member of his entourage carried a cane for him.
Weinstein has pleaded not guilty to charges he raped a woman in a New York hotel room in 2013 and performed a forcible sex act on a different woman in 2006. He could face life in prison if convicted. The producer, who has been accused of sexual harassment and assault out of court by dozens of women, has denied all allegations of non-consensual sex.
Weinstein had been free on $1 million bail since May and was given an ankle bracelet. Prosecutors had sought to raise his bond to $5 million, claiming last week that he had left part of his electronic monitor at home dozens of times. His lawyer blamed "technical glitches" like dead batteries, telling reporters, "It has nothing to do with any manipulation of the bracelet. The minute he realized he forgot it, he made a phone call," according to NBC New York.
Watch:
Rose McGowan Gets Offended Over Harvey Weinstein Question
At Wednesday's hearing, the judge ordered Weinstein to continue wearing his ankle bracelet and offered him three options: $5 million cash bail, a $50 million security bond partially secured at 10%, or a $2 million insurance company bond. His lawyer said he opted for the latter, which would be secured with his original $1 million cash bail plus additional assets, according to CNN.
The judge also said that should Weinstein have any further medical issues, the court would "not be terribly understanding," and also asked him if he understood that if he failed to appear, a warrant would be issued for his arrest.
"I have every intention of being here," CNN quoted him as saying.