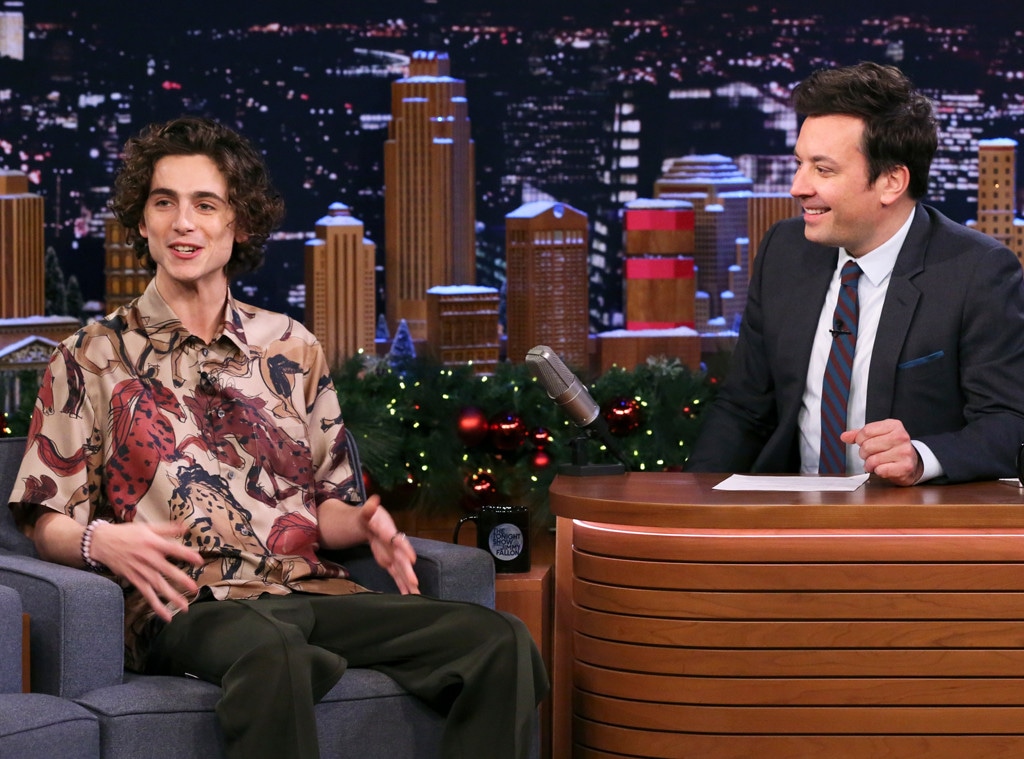 Andrew Lipovsky/NBC
Timothée Chalamet is still getting used to fame.
During an appearance on Monday's The Tonight Show Starring Jimmy Fallon, the Little Women star revealed all of the details behind the photos of him, Pete Davidson and Kanye West at Kid Cudi's birthday dinner, shared by Kim Kardashian in January. And as he explained it, his imposter syndrome was strong that night.
The actor started things off by clarifying the key detail. As he said to Jimmy Fallon, "Kid Cudi, that's my favorite artist ever. I wouldn't be acting without him, I wouldn't be pursuing this crazy career." Luckily for him, his fame means he had the chance to not only connect with his icon, but also get his phone number!
That said, the star continued, "I just texted him on the morning of his birthday, and he said, 'Oh, come to dinner tonight.' I did not know that was what I was walking into, which was awesome, but was surreal. Had to go in the bathroom, send a couple texts."
So, he thought he was just sharing a meal with the rapper, which he said "already would have been surreal." Low and behold, Davidson is there when he arrives!
As Fallon asked, "So, it's you, Pete and Kid Cudi, and then how do you know if Kim and Kanye are coming?"
The short answer is, you don't. Not until they walk in. "Well, I got there and I had a sneaking suspicion that there was not enough seats for everyone, so I thought I was gonna be safe," he quipped. "Not safe, just what it was. And then, we're hanging out. And then, it feels like there's an earthquake in the restaurant. It was epic. You turn around and I was like, 'Holy s--t.'"
Enter Kimye.
Watch:
Are We All Over Timothee Chalamet's Overalls? - What the Fashion (S2, Ep34)
The 23-year-old went on to share that while he's somewhat used to being an A-lister with other A-list friends, he still felt a bit out of place at this dinner.
"I feel like I'm in this now, a little bit," Chalamet admitted. "But then I'm like...I feel like too much of a fraud or something. So, I'm like, 'What?! This is nuts!'" So, what did he do? Naturally, he texted his best friends while he freaked out in the bathroom.
As The King star shared, "I went to the bathroom. Seriously, I sent a text to two friends, like, 'Am I worth? Does this make sense?' And they were like, 'Man, 16-year-old you would slap the sh*t out of you and you'd go back to the table.' I went to the table, and then it was fun. It was a good time. And then you have enough like random whatever they have at the table and you forget about all of it anyway."
It's okay, bud. You'll be used to having famous friends eventually. (Also, please invite us next time.)