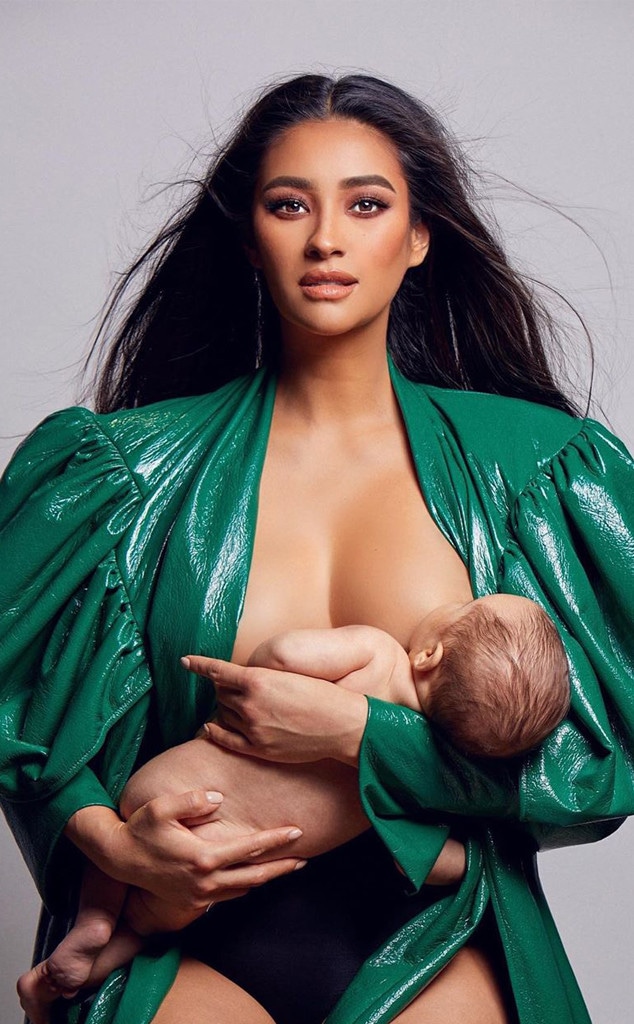 Instagram
Such a pretty little photo!
On Tuesday, Shay Mitchell shared an empowering photo while breastfeeding her 2-month-old daughter Atlas. Standing tall and proud while nursing her little one, who she shares with longtime love Matte Babel, the Pretty Little Liars star is giving the camera a fierce smize dressed in an opened green leather wrap blouse and high-waisted underwear.
So, what do you caption such a powerful photo? "Breast friends," the new mom wrote on Instagram. Nice!
Shay's celeb pals were quick to leave the star some love in the comments section, including mom-to-be Ashley Graham, who wrote, "Mommy Goals!" Fellow PLL alum Torrey Devitto commented, "Holy [fire emoji] , this picture !!!" Also chiming in was Vanessa Hudgens, who wrote, "I mean come onnnnn." Capturing her radiance in the photograph, Emily Ratajkowski left the star a sparkly star emoji.
Since welcoming Atlas in October, Shay has been documented their adorable mother-daughter moments on Instagram.
Last month, she shared a snap of her baby girl wrapped in a cozy sherpa onesie during one of their adventures. "So cute it's unBEARable (mom joke)," she captioned the pic. Further proving that her mommy puns were on point, she posted another picture, writing, "This baby was Björn to travel."
To commemorate Atlas' one-month milestone, the Dollface star shared a not-so extravagant picture of her and Matte's celebrations, which included ordering pizza. "My Super Sweet One Month Birthday extravaganza was a success - we had trapeze artists, champagne fountains, and zebras..... just kidding. We had milk and naps."
But alas, Shay says that being a new mom isn't all fun puns. In a recent interview with Vogue, the star opened up about how she's been adjusting to motherhood—starting with not getting any sleep.
Watch:
How Shay Mitchell Told "Dollface" Costars She Was Pregnant
"I got three hours of sleep last night, so that was a good one," she joked. "There is a lot of stress and anxiety. I'd heard all these things from my friends saying, 'You're going to second guess a lot of things you do, you're going to feel guilty when you leave her.' [It's been all about] just taking the time to get ready and be by myself to [say,] 'Okay cool, now I can handle this, I've got this, so many people have done this before me, and so many people have felt the same way.'"
Being a mom has also come with tons of reprioritizing for the You star, especially when it comes to balancing work and catering to her daughter's needs.
"When she's awake, we just kind of have a chill moment together," Shay said. "I've had to reprioritize my work time with her schedule, and that's been interesting for me. Before it was all about my schedule, now I work once she falls asleep."
Thankfully, the new mom has found ways to fit in a little me time as well. While Atlas is taking a snooze, Shay detailed the self-care regimen she follows these days. 
"It's putting on a nice nightgown if I'm staying at home, which is most of the time now," she explained to Vogue. "As much as it is hard because you just want to put on that old T-shirt that's right next to the bed, I really do try, I have a shower, I put on a beautiful lotion and a nice robe, just something that makes me feel like myself; and then I can continue throughout the day."