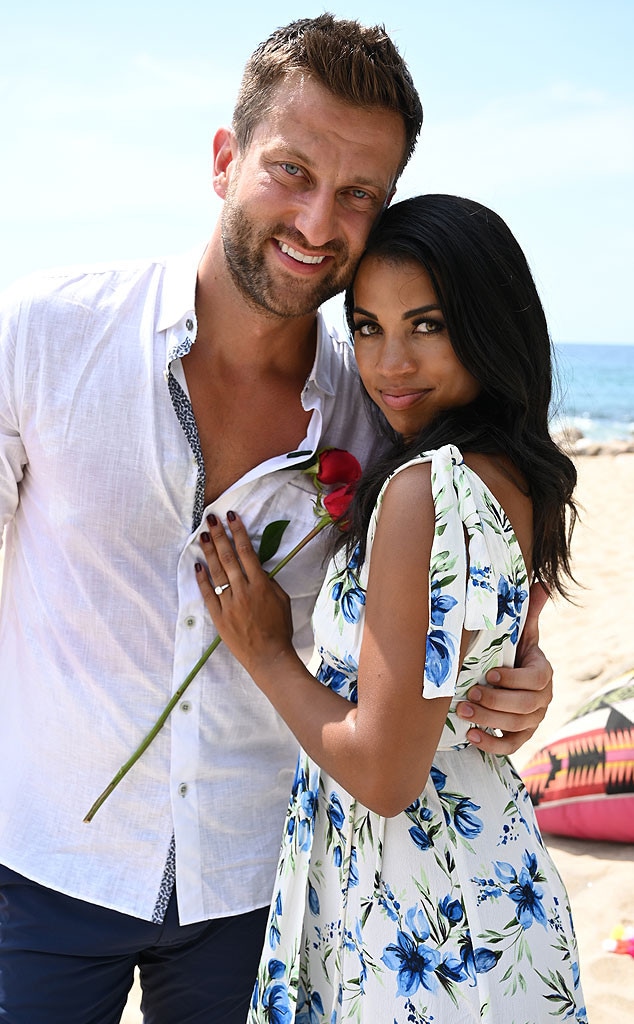 ABC/John Fleenor
It's over for Chris Bukowski and Katie Morton.
The Bachelor in Paradise couple announced their split via Instagram on Tuesday.
"One of the many lessons this life has taught us is that it's okay to be stubborn in the pursuit of happiness," Bukowski wrote alongside a photo of the couple from their time on the ABC show. "To fight for what is real and good, and that often times the hardest thing and the right thing are the same. We've reached a point in our story where we agree it's best to go our separate ways. We have chosen to love and respect each other as friends because that's the base of our relationship, and it's what is most natural for us. We are incredibly thankful for the support we've received from our family, friends and everyone who supported us throughout our journey—from Paradise to this moment. We are grateful for everything that we've learned in this chapter, and are hopeful for what is to come in life and in love for both of us." 
Morton also shared the same statement with a separate photo of the duo via her account.
Fans had a feeling there was trouble in paradise after noticing Bukowski and Morton didn't regularly feature each other in their social media posts. Meanwhile, a source tells E! News that the pair were "always on different pages" when it came to their future together.
Explains our insider, "They were fighting before it even got very serious between them and everyone around them knew it wasn't going to last. They couldn't agree to live in one place together. The distance and their lives being in two different places was a factor."
"It is really sad because they do care about each other and shared great moments together as a couple, but it was never going to be long-lasting," adds our source. "It's always been very hard for Chris to commit and Katie wanted things to escalate very quickly. She was ready for something serious and Chris was simply not. They couldn't make it work and Katie felt like she was always begging and forcing Chris to have stronger feelings than he did."
Rich Fury/Getty Images for New York Magazine
As fans will recall, Bukowski and Morton fell in love on season six of Bachelor in Paradise and got engaged. But when Morton showed up to the After the Final Rose special without her engagement ring, fans had some concerns.
"We're still engaged," she told host Chris Harrison at the time. "I just put in so much effort every day, and I love him so much. But I put in so much that my tank empties. And if I'm not getting it filled, I break down."
Bukowski also admitted their relationship had been "rocky." Still, the two reality stars reaffirmed their love for each other and Morton wore her engagement ring once again. However, viewers later saw the two get into an argument, with Bukowski saying he felt "blindsided" by Morton's claims.
In September, Morton suggested the two were going strong.
"It was what it was," she told E! News about the finale. "It was real, it was honest. I have no regrets. It's different to see yourself in that environment, but we are doing so great now and so I'm happy. That totally was a growing and turning point for our relationship."
Still, fellow cast member Demi Burnett had her concerns about the couple's future.
"You know, honestly, at this point, I'm worried about Chris and Katie," she said on a recent episode of The Ellen DeGeneres Show. "I know that Katie is an optimist and she sees the good. She gets glimpses of the good parts of Chris, but I think that Chris needs to step it up, like, if he wants to keep her. And I think that she needs to, you know, tell him to step it up—and I know that she is. But, you know, honestly, it's like—couple's counseling. It's not a negative thing." 
Nevertheless, Morton confirmed she was still engaged to Bukowski in November.
Watch:
Demi, Dylan & John Paul Tease "Bachelor in Paradise" Season 6
Bukowski and Morton aren't the only ones from their season to break up. Burnett and Kristian Haggerty also announced their split in October.