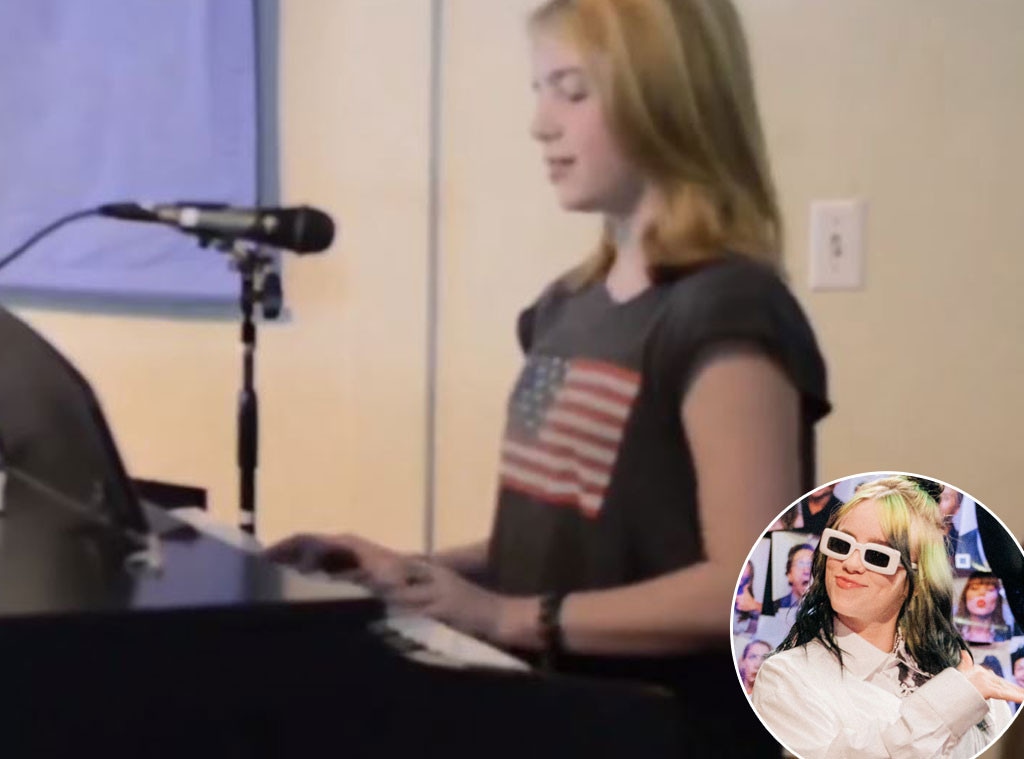 Terence Patrick/CBS, YouTube
Billie Eilish is music's youngest superstar, but she just gifted her fans with a video of her even younger self being a musical prodigy.
During an appearance on Monday's The Late Late Show with James Corden, the 17-year-old Grammy nominee had the chance to hang out with one of her idols—Alicia Keys, who was serving as the show's guest host. The two singers got to talking about Keys' cover of "Ocean Eyes," which Eilish said absolutely shook her because she's been a fan for so long. Then, she shared a surprise with the 2020 Grammys host.
"You don't even know," Eilish teased. "A little surprise. I don't know if they got this video ready, but a year before 'Ocean Eyes' came out—which is what you covered, which is crazy—I did a cover of 'Fallin'' at a talent show at 12."
Excited AF and completely surprised, Keys then had the video play. And sure enough, 12-year-old Eilish appeared on screen in a home video.
In the short clip, the "Bad Guy" singer sports blonde hair and an American flag T-shirt as she sits and croons at a piano. Naturally, she sounds incredible as her younger self belts out the lines, "I keep on fallin' in love with you / Sometimes I love you, sometimes you make me blue."
It's a different sound from the star, who has made her mark with her intentionally soft vocals.
Watch:
Lizzo Leads 2020 Grammy Nominations With 8
She couldn't help but continue to gush over Keys' music success when she said, "I mean, you! Dude, when she went to the Grammys, she won, like, a billion. First time. First time going. I don't think it's gonna go as well for me as it was for you, but I'm excited, I'm nervous. I got all the emotions."
Eilish's dreams came true even more when, later in the interview, she and Keys performed a duet of "Ocean Eyes." Here's hoping this dynamic duo teams up for something at the Grammys on Jan. 5!