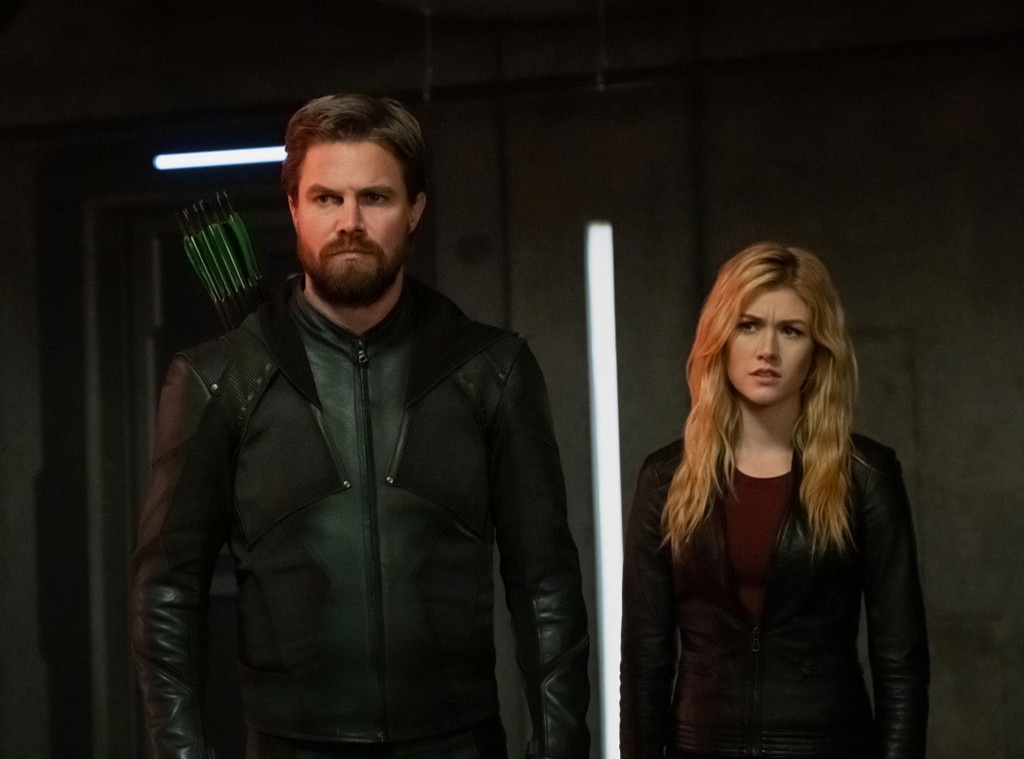 The CW
Two episodes down, three to go. 
The second part of Crisis on Infinite Earths just aired, and things aren't looking good for the multiverse in any way, shape, or form. First, we lost a whole bunch of beloved superheroes and universes, and then we lost the whole of Earth-38, minus a couple billion people who were saved via spaceship. We also lost Oliver Queen (Stephen Amell), who died trying to save those billions of people. 
But of course, Oliver's friends and family weren't going to just let him stay dead. Tonight, Barry, Mia, Sara, and Constantine headed out in search of lazarus pits in other universes, and they found one! Oliver's body is now alive, but his soul has yet to be returned, despite Constantine's best efforts. And honestly, how lame would it have been if Oliver had been brought back to life so quickly anyway? 
Mia and Barry have really been leading the charge in trying to get the Green Arrow back, and while yes, there are magical pits involved, Kat McNamara says we're also just watching real grief. 
"It really is the stages of grief," she told us. "There's the shock and the denial and the anger and the guilt and all of these things, and you see Mia go through it all during this crossover. It's really interesting to see her be so emotional in so many ways, because it's not something that we're really familiar with seeing out of Mia. She's surrounded by strangers, for the most part, in one of the most dramatic moments of her life. She's literally on another planet while the entire earth has been pulled out from underneath her. It's a lot to process, and it's a lot to deal with, but in true Queen-Smoak fashion, she's pulled herself up by her bootstraps and tried to handle it in the best way that she can." 
She's also dealing with the legacy her father just gifted her, by giving her her own Green Arrow suit in part one. 
"You really do get to see those vulnerable moments from her, from the time she gets the suit and starts to really understand what it means, to the time that Oliver actually breathes his last breath. She's fighting for him, and she's resisting this, because she's not ready. She's not ready to take on the mantle. She doesn't think she knows what to do with it. And she doesn't think it's her time or her place to take over the legacy that she's come to have so much respect for in fighting alongside her father for this amount of time." 
Putting that suit on is a major moment for any actor and probably any superhero, and McNamara said it made her feel so grateful to be a part of such an "iconic" story. 
"When you're standing there on set surrounded by a couple folks with the big S on their chest and maybe somebody with a bat on their chest, you look around and you go, this is really special, and it's really a moment that I'm gonna remember for the rest of my life, and makes me really grateful that I get to do something like this for my job." 
So what's next for the new Green Arrow as she's grieving the loss of the former Green Arrow? From the sound of it, some very extreme measures and a little help from her dad's best friend. 
"Diggle and Mia will go to any lengths to exhaust any option they have to save Oliver," McNamara teases. "And whatever they have to do, whatever sacrifice they have to make, no matter how risky, they will do it. And we'll see what the outcome of that is and what the cost of that is and what the cost of that is, but they certainly go to extreme lengths to try to remedy this."  
She says they believe there's "gotta be a way around this," especially given the fact that Sara Lance is standing right there, and she's very successfully come back from the dead. 
"You know, we have aliens and godlike beings and all these other things surround them. There has got to be a way. The Monitor has already taken her mother from her, and Mia will be damned if she's going to let the Monitor take her father too. She will do anything to get him back, and fight anyone, and take on any obstacle, and go any distance, and that's something that really speaks to the fact that whether or not she knows it, Mia is ready to take on her father's legacy, and she is ready to carry on the mantle as it were." 
As McNamara points out, we've known Oliver's death was coming for months now, but few probably expected it to come so early on in the crossover, which is all part of the creators keeping us on our toes. 
"I heard [Stephen Amell] and [executive producers Marc Guggenheim and Beth Schwartz] and everybody talk a lot about this, sort of given that, you know, the Monitor predicted this to come to pass so long ago, they had to figure out some way to keep it exciting for audiences," she says. "So that's the sort of the mechanism of having this event happen so early on in the crossover. What you're expecting to happen happens, but now what? There's so much crossover left and the dilemma still isn't solved. So now, what do we do?" 
We'll find out tomorrow at 8 p.m. on The CW.