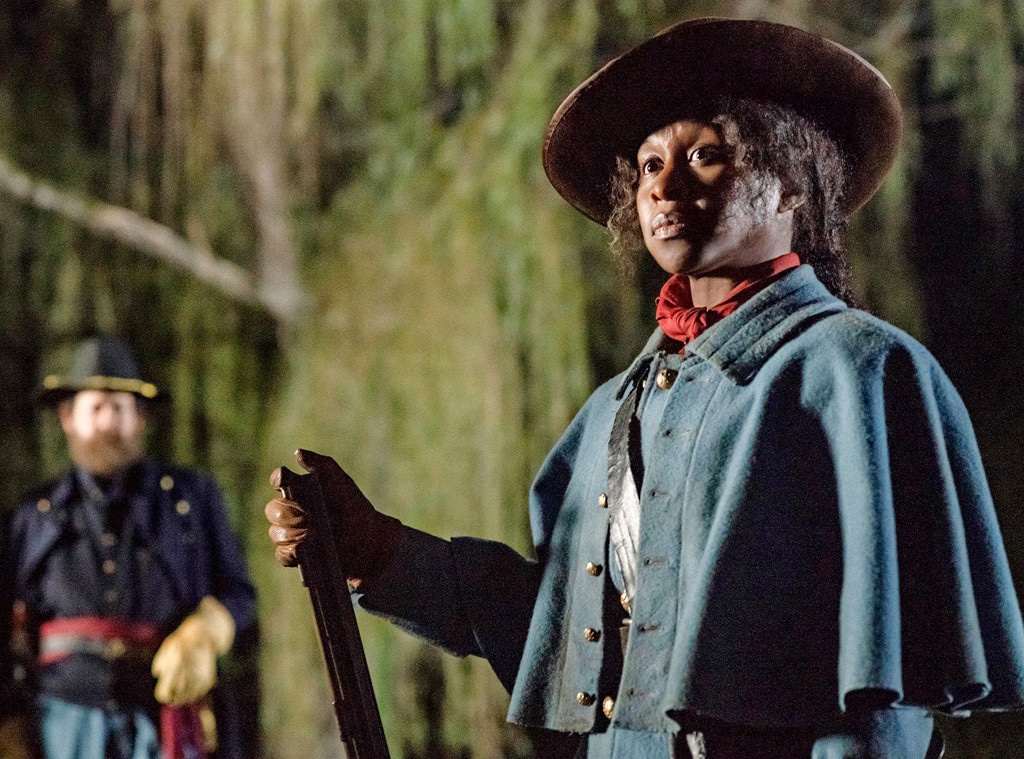 Glen Wilson / Focus Features
Before 2015, if you asked an American who Cynthia Erivo was, outside of certain circles, you'd be hard-pressed to get a right answer. Now, after conquering Broadway with an acclaimed run in the 2015 revival of The Color Purple, Erivo is a Hollywood player commanding attention and buzz with Harriet, the biopic about Harriet Tubman.
Erivo received her first Golden Globe nominations for Harriet, one for Best Actress in a Motion Picture —Drama and another for "Stand Up," which she sang and co-wrote, in the Best Original Song category. Not only has the project garnered her nominations and praise, but playing the American abolitionist left a lasting impression on the 32-year-old English actor.
"The thing I admire about her was the way she led with love. I don't know that people know that," she said.
"I don't know that people know this woman was a hero because she loved her family and she loved her husband, and saw that she needed them just as much as they needed her, and that she wanted to give them freedom. And through freeing them, [she] realized that everybody deserved freedom. That sticks with a person. The determination and the force of will and the power in that. I got to be at one with my faith and how I believe, and just because she was so adamant in what she believed, it just gave me the space to sort of explore it more. So, yeah, definitely left an impression on me for sure," Erivo said about the movie role's lasting impact.
Watch:
2020 Golden Globe Film Nominations - Drama
When it came time to write "Stand Up," Erivo was already filming her HBO series The Outsider. She said she was in a completely different headspace but returned to the world of Harriet to craft the song. "I knew that I wanted to be a part of it," she said about writing the song.
"I love being able to use my creativity in that way because that's my love, music is a love of mine, and writing music is definitely at the top of the list of things I love doing. And so, working with Joshua [Brian Campbell] was wonderful, and then to be able to pull in a couple of friends of mine who I knew were incredible musicians and producers to create the song was really a gift. I genuinely wanted to work on it with a friend of mine and, I was able to pull him on. His name's Will, he's the producer, on the track, and we managed, hopefully, to create something that was really special and I'm proud of it and I'm glad people like it," Erivo said with a laugh.
For the song, which you can hear above, Erivo said she drew on her experience playing the iconic American figure. "There was no other way to have done it, you know?"
Erivo became known to American audiences for her work on stage as Celie in the Broadway revival of the musical The Color Purple. She won a Tony, Grammy and Daytime Emmy for work all connected to that role. She said the experience of putting it all out there on stage vs. film is a whole different thing.
"Both very massive feats of physical prowess, and emotional prowess and humanity. But I think the main difference is you get the response from the audience when you're on stage. They tell you what they need. They tell you what they're feeling, they tell you what they want. Whereas on film, you kind of have to go with your instinct, you trust that your director has your back. You have to trust that the people that you're in a scene with that your colleagues are on the same cord. I think I was lucky with Harriet. I think I had people who cared just as much as I did about the story we were telling. So, I definitely wouldn't be here without them, that's for sure," Erivo said.
National Geographic/Richard DuCree
Harriet was helmed by Kasi Lemmons who also cowrote the screenplay. No female director was nominated for Best Director at the 2020 Golden Globes. "We have to change that. We just have to; we just have to. Because there's so many beautiful films made by incredible women this year, beautiful series directed by amazing women, some of them I know very well. And I think it's disappointing because we have to get to a place at some point whenever we make the playing field even, and we give kudos to those people who are making good art. It happens to be women as well. I hope that changes," Erivo said about the female director shutout at the Globes.
Erivo is currently in production on Genius: Aretha, the Aretha Franklin miniseries from executive producers Ron Howard and Brian Grazer. She's no stranger to singing the songs of the late Queen of Soul, but playing her is another story.
"It's been amazing to work on the transformation and work on the music. She's a hero of mine. It's music that I've been listening to for a very long time, music that I've been singing for a really long time And now to be able to learn what it is to sing it as her, to study it that way, it's just a new skill that I'm really excited to learn and into," Erivo said. "I'm excited to get farther into the process because I think we'll uncover some really wonderful things and it's starting to feel good. You know, it takes a moment to really start getting into the work you're doing, and we're getting there, I think. I think we're getting there."