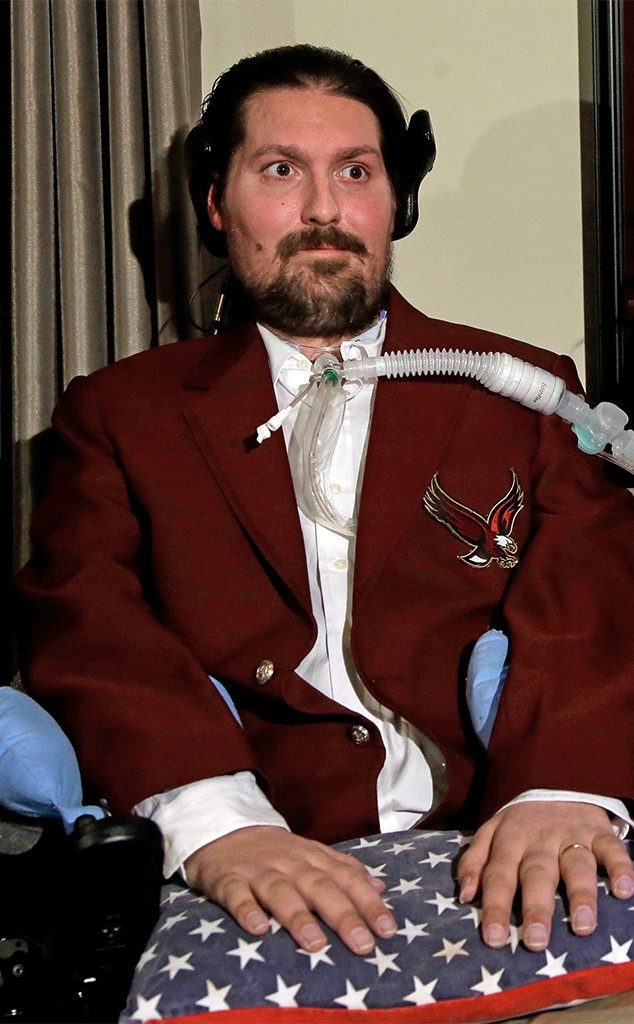 Steven Senne/AP/Shutterstock
Pete Frates, the inspiration behind the Ice Bucket Challenge, has died at the age of 34.
His family announced his death in a statement published by Boston College, Frates' alma mater. According to the statement, Frates died on Monday surrounded by his family after battling with amyotrophic lateral sclerosis (ALS, also known as Lou Gehrig's disease) since 2012.
As the statement read, "Today Heaven received our angel: Peter Frates. A husband to Julie, a father to Lucy, a son to John and Nancy, a brother to Andrew and Jennifer, Pete passed away surrounded by his loving family, peacefully at age 34, after a heroic battle with ALS."
"Pete was an inspiration to so many people around the world who drew strength from his courage and resiliency," the announcement continued. "A natural born leader and the ultimate teammate, Pete was a role model for all, especially young athletes, who looked up to him for his bravery and unwavering positive spirit in the face of adversity. He was a noble fighter who inspired us all to use our talents and strengths in the service of others."
The family then laid out his lasting legacy. "Remarkably, Pete never complained about his illness," they said. "Instead, he saw it as an opportunity to give hope to other patients and their families. In his lifetime, he was determined to change the trajectory of a disease that had no treatment or cure.
"As a result, through his determination—along with his faithful supporters, Team Frate Train—he championed the ALS Ice Bucket Challenge," they went on. "In August of 2014, the historic movement pioneered social media fundraising and garnered donations globally that resulted in better access to ALS care, genetic discoveries, treatments and, someday, a cure. He was a beacon of hope for all."
Watch:
In Memoriam: Fallen Stars of 2020
His loved ones then urged his supporters to keep his legacy alive "by following his daily affirmation: Be passionate, be genuine, be hardworking and don't ever be afraid to be great."
The Ice Bucket Challenge was a fundraising campaign that went viral on social media in August 2014. The premise of the challenge was that if you were nominated, you had 24 hours to make a donation to the Amyotrophic Lateral Sclerosis Association in addition to pouring a bucket of ice water over your head.
The movement picked up so much steam that some of its participants included Bill Gates, Kim Kardashian and Ellen DeGeneres, among millions of others, and it raised over $115 million.
Our hearts are with Frates' family and friends during this difficult time.