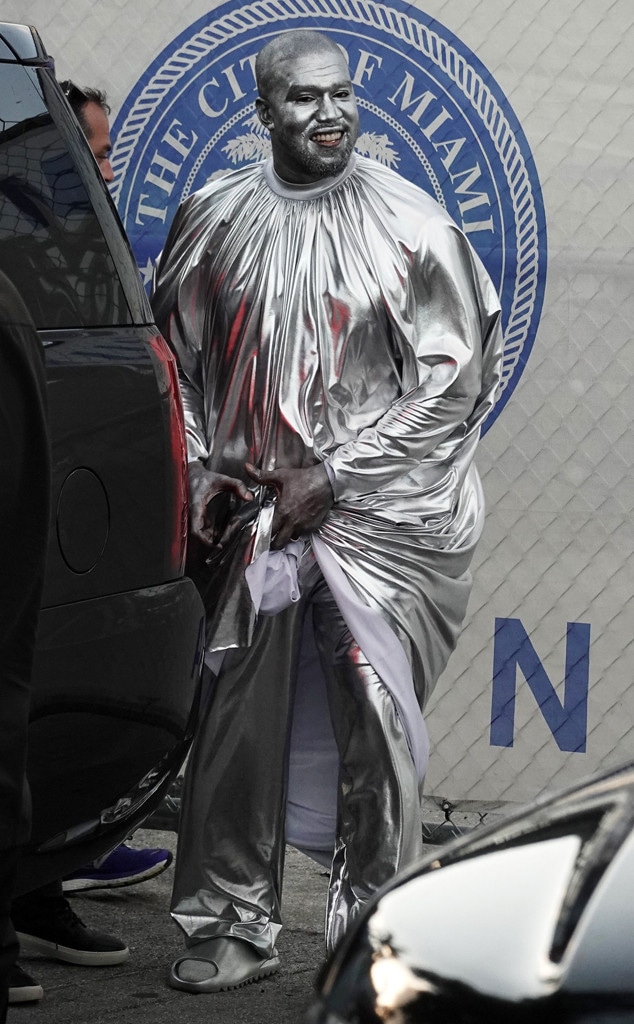 MEGA
Kanye West knows how to make an entrance.
On Sunday night, the 42-year-old star stepped out in Miami to debut his Mary opera at the Marine Stadium in—wait for it—silver paint that covered his entire face. That's right, Ye took his onstage outfit to a whole other level as he literally was dripping in silver from head-to-toe. While it's unclear why he chose to paint his face silver and wear an all-silver metallic ensemble, it's safe to say it's going to be one unforgettable lewk.
While in Miami for Art Basel, the newly announced gospel singer decided to bring his opera performance back. Kanye first premiered Nebuchadnezzar last month in Los Angeles, Calif.
"Kanye went all out for the debut of his new opera Mary at Art Basel," an eyewitness told E! News. "Everyone was dressed in silver with their faces painted silver. Even Kanye's shoes and socks were silver. They performed 'Devil in a New Dress' and everyone held hands with Kanye right in the middle narrating the show."
"Kanye was very into the entire production," the insider added. "He was focused and into it every moment. It was a big scene with people watching from boats and on shore. It was a beautiful and big performance. Kanye enjoyed the day and seemed very happy with it. At the end he toasted with a bottle of champagne which was shared among some of the performers and they sailed away on a yacht together."
Kanye's flashy and almighty outfit comes a few weeks after he called himself the "greatest artist that God has ever created."
"Now, the greatest artist that God has ever exist- uh, created is now working for Him," Ye said during his appearance at Joel Osteen's service, as seen in a video posted by TMZ.
Watch:
Kanye West's "Jesus Is King" Album: Everything We Know
"I know that God has been calling me for a long time and the Devil has been distracting me for a long time," he continued. "And when I was at my lowest point, God was there with me, and sending me visions and inspiring me."
Of course, the 42-year-old star's latest album is also centered around gospel. Jesus Is King dropped earlier this year and debuted at No. 1 on Billboard's 200 Albums Chart.
And on Thanksgiving, the musician surprised fans with an epic music video that featured family, including his wife, Kim Kardashian's famous relatives.
The SKIMS founder starred in the video, "Closed on Sunday, alongside her kids, North, Saint, Chicago and Psalm West. More exciting, though? Kris Jenner made a special appearance and even got dolled up for her music video cameo. 
Additionally, Kourtney Kardashian and her children, Mason, Penelope and Reign Disick, joined in on the fun for Kanye's video.
From the Jesus Is King singer's latest outfit to his gospel awakening, we can't wait to see what he surprises us with next.