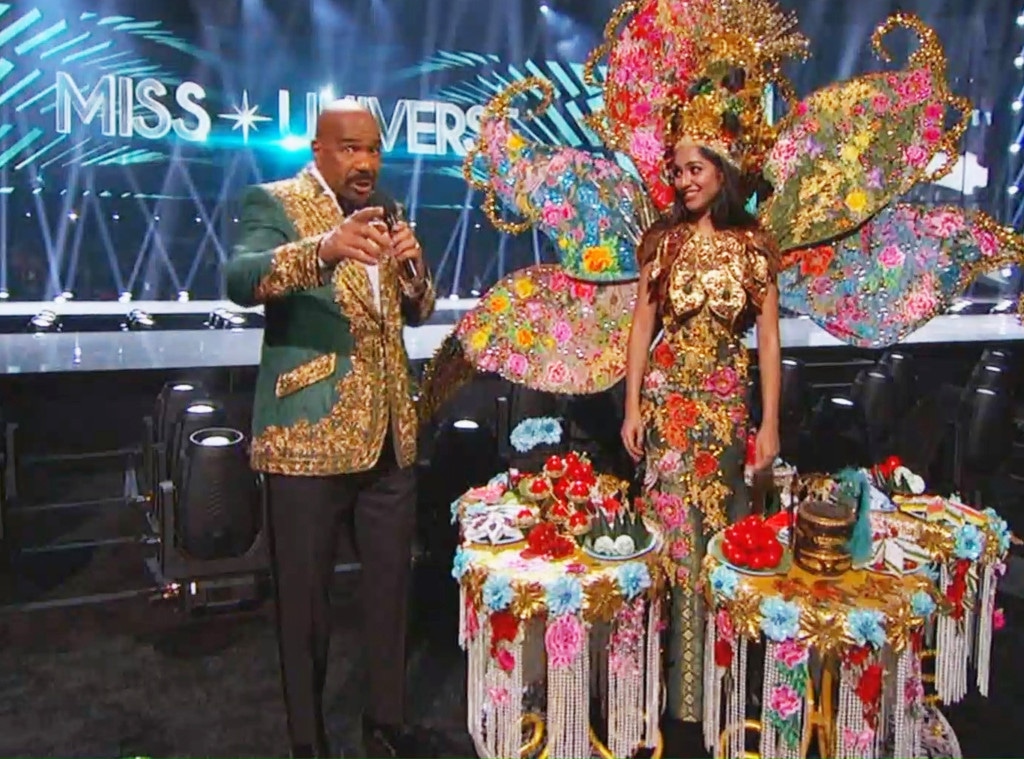 FOX
UPDATE: E! News has learned that Steve Harvey was actually correct in announcing the winner for the 2019 National Costume competition.
"The Miss Universe Organization confirms that Miss Universe Philippines Gazini Ganados is the winner of the 2019 National Costume competition," a statement read from the organization.
——————
And I oop!
Steve Harvey gave Miss Universe 2019 viewers and audience members alike déjà vu on Sunday night. The 62-year-old TV personality, who has hosted the beauty pageant over the last five years, accidentally announced the wrong winner during the National Costume category.
However, the mistake wasn't entirely his fault. "Earlier this week, all the contestants competed in a National Costume contest," he began explaining. "Here's the look at the winner, Miss Philippines..." 
But the real winner asked to take away the microphone so she could kindly correct him. "It's not Philippines," Shweta Sekhon told the host. "It's Malaysia."
Harvey then shared that he wasn't totally at fault for announcing the wrong winner.
"Well... let me explain something to you. I just read that in a teleprompter," he admitted. "You all quit doing this to me. I can read this. They are trying to fix it now. This is what they did to me back in 2015."
He continued, "This is Malaysia. I really love this National Costume of Malaysia. This is crazy."
Watch:
Steve Harvey Clarifies "Integrity" Comments About Mo'Nique
Additionally, Miss Malaysia was able to share the meaning behind her larger-than-life costume. "The state in Malaysia, which is the Melaka State, it's historical heritage in my country. So what you see here is five tables with foods," she shared. "And what I am wearing is the bride's outfit from the mixed marriage between the Malays and the Chinese. And this is the tail of the goldfish..."
Harvey responded, "Whatever you said. I'm scared to say your name. Thank you, Malaysia. An outfit that nice, you ought to wear that again."
Naturally, this mistake gave fans of the competition show a flashback to when he mistakenly announced the wrong winner during the Miss Universe competition in 2015.
At the time, Harvey revealed that Miss Colombia Ariadna Gutiérrez was the winner. But moments later, he took the mic and apologized for the blunder.
"Okay folks, I have to apologize. The first runner-up is Colombia," he explained. He immediately clarified that Miss Philippines Pia Alonzo Wurtzbach was the real 2015 Miss Universe. It's a snafu that no one will ever forget.
(This article was originally published on Sunday, December 8, 2019 at 6:18 p.m. PST.)