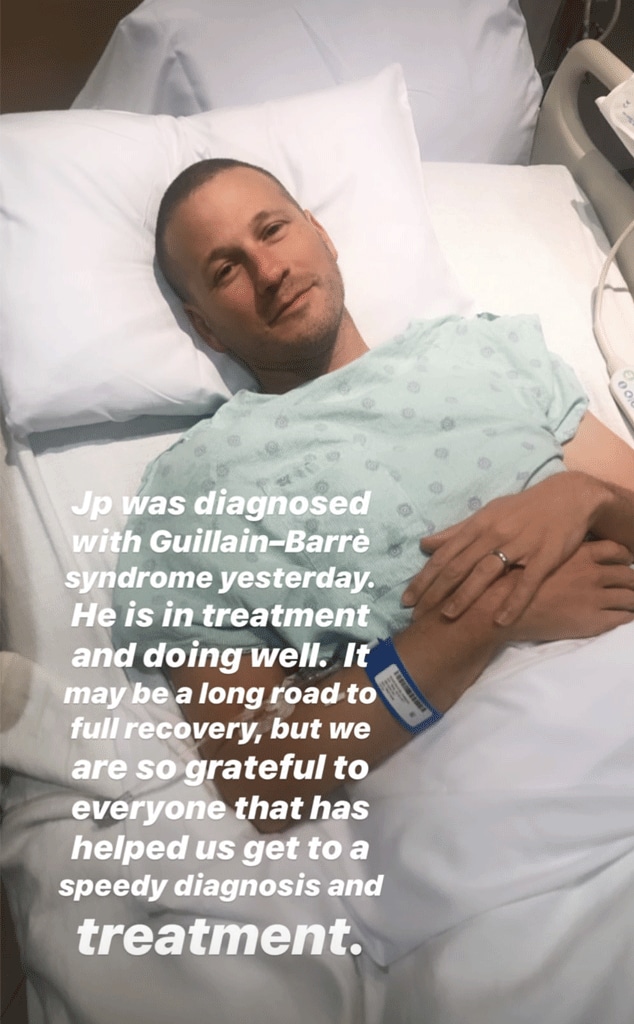 Instagram
The Bachelorette alums Ashley Herbert and J.P. Rosenbaum took to Instagram Stories to share that the 42-year-old reality TV personality was recently diagnosed with Guillain-Barré syndrome.
"Yeah, I had to Google that one too," J.P. shared on his social media post, alongside a photo of him at the hospital.
According to Centers for Disease Control and Prevention, the former Bachelorette star's diagnosis is a rare autoimmune disorder, in which a person's immune system can cause damage to the nerves, weaken the muscles and some times cause paralysis.
"JP was diagnosed with Guillain-Barré syndrome yesterday," Ashley captioned her Instagram Stories, alongside a photo of her husband. "He is in treatment and doing well. It may be a long road to full recovery, but we are so grateful to everyone that has helped us get to a speedy diagnosis and treatment."
Moreover, J.P. posted several personal videos to Instagram Stories of him sharing his diagnosis and experience.
"Very surreal, and humbling and crazy, rare," he said, holding his phone up as he lay in a hospital bed.
Watch:
Bachelor Nation Stars Who've Dated Celebrities
"Things you do every day, like picking up this phone, or buttoning buttons, tying shoelaces, putting on deodorant, just can't do it," he continued in a following video. "Picking up my kids, can't do it. Wiping your ass, maybe TMI, but might have Ashley assist on the next one."
He added, "Can't really believe it."
The Bachelorette star explained that he may need to be in the hospital for a few more days, while doctors continue to monitor and work out his symptoms. "I know there's lot of physical therapy in my future," J.P. shared.
The Bachelor Nation couple recently celebrated their wedding anniversary.
"7 years down, probably about 3-4 more to go. Happy anniversary to the woman responsible for all the love and happiness in this picture (and basically all my pictures for the last 7 years)," J.P. wrote in a heartwarming Instagram post earlier this week.
The fan-favorite couple met on season 7 of The Bachelorette and got married in December 2012. Of course, Chris Harrison officiated the couple's wedding, which also aired on ABC. The duo share two children together, Fordham and Essex.