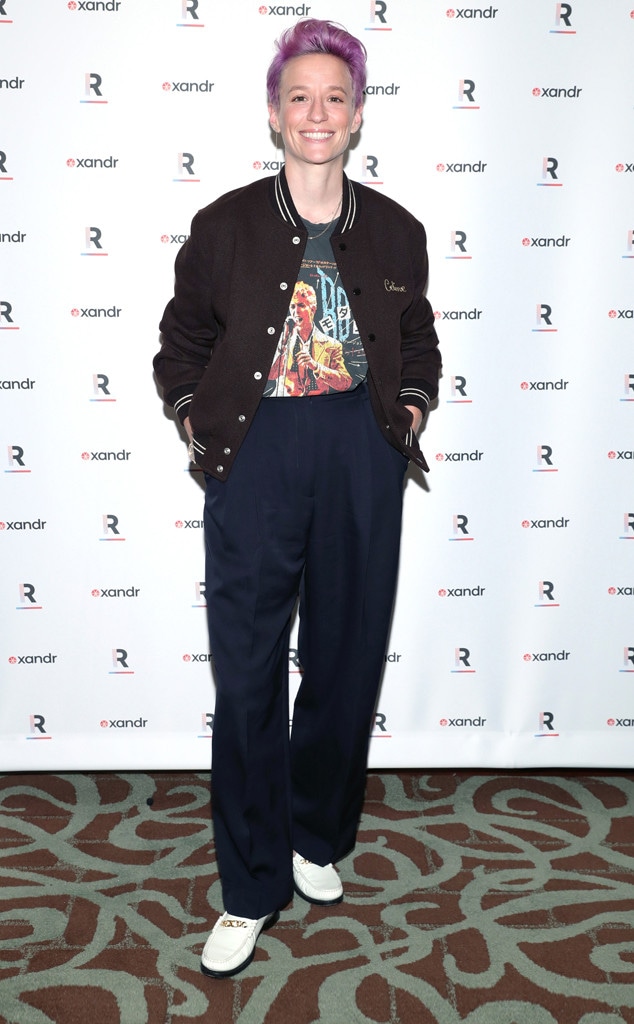 Rich Polk/Getty Images for Xandr
If there's anyone who's about to end the decade with a bang, it's Megan Rapinoe.
It's no secret that she's had a huge year—the U.S. Women's National Team midfielder led the rest of her team to the World Cup, took home FIFA's Ballon d'Or Award and now she's being named Sports Illustrated's Sportsperson of the Year.
However, it's not only her work on the field that's led her to this moment but also the change she works toward invoking off the field when it comes to issues she deeply cares about. 
In a YouTube video posted by Sports Illustrated, the 34-year-old athlete is asked what being named Sportsperson of the Year means to her.
"I mean, it's kind of crazy," Megan answers. "I feel in a way, in particular, the World Cup gave people not only like a motivation or an inspiration but almost like a path forward to doing something. Doing anything. During a time that feels paralyzing." 
And if there's anyone who's been outspoken about the fight for equality in sports in terms of racism, gender and sexuality, as well as standing up for the most pressing issues of our time amidst a divisive political climate—Rapinoe has been at the frontlines time and time again. 
Earlier this summer, when Rapinoe led the U.S. Women's National soccer team to World cup victory, the athlete was adamant about the fact that she refused to visit Donald Trump at the White House if her team won. 
According to Bleacher Report, back in June, Rapinoe was asked if she was excited about potentially visiting the White House and she replied, "I'm not going to the f--cking White House. No, I'm not going to the White House. We're not gonna be invited. I doubt it." Rapinoe has been outspoken in the past about her thoughts on Trump, labeling him as "sexist," "misogynistic," "racist" and overall not a "good person," per Yahoo Sports. 
In 2016, she was also one of the first athletes to join former San Francisco 49ers quarterback Colin Kaepernick's kneeling protest during the national anthem. 
Further, Rapinoe has encouraged her male counterparts to be allies in tackling the sexism that women athletes face in soccer and other sports as well. 
On Dec. 4, for example, Rapinoe became the second woman in history to win the Ballon d'Or Award after winning the World Cup, Golden Boot and Golden Ball in July. 
When accepting the prestigious award, Rapinoe called on Cristiano Ronaldo and Lionel Messi—who have also been recipients of the award in the past—to help shed light on issues that affect women in sports. 
"These big stars do not engage in anything there are so many problems in men's football. Do they fear losing everything? They believe that, but it is not true. Who will erase Messi or Ronaldo from world football history for a statement against racism or sexism?" Rapinoe said when accepting the award, per ESPN. "I am both sad and angry. I would describe discrimination to them. I would also tell them we need support from men, even if they are not the first affected. They must be our allies."
Further, when speaking to Sports Illustrated about being honored as the 2019 Sportsperson of the Year, Rapinoe said: "I feel like I'm being recognized on behalf of the team for reasons of like trying to do better in the world and everything we do on the field and off the field, I think this is all going into it. That really means a lot to me because yes, it's a sports award, you have to go out and perform but really me, winning it, I feel like is a win for the good guys."