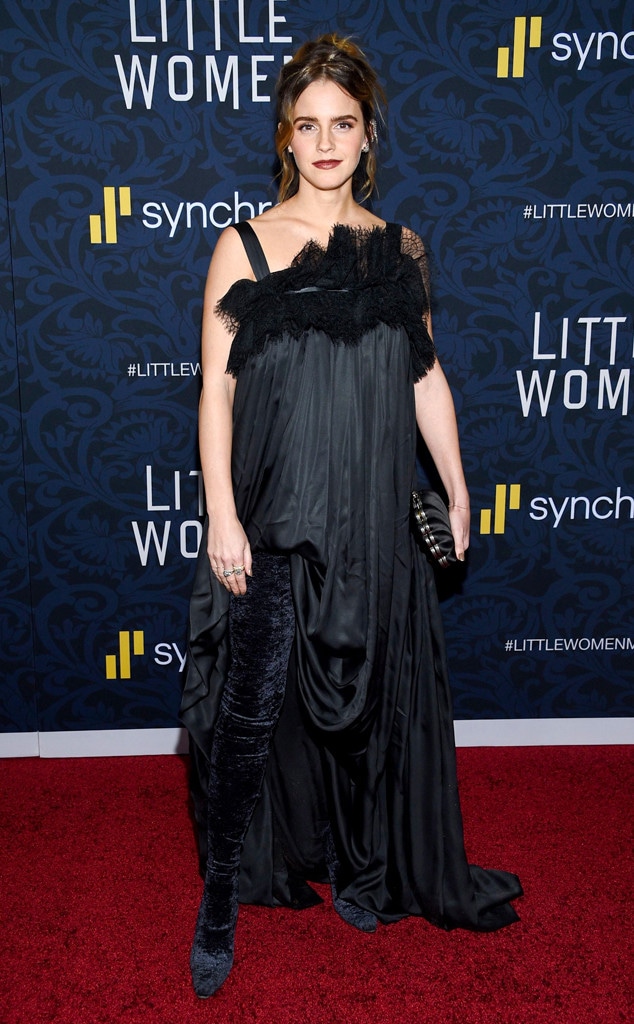 Evan Agostini/Invision/AP/Shutterstock
If you thought you couldn't wear thigh-high boots and a long dress, think again. 
The Harry Potter alum, Emma Watson, has been dominating the red carpet for as long as we can remember and last night at the Little Women red carpet premiere, was no exception. 
The 29-year-old actress stepped out in an elegant Balenciaga gown at last night's Little Women premiere at the Musem of Modern Art in New York. Her neo-gothic fashion look was fit to be immortalized at the museum itself. 
Wearing a long black silk gown with ruffle trim at the chest, Watson's dress wasn't the only thing that caught our eye but rather her choice to tug the hem of the dress into one of her knee-high velvet boots. Now that's a trend we can get on board with. 
The Little Women actress, who's set to play Meg March, wore her hair in an updo and donned a bold wine lip color with rosy hues on her cheeks and eyes. 
Earlier in August, the star-studded trailer for Little Women took the internet by storm when fans of the classic novel by Louisa May Alcott saw Emma, Saoirse, Florence and Eliza would be playing the four sisters—taking on the roles of Jo March, Meg March, Amy March and Beth March, respectively.
The film is directed by Greta, who has also directed Lady Bird alongside Saoirse, and it looks like she has a personal connection to the classic coming-of-age novel. 
"I always knew who Jo March was," she told Vanity Fair earlier this summer. "She was the person I wanted to be. The filmmaker also told the publication the story feels like an "autobiography." 
"When you live through a book, it almost becomes the landscape of your inner life... It becomes part of you, in a profound way," she added. 
Evan Agostini/Invision/AP/Shutterstock
Fellow co-stars including Timothée Chalamet, Laura Dern, Saoirse Ronan, Florence Pugh, Greta Gerwig, James Norton, Eliza Scanlen, Sasha Frolova and Zach Braff were also in attendance at the red carpet premiere. 
The "Lady Bird" actress, Saoirse, wore a black-and-white Victorian-esque Gucci look with sheer sleeves and turquoise gemstones. Similar to her co-star, the 25-year-old actress wore chic black knee-high boots. 
Mark Von Holden/Shutterstock
As for English actress Florence, the 23-year-old opted for a brighter color on the Little Women red carpet wearing a sky blue off-the-shoulder mini dress.
The actress wore her hair slicked back and topped the look off with strappy metallic heels and teardrop earrings. 
The Big Little Lies actress, Luara, also opted for a blue gown, wearing a shimmery turtleneck gown to the red carpet. James, the 34-year-old actor who plays Watson's love interest in the film also wore an all-blue ensemble, donning a velvet suit. 
On the other hand, Eliza, who has previously appeared on HBO's Sharp Objects, wore a flawless all-white ensemble with a gold belt. 
The man of the hour, Timothée stepped out on the red carpet wearing Alexander McQueen. The "Call Me by Your Name" actor looked dapper in a pinstriped vest and trousers. 
Little Women premieres in theaters on Christmas Day, Dec. 25.
Watch:
Emma Watson Confirms Tom Hanks Lives Up to the Hype!