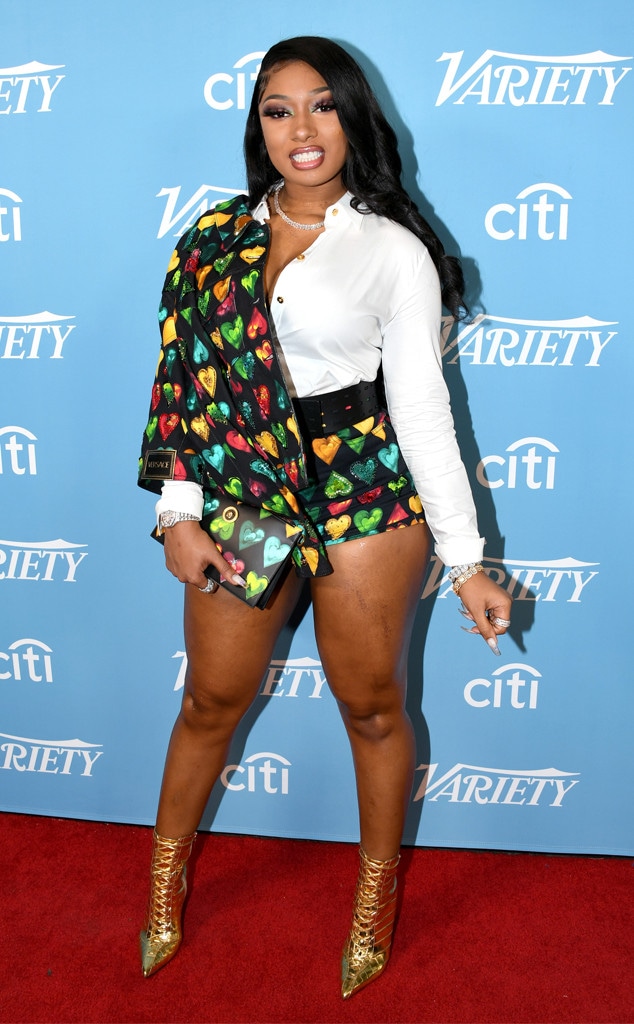 Jon Kopaloff/Getty Images
Get you a friend like Megan Thee Stallion.
The 24-year-old sensation lit up the red carpet on Saturday at Variety's 2019 Hitmakers event, which was held at the Soho House in West Hollywood, Calif. Her colorful heart-printed ensemble, that was most likely a Versace design, wasn't the only thing that made her fans swoon.
For the special occasion, the "All Dat" rapper was being honored with the Breakout Artist of the Year award. "Oh my gawd," the superstar began her speech. "Hi, I'm Megan. I'm from Houston Texas and this is really crazy..."
"You know, we're going to keep being Hot Girls throughout the year, we don't just stop at the summer," she continued. "But seriously, I really want to thank y'all for giving me this award, I can't believe I got this. From me recording at my producer's house to what it is now, this is really crazy and I just super appreciate it. I just really love to put smiles on peoples faces and empower women and we did the damn thing this year."
Speaking to E! News at the star-studded ceremony, the "Hot Girl Summer" rapper revealed she was going to pay French Montana a visit. 
Dominik Bindl/VMN19/Getty Images
"I'm actually going to go see him after this," she said, adding that he was totally surprised. "He's great," she revealed. "He's like, 'Megan, I just can't believe you came to see me. And I'm like, why would I not come see you, you're my friend!' So yeah, he's good."
Earlier this week, we learned that the 35-year-old star was released from the hospital. Doctors ordered him to have at least 30 more days of bed rest, because they believed his symptoms were a result of working too much.
The rapper's hospital release also happened to be the same day he dropped his newest album, Montana. "the music is keeping my spirit alive," he wrote in a social media post.
Along with Megan taking over the red carpet at Variety's 2019 Hitmakers brunch, E! News caught up with a few famous faces.
Swae Lee, who was being honored with the Crossover Award, opened up about his recent Grammy nominations and working with Post Malone.
"You know, me and Post we haven't even really talked about the Grammy nominations. We've been so busy just working and just finishing up tour, getting ready for another leg of the tour.," the 24-year-old shared. "So we've just been relaxing, focusing on life. It really ain't even sink in yet."
Watch:
Megan Thee Stallion's Look Sequ-In or Sequ-Out? - What the Fashion (S2, Ep30)
He added, "Hopefully, we get one but it's just good to even be recognized for it."
Additionally, new music is on the horizon from the artist. "2020, we're going head first, top of the year. I'm dropping at the top of the year."
Ryan Tedder also chatted with us at the ceremony, where he gushed over working with the Jonas Brothers.
"It was exciting because it was a big secret. And keeping the secret, knowing what we had, and knowing KIIS FM had already heard it, Z100 had already heard it, Billboard had heard it but fans had no idea," he began explaining. "And then for it to just be boom, we're back! And then "Sucker," it was a wild trip."
The 40-year-old, who is being honored with the Songwriter of the Year award, added, "I'm just super, super grateful it came out the week before Lil Nas X's "Old Town Road" because we had one week in the sun."
—Reporting by Alli Rosenbloom