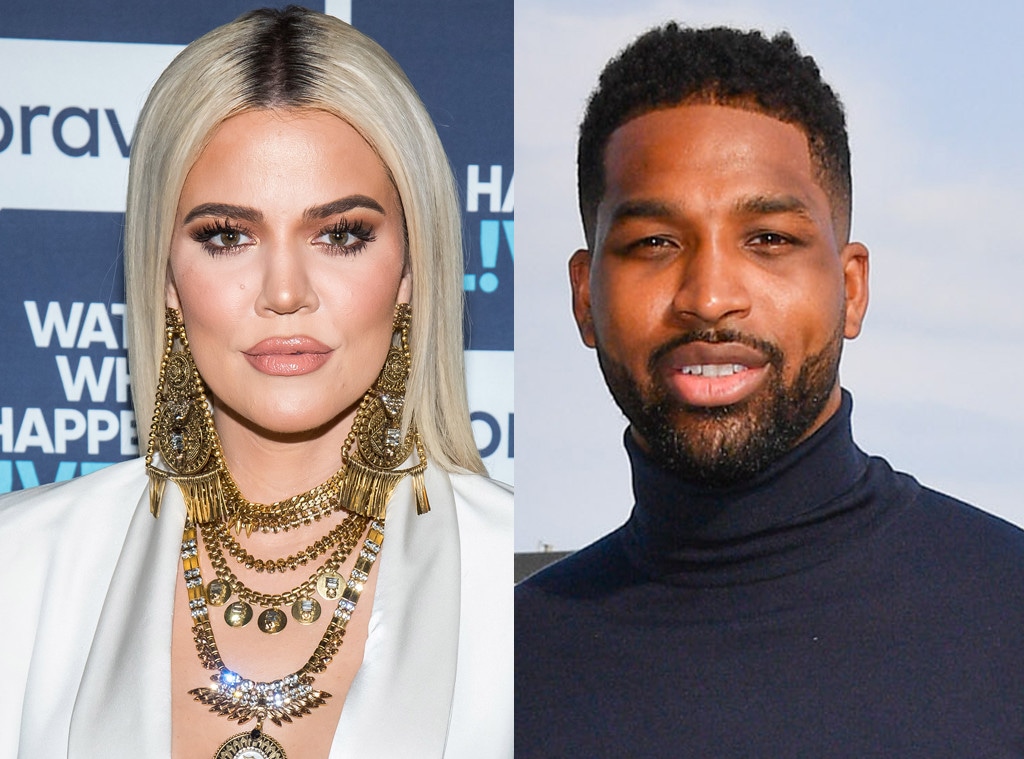 Charles Sykes/Bravo/NBCU Photo Bank via Getty Images, George Pimentel/Getty Images
The compliments keep coming from Tristan Thompson. 
Nearly ten months since his scandal with Jordyn Woods and breakup with Khloe Kardashian, the basketball pro has been seemingly trying to get back into Khloe's good graces as of late. In the most recent episode of Keeping Up With the Kardashians, True Thompson's dad surprised the reality star with a diamond necklace and later gifted her a "promise ring" for her 35th birthday. 
While Khloe was taken aback by the kind gestures, she also appreciated his efforts. Though the star said she does not want to be with Thompson, she did say, "I want us to have a healthy, kind and, yes, a loving relationship where True can see her mom and dad hug each other when we see each other." 
She acknowledged, "Tristan is really trying to show that he's sorry on a daily basis...I do appreciate that because I know that he's trying, so I think we're slowly moving into the right direction of being friends as well as excellent co-parents."
Thompson's love for Khloe was certainly clear when he commented on a new photo of her with their 1-year-old daughter. 
In the snap, the Good American mogul is sitting in a chair next to her little one as the two look at each other. "I can't wait until we can have conversations," she captioned the photo. "My best friend!"
Thompson weighed in, writing, "The Queen and Princess."
Khloe recently weighed in on her feelings toward him and Woods in a lengthy social media statement, writing in part, "I don't hold any negative or hateful feelings towards ANYONE! I mean that. Life is short! We are all humans trying to figure out this thing called life. Who am I to condemn anyone else? Yes, I'm allowed to feel hurt and pain. It would be unnatural for me to pretend as if I don't. Personally, I don't want to be carrying around a hateful heart. I crave peace in my life. Me holding onto hate is only going to hurt me in the end."
Watch:
Khloe Kardashian Surprised By Tristan Thompson's "Promise Ring"
She followed up by clarifying that her message also included Woods. 
"That message is for Jordyn. It's for anyone else who has ever hurt me. For some reason people want to assume that I'm talking only about Tristan," Kardashian wrote in part. "This message applies to ALL parties involved in situations that have ever hurt me. Men, friends, family, work associates… anyone who played a role in my pain. I have moved on, found forgiveness and wish you only happiness and joy!"