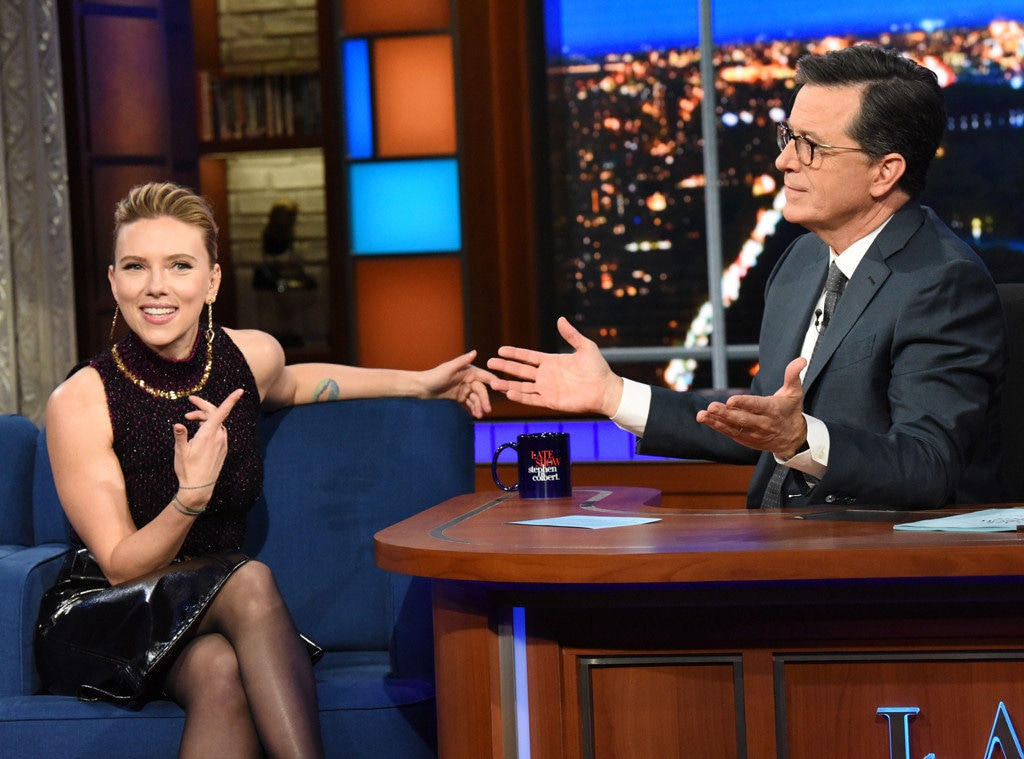 Scott Kowalchyk/CBS
Marvel keeps lots of secrets, especially from its stars.
During an appearance on Thursday's The Late Show with Stephen Colbert, Scarlett Johansson revealed that she, the star of Black Widow, wasn't told the trailer for the hero's first solo film was coming out. (It dropped Tuesday.) In fact, she had to hear it from one of her co-stars!
"Nobody told me that it was coming out!" Johansson told Stephen Colbert. "I actually woke up and I got a text message from Chris Evans, and he was like, 'The trailer looks great!' I don't know what he was doing up at 5 a.m. That's a whole other story."
And her reaction to the kicka#$ trailer? As the actress revealed, "I was also as excited as everybody else!"
She's not surprised she didn't get a heads up from the powers that be at Marvel, though. As she joked, "They didn't even tell me. Yeah, they keep everything from me."
The trailer for the long-awaited solo film showed Johansson make her return as Natasha Romanoff, who tragically met her fate in Avengers: Endgame.
As Johansson revealed to Colbert, the action flick—which co-stars Rachel Weisz, David Harbour and Florence Pugh—isn't an origin story like some might expect. Rather, it's a "homecoming" that forces Romanoff to trek back to where her superhero story all began and close up loose ends.
"It takes place after the Civil War and before the Infinity War," the Marriage Story star revealed, then she commented on the criticism that this film should have happened long ago.
As it turns out, she doesn't think the story could have been told at any other time.
As she explained, "A lot of people have told me that the film should've happened before, and they're wondering if it's too late for this movie now. But I really could never have made this film 10 years ago when we first started our journey with Marvel because the character has informed this film."
Watch:
Scarlett Johansson Hits SDCC 2019 with "Black Widow" 1st Details
"My journey with Natasha has informed this film," she continued. "And it's a character who is a fully recognized woman. And I think it has a complexity to it that is just delicious. Not to say that it wouldn't have been something else and totally entertaining 10 years ago, but we get to do stuff now that is just good."
Now, watch the rest of the interview to find out who Johansson and Colbert think would win in a fight between Black Widow and her Marriage Story co-star Adam Driver's Kylo Ren.