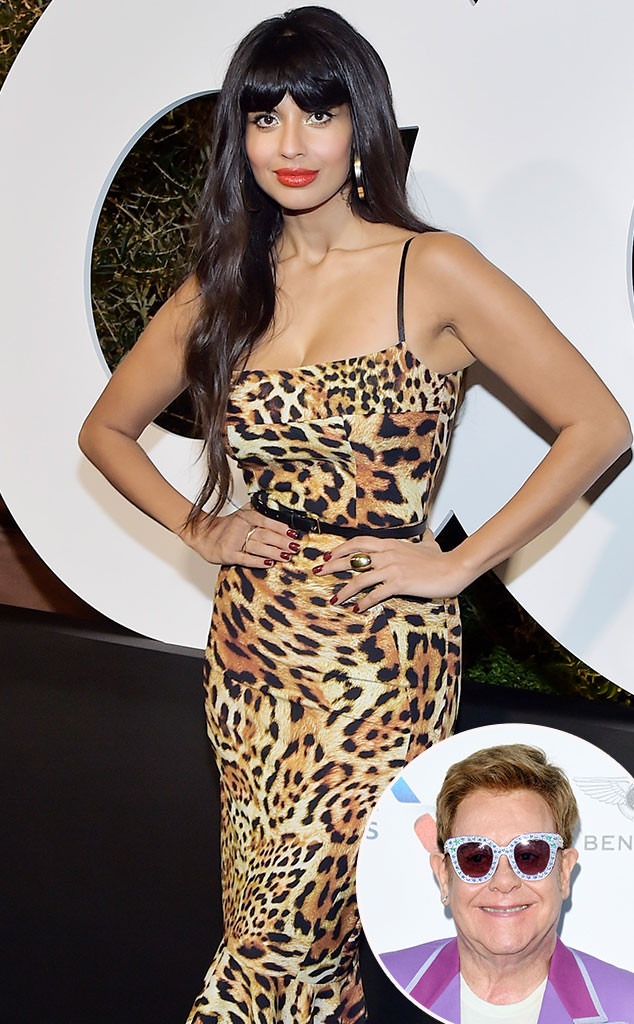 Stefanie Keenan/Getty Images for GQ Men of the Year 2019, Daniele Venturelli/Daniele Venturelli/Getty Images
Jameela Jamil's first DJing gig is definitely one for the books.
On Thursday, The Good Place star, who has been DJing for eight years, recalled her first-ever experience behind the booth during her visit to Conan—get this: it was for Sir Elton John's birthday party! After joking that she wanted to become a DJ in order to avoid talking to people at parties, she revealed that a booking agent presented her with the once-in-a-lifetime opportunity. There was just one problem: Jameela had never actually DJed before.
"She said, 'You know, do you DJ?' And, I was like, 'cause I'm a sociopath, 'Yes, I do,'" she told host Conan O'Brien. "And because this woman books all the biggest events in London, she was like, 'Oh, my God! I need a DJ next week for Elton John's birthday party.' And I said yes! And I had one week to learn how to DJ."
To put the moment into Good Place terms, she added, "I am trash. I am Jason Mendoza, not Tahani."
Naturally curious about how the gig went, Conan asked the I Weigh founder to keep telling the story. To his surprise, Elton wasn't the biggest fan of her set.
"It was OK," she admitted. "Sir Elton was not thrilled, but it was fine. And it kicked off an 8-year career, so I must have done something right."
In fact, moments like these are actually quite common for Jameela. Reflecting on the spontaneity of her decision, The Misery Index host confessed that she had the same blind courage going into her Good Place audition.
"That's been my whole career, even with The Good Place," she explained. "I never acted before. The audition was the first time I had ever acted. And I was there in a room with [creator] Mike Schur and he was like, 'Have you, um, you can improv, right?'" And I was like, 'Yes.' And he made me improv with him for 10 minutes, which was the worst feeling on earth. And somehow, I survived that. But my whole career has just been 10 years of saying yes to everything…it's been great."
Watch:
Kristen Bell's "Good Place" Recap Ahead of Final Season
Obviously, she nailed the audition. Jameela has expressed her gratitude to Schur and the rest of The Good Place team before. Ahead of the 2019 Emmy Awards, she thanked them for the "chance of my lifetime" and recalled what it was like to wrap the Emmy-winning series. 
"I cried my face off and I never thought I would because I'm English because I'm dead and cold inside, but it really hit me when he walked towards me and said that's a series wrap; this man found me from nowhere plucked me from obscurity," she told E! News exclusively on the red carpet. "I had never acted before gave me the chance of my lifetime everything I'm able to do in the world is because this man took a chance on me for no good reason and so it just killed me and I cried and cried and cried all night and it felt sad to say goodbye to that wonderful cast and this magical show."