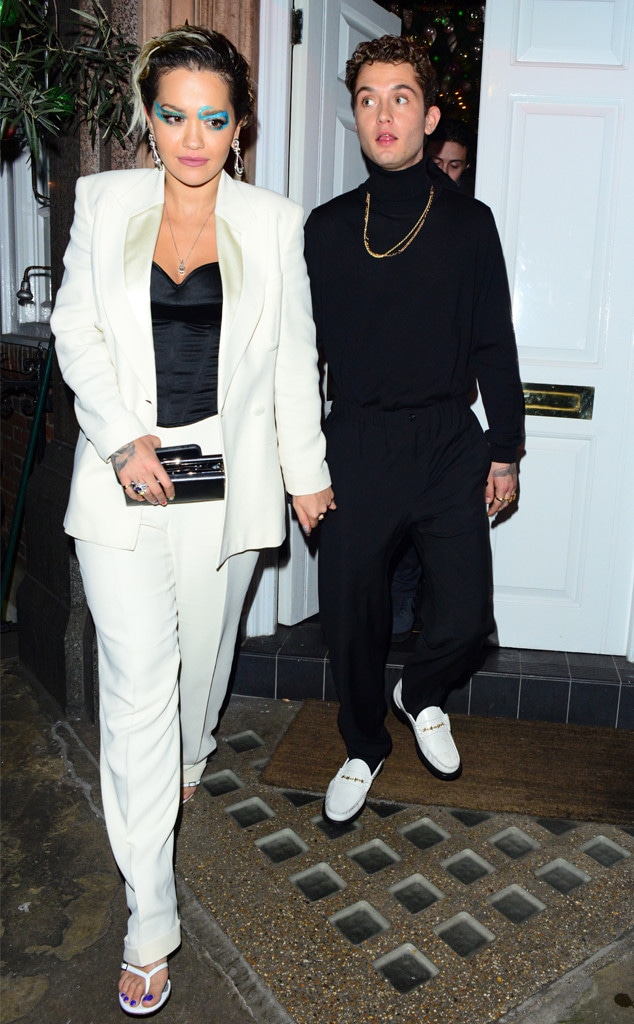 SplashNews.com
Rita Ora might have a new man in her life.
On Tuesday night the singer was spotted with none other than Jude Law's oldest child, Rafferty Law. The 29-year-old and 23-year-old were seen at a British Fashion Awards after-party at Harry's Bar in London, where an eyewitness said they saw the pair "getting close, kissing outside on the terrace."
The eyewitness added, "They looked like a couple, holding hands and cuddling."
After the party died down, the two actors left around 1:30 a.m. and headed to Rihanna's after-party taking place at the Laylow. At one point in the night, the eyewitness saw them escape the party for a kiss. "Rita and Rafferty appeared to be really into one another, Rafferty kept kissing her on the porch while smoking," they shared. "The two looked very happy to be together."
It's unclear what Rita and Rafferty's current relationship status is, but it's speculated the two sparked a connection when they worked on the set of the new Oliver Twist remake. 
In November, Rafferty told The Evening Standard that he and his co-star forged a connection "straight away." This was evident from the countless photos that have emerged from the set in which the two are positively beaming even as they brave the chilly London weather. 
Watch:
Watch Rita Ora's Interview on the 2018 E! PCAs Red Carpet
In fact, after their fun night-out the two returned to the set of Oliver Twist, where Rita is playing the Artful Dodger and Rafferty is Oliver. 
That being said, paparazzi pics are probably the most you'll see of this potential couple. In the same November interview, Rafferty said that he has both a public and private Instagram, the latter containing all the stuff he's not quite comfortable with the world seeing. Looks like fans will have to make do with seeing the pair when their movie comes out next year!