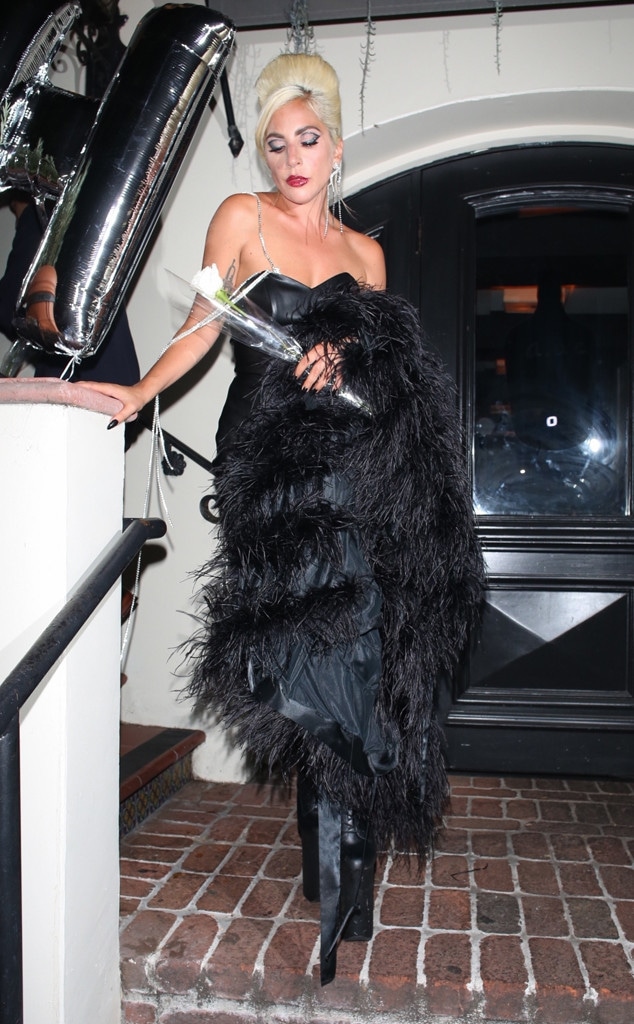 Sal/gio / BACKGRID
This Lady Gaga revelation is making us just dance.
The 33-year-old icon is ready for what's ahead when it comes to her career, beauty brand and personal life. Sitting down and getting dolled up with YouTube star NikkieTutorials on her channel, the A Star Is Born actress opened up about wanting to have babies in the future. Of course, she also has grand plans in mind for her ever-evolving music and acting career.
"More music, not retiring any time soon... all kinds of different music," the Oscar winner explained in the 27-minute video, when asked what she thinks will happen for her in the next 10 years. "I wanna do more movies, I wanna have babies and I want to continue to build the behemoth that is Haus Laboratories into the makeup company of my dreams."
"I'm living my inspirations right now, in this moment," she continued. "When I get inspired, I do things right away."
"There will be tons of crazy things that I do over the next decade," she added. "I just don't know exactly what they are, which is why they'll be extra crazy."
While she didn't give too many details about when she plans to have little Lady Gaga's, it's clear she's focusing on her newest baby: Haus Laboratories.
Watch:
Brandon Maxwell Explains Lady Gaga's Epic Met Gala Looks
Back in July, the pop star shared the exciting news that she would be releasing her own cosmetics company.
"This is your glam. Your expression. Your artistry. We want you to love every version of yourself," the beauty brand's announcement post read. "The last thing the world needs is another beauty brand. But that's too bad."
Vibrant shadows, dazzling lip glosses and other items were part of Haus Labs' first launch, which the 33-year-old star created with Sarah Tanno, who is the co-creator and Global Artistry Director of the brand.
And luckily for makeup enthusiasts, there's more goodies coming to the market, including the first-ever eyeshadow palette and a glizty lipstick in a holiday-ready red.
"I love makeup," the Grammy winner told Nikkie, while showing off Haus Labs' newest products. "I've discovered myself through makeup, that's what made me feel beautiful, that's what made me invent Lady Gaga, because I looked in the mirror and I was like, 'I don't like what I see and I don't feel good on the inside, so I'm just gonna start painting now, and I'm gonna make something that I like.'"
For the "Shallow" singer, her hope is that people experience that same sense of confidence when they use her products. "Kindness is the key to all of it," she said. "We want you to love yourself."
Now, that's a message we can get behind!