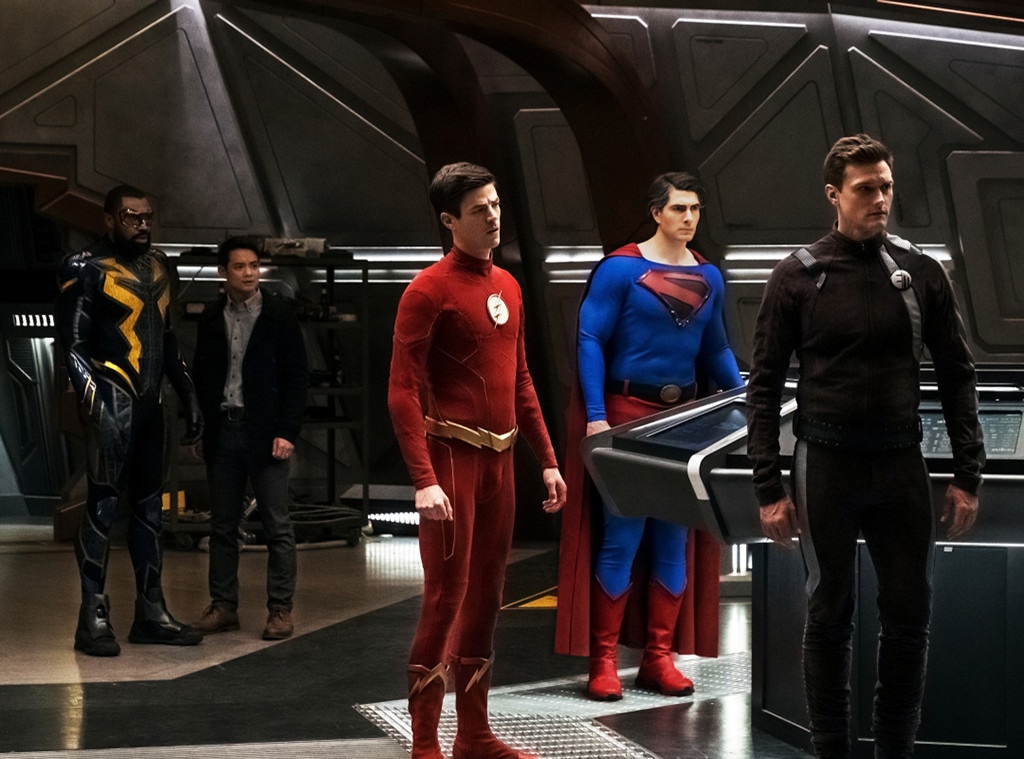 The CW
It's officially crossover time!
Crisis on Infinite Earths starts Sunday, Dec. 8 and The CW just released the final trailer for the epic event. And we're not kidding when we call it "epic event." In the trailer below, viewers get the lowdown on the whole Multiverse thing (how and why there are various superheroes—and versions of superheroes—operating at the same time), and what brings them together.
"Now, there is a malevolent force at work, one driven by a singular goal: The destruction of all there is," the voiceover says as Supergirl (Melissa Beniost) sees her home planet of Argo destroyed. Lyla Michaels/Harbinger (Audrey Marie Anderson) breaks it down even more: "There's a wave of anti-matter sweeping across this universe, destroying everything in its path."
So, she and The Monitor (LaMonica Garrett) brought them all together to make their (final?) stand.
The five-show crossover begins on Sunday with Supergirl, then continues Monday with Batwoman, and Tuesday with The Flash. Then we're in for a long winter break before ending with Arrow and Legends of Tomorrow on Tuesday, January 14. 
Tyler Hoechlin and Bitsie Tulloch will return as Superman and Lois Lane, and this time they're also joined by Brandon Routh as Superman and Tom Welling as Clark Kent, with Erica Durance as Lois Lane. Black Lightning characters will also appear, as will John Wesley Shipp as the Flash. Kevin Conroy will appear as future Bruce Wayne, and other guests include Burt Ward; Brec Bassinger and Courtney Whitmore of Stargirl; Stephen Lobo as Jim Corrigan; Ashley Scott from Birds of Prey, and Johnathon Schaech as Jonah Hex. 
"The entire universe needs you," Green Arrow (Stephen Amell) tells the Tyler Hoechlin Superman. And in the video below, viewers see the first meeting of two Clark Kents: Hoechlin and Welling.
Watch:
Stephen Amell Cries "Every Day" Over "Arrow" Ending
In the video above, get a glimpse of Kevin Conroy as Bruce Wayne meeting Ruby Rose's Kate Kane, some of your favorite heroes in some major danger, the meeting of The Flash (Grant Gustin) and Black Lightning (Cress Williams) and so much more we're going to be dissecting this until the crossover officially begins.
Is everything doomed as Tom Cavanagh's Pariah says? See for yourself when Crisis hits The CW.
It all starts Sunday, December 8 at 8 p.m. on The CW.