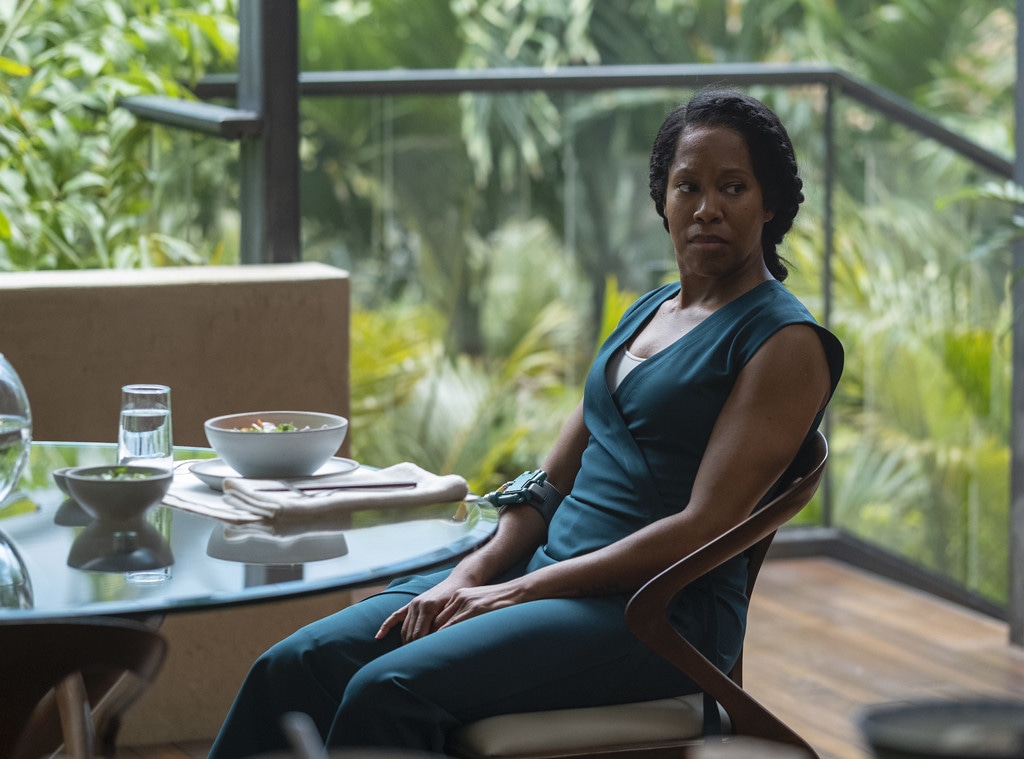 HBO
Did you expect Watchmen, a show from the co-creator of Lost and The Leftovers and based on the wildly popular and influential comic series of the same name, to not have a big twist? If so, you thought wrong. Warning spoilers follow!
In the Sunday, Dec. 1 episode of Watchmen, "An Almost Religious Awe," viewers learned that the mythical Dr. Manhattan has been on screen all this time, masquerading as Cal Abar (Yahya Abdul-Mateen II), the husband of Regina King's Angela Abar. Yep. Minds. Blown.
How and why Dr. Manhattan became Cal will be revealed, but for now, everyone is just soaking up the shocking reveal. And of course there were clues the whole time. For example, the, uh, sex tool that Laurie Blake (Jean Smart) was seen with earlier in the season is called Excalibur and modeled after her ex, Dr. Manhattan. Ex. Cal. Abar.
Yep, Damon Lindelof did that.
Jeffrey Zhang, host of Who Watches the Watchmen? podcast, pointed it out on Twitter.
Smart told E! News when she got to the reveal of Excalibur, her first thought was, "Oh no, no, no, no, no, no, no. I've been liking this so far up to now."
"Yeah, that was somewhat amusing. But I did immediately ask Damon about that, asking if this was going to be something that was an integral part of the show," she laughed.
Excalibur became quite a hit on social media. "All I could think of was pain when I looked at it. That's all I could think," Smart laughed.
OK, back to clues. There's also "caliber" and "Cal Abar." As pointed out by @superjanine, in horology, which is the study of time, a movement or caliber is described as the mechanism of a watch. Watchmen. Cal Abar. Caliber. The clues were there the whole time! 
Watch:
Regina King - 2019 Oscars E! Glambot
Lindelof said the idea of Dr. Manhattan and Cal Abar was there pretty much from the start.
"I started this whole journey from the perspective of a fan — what would I have to see in a television show daring to call itself Watchmen? Dr. Manhattan was near the top of that list. But even higher was that we needed to tell a new story with a new character at the center of it. Once we landed on Angela Abar as that center, the new rule became that any legacy characters we were using (Veidt, Laurie and Hooded Justice) could only be used in service of Angela's story…she was the sun, everyone else needed to be orbiting around her. So how could Dr. Manhattan, a man with the power of God, be in service of Angela's story as opposed to the other way around? Based on his past (and all the tropes of Greco/Roman mythology), the answer was intuitive…love. We knew this relationship could only work if Manhattan took the form of a human, and so, the idea of Cal was born," he told THR. "And yeah, it came early. Almost from the jump."
The big reveal left fans—including those who work in television—shocked. "Well holy S--T," Patton Oswalt tweeted.
Adbul-Mateen also had some fun on social media.
See what happens next when Watchmen airs Sundays, 9 p.m. on HBO.