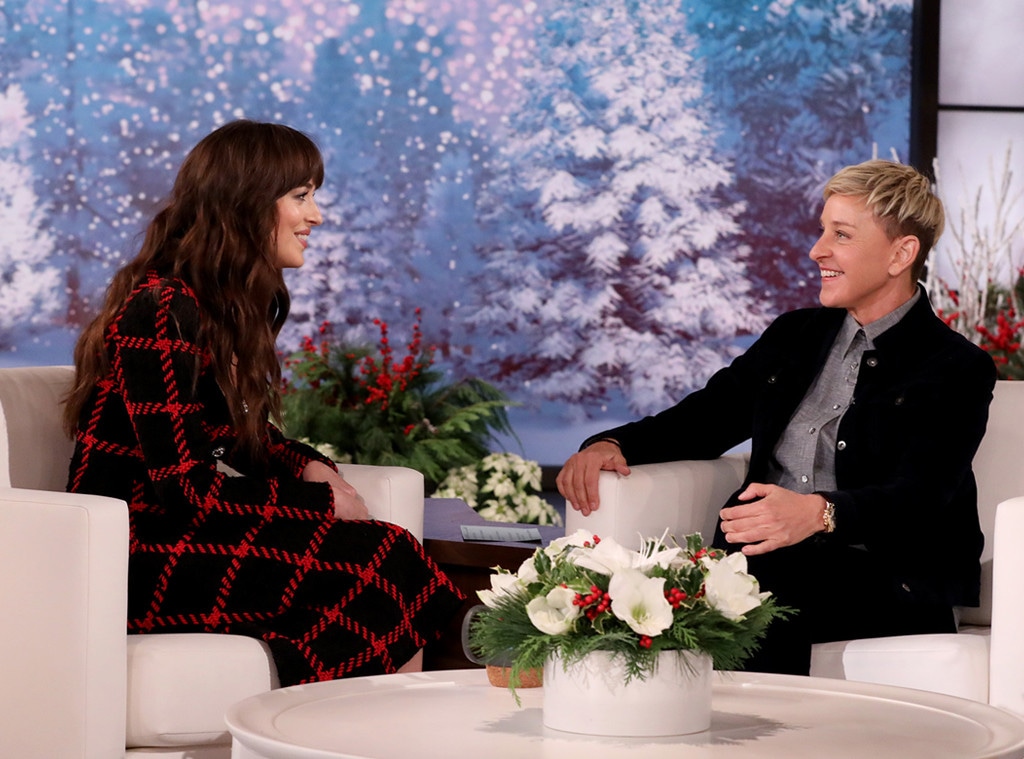 Michael Rozman/Warner Bros.
By now, you've probably watched Dakota Johnson and Ellen DeGeneres' fifty shades of awkward interview.
But, if you've just crawled out from a rock, allow us to remind you: On Wednesday's episode of The Ellen DeGeneres Show, the longtime host wanted to know why she wasn't invited to Dakota's star-studded 30th birthday party. "You were invited," Dakota insisted. "Last time I was on the show last year, you gave me a bunch of s*%t about not inviting you, but I didn't even know you wanted to be invited. I didn't even know you liked me!"
While Ellen continued to say she wasn't on the guest list, Dakota recruited the show's executive producer Jonathan Norman to back her up. "I was invited? Why didn't I go?" Ellen mused. "Oh yeah, I had a thing."
That thing: Attending the Dallas Cowboys vs. Green Bay Packer game with wife Portia De Rossi. (Dakota's bash was on Saturday, Oct. 6 in California while the game was on Sunday, Oct. 7 in Texas.) No big deal, right? Well...
Invited to the NFL game by Charlotte Jones—her dad Jerry Jones owns the Cowboys—the duo were seated in a suite alongside George W. Bush and his wife Laura Bush. And when a photo of Ellen mingling with the former president went viral, her massive following of fans were left outraged. 
Indeed, as the criticism continued to pour in, Ellen addressed the moment on her show, providing viewers with a lesson in kindness.
Watch:
Ellen DeGeneres Considers Ending Her Daytime Talk Show
"People were upset," she admitted. "They thought, 'Why is a gay Hollywood liberal sitting next to a conservative Republican president?' Didn't even notice I'm holding the brand new iPhone 11."
"I'm friends with George Bush," the 61-year-old continued. "In fact, I'm friends with a lot of people who don't share the same beliefs that I have. We're all different and I think that we've forgotten that that's ok that we're all different...When I say, 'Be kind to one another,' I don't mean only the people that think the same way that you do. I mean be kind to everyone."
And don't forget to RSVP!