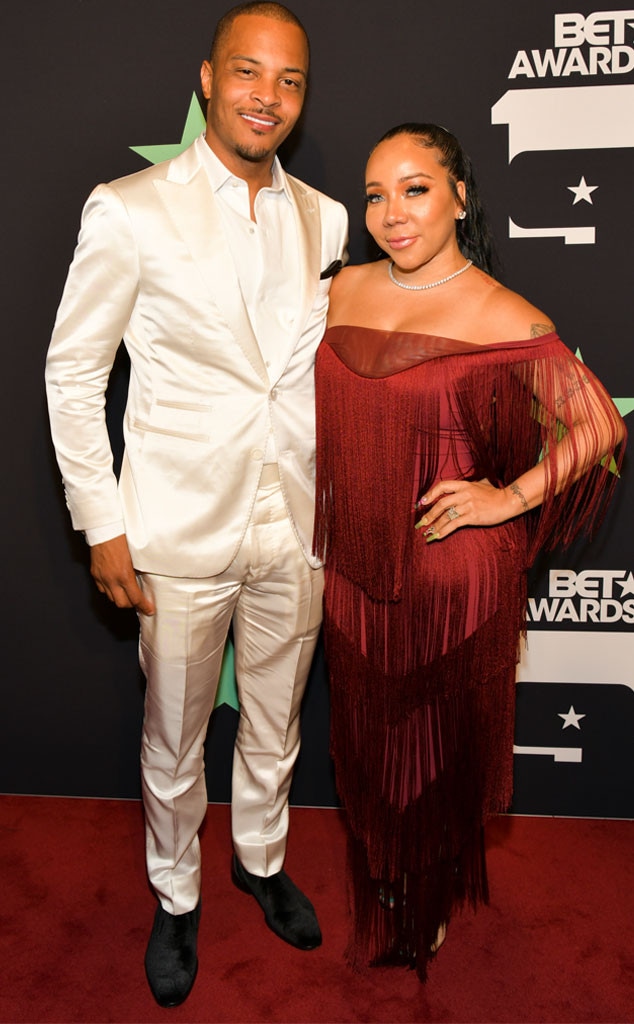 Rodin Eckenroth/WireImage
T.I. and Tameka "Tiny" Harris are opening up about the highs and lows of their relationship.
The "Whatever You Like" rapper, who tied the knot with Tiny in 2010, is sitting down with his wife to discuss their marriage on Monday's episode of Red Table Talk. The couple, who share three children together, has experienced a number of difficult times in their marriage, which almost came to an end three years ago.
Back in Dec. 2016, E! News confirmed that Tiny (née Tameka Cottle) had filed for divorce from her husband of six years. At the time, a source told E! News that T.I. (née Clifford Harris Jr.) and Tiny had been having ups and downs in their relationship for some time now and that "arguments and disagreements over some issues led them to split."
T.I. and Tiny later worked things out and are still married today, however, they've continued to face issues in their relationship over the years.
On Monday's episode of Red Table Talk, T.I. and Tiny discuss how his time in prison impacted their relationship. In a preview clip from the episode, T.I. explains that when he went to prison, Tiny felt like she had to "figure out" what she's going to do because she didn't have him there to "continue the protocols and the practices" that they had established in the "fundamental stages" of their relationship.
"So, when I got back, the world was upside down," T.I. tells hosts Jada Pinkett Smith and Adrienne Banfield-Jones. "I thought we were just gonna hit the ground running and get back to things being the way they were. And there was an acclimation period that I had to make it through, and me just coming back and not being in the position that I was in, it left me feeling lesser than."
"I had to go and figure out ways to make myself feel proper and adequate again," T.I. continues. "And that led to things that led to things that led to things."
In another clip from the Facebook Watch series, Tiny explains that once she got on her own two feet, she felt like she "should have a voice too."
"And that voice, it was a little different from what he was used to," Tiny continues. "So that, to me, is what caused the issue. It wasn't because I'm just being outlandishly disrespectful. Because if you recall...you could not move, you could not go anywhere, I was still in the house like I was on probation, doing all the things."
"But, because I had a voice that was not so timid...like is my outlook on it, I feel like he felt like, 'This is not the woman I left and this is not what I want,'" Tiny explains.
Take a look at the videos above to see T.I. and Tiny discuss the highs and lows of their relationship!
The next episode of Red Table Talk premieres Monday on Facebook Watch.