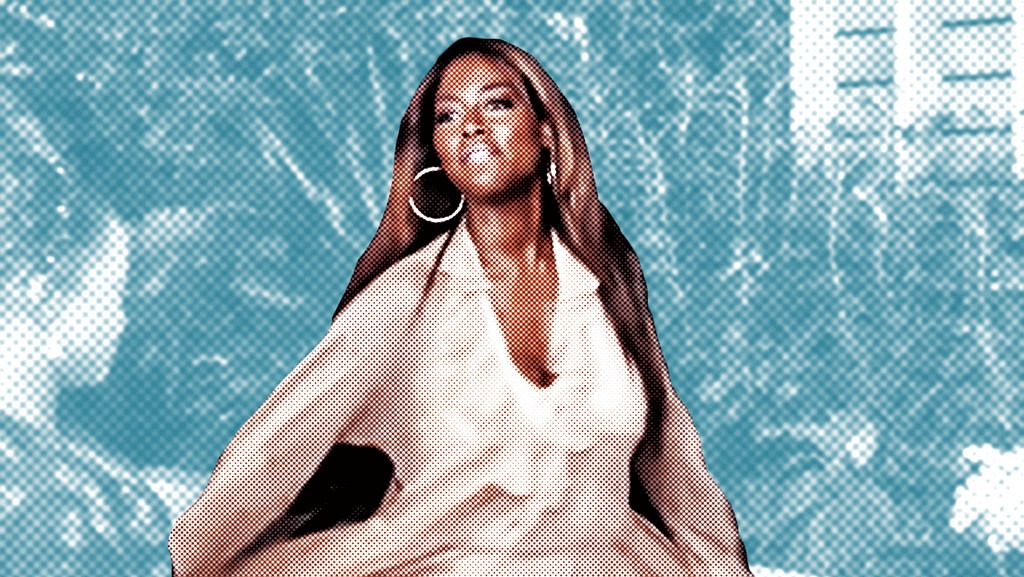 Bravo/E! Illustration
Kenya Moore is the gift (and GIF) that keeps on giving on The Real Housewives of Atlanta.
Kenya joined the cast in season five (alongside Porsha Williams) and stayed through season 10, she left the franchise only to appear as a guest in the season 11 finale and rejoined the cast in a full-time capacity in 2019's season 12. Year after year, Kenya has proven she's not afraid to tackle anybody or any subject and does so with instant-GIF worthy shade. Over the years, viewers watched as Kenya became friends with certain ladies, enemies with others and then flip the script on those friendships.
In season five's "I Do…But, I Won't," Kenya and Porsha had one of many clashes, but this one would birth a moment forever cemented in pop culture: "Gone With the Wind fabulous."
While on vacation, Porsha began recounting an early interaction the two had. Old wound reopened. Porsha called Kenya ghetto, brought up her age as an insult and the two started going in on each other's accomplishments. It was everything fans have come to expect from a Real Housewives trip. During the heated back and forth, Kenya declared she's been in the business for years and still fabulous. The point was marked with two twirls and Kenya said she was, "Gone With the Wind fabulous, OK? Thank you."
"Well, alright now," Phaedra Parks said after the declaration.
While at BravoCon, The Real Housewives of Atlanta's executive producer Lorraine Haughton Lawson said that moment going viral and taking on a life of its own surprised her.
"When Kenya Moore did 'Gone With the Wind fabulous,' that's like a pop culture term now," she said on a panel with other Housewives executive producers. "People say they're 'Gone With the Wind fabulous.' Beyoncé spoke about it at the Super Bowl. So, that was a really big moment."
The Beyoncé moment came in 2013 when the singer was asked what she thought about the Destiny's Child reunion at the Super Bowl. "They were fierce, honey," she said. "'Gone With the Wind fabulous.'"
Kenya told E! News that even now she remembers what was going through her head: "I was pissed," she said at BravoCon.
"I felt a lot of different emotions...I was the second black woman to win Miss USA in the '90s and that was a feat all of its own. And to have someone make it seem like it was irrelevant because it was 20 years ago insulted me. It made me angry. It also made me sad that another woman of color would diminish my accomplishment and my legacy," she said.
And Kenya got a new legacy out of the fight.
Watch:
Kenya Moore Reveals Where She & NeNe Leakes Stand
"I do, because at the end of the day, I think that the song, the saying, it's about, 'You can't tell me who I am and I know I'm fabulous, regardless of what you think about me.' And that's what 'Gone With the Wind fabulous' is all about," Kenya said.
As for the Gone With the Wind part of the saying, in a blog posted in 2012, Kenya explained that Hattie McDaniel, the first black woman to win an Oscar, is a hero of hers. "Ms. McDaniel played a loyal maid in a time where roles for women of color were few and far between. Hattie was widely criticized for playing a maid, but without her inner strength, it's unclear what our legacy as a people would be now. Certainly, she has enriched my life. Her incredible feat defied racism, hatred, segregation and civil uncertainty and unrest," she wrote.
"My age, race, religion, social economic standing, and marital status are not indicators of my past, present, or future as I too can defy the odds just like Hattie. I am bold. I am humble. I am strong. I am complicated. I am complex. I am vulnerable. I am resilient. I am good. I am honest --That's what makes me fabulous," Kenya said in her blog.
The Real Housewives of Atlanta airs Sundays, 8 p.m. on Bravo.
(E! and Bravo are both part of the NBCUniversal family.)