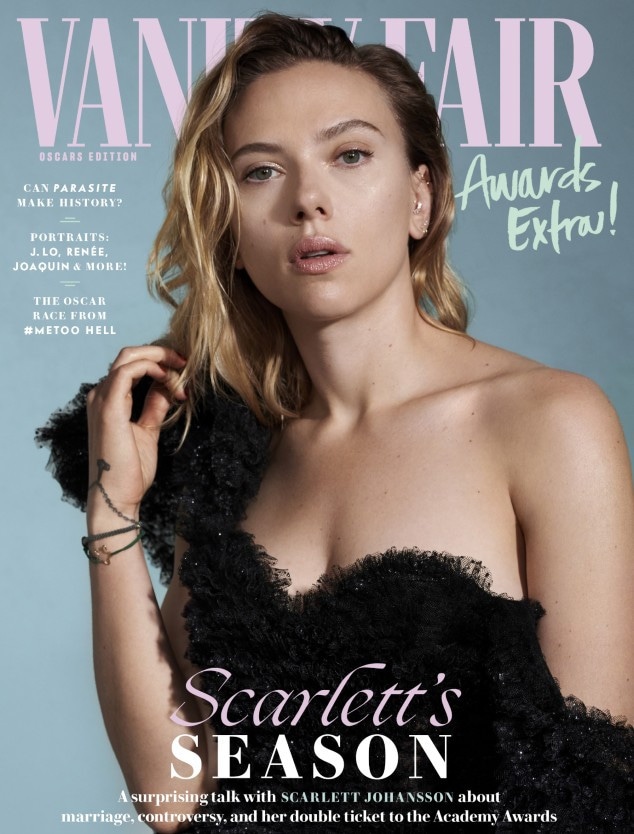 Collier Schorr
Scarlett Johansson doesn't want to "edit" herself when it comes to expressing her true feelings.
The Marriage Story actress, who has sparked backlash in recent months over her statements about Woody Allen, as well as political correctness and casting, is addressing her eyebrow-raising commentary in Vanity Fair's Awards Extra! special issue, released Tuesday. In her cover story, Johansson is asked generally about controversial statements she's made, and the 35-year-old star expresses that she doesn't want to "lie" about how she feels.
"I'm not a politician, and I can't lie about the way I feel about things," she tells Vanity Fair. "I don't have that. It's just not a part of my personality. I don't want to have to edit myself, or temper what I think or say. I can't live that way. It's just not me."
She adds, "And also I think that when you have that kind of integrity, it's going to probably rub people, some people, the wrong way. And that's kind of par for the course, I guess."
Johansson is also asked about defending director Allen, who has been the subject of sexual abuse claims.
"Even though there's moments where I feel maybe more vulnerable because I've spoken my own opinion about something, my own truth and experience about it—and I know that it might be picked apart in some way, people might have a visceral reaction to it—I think it's dangerous to temper how you represent yourself, because you're afraid of that kind of response," she says. "That, to me, doesn't seem very progressive at all. That seems scary."
When asked specifically about the criticism her Allen comments received and if that made her "think they had a point," Johansson replies, "I don't know—I feel the way I feel about it. It's my experience. I don't know any more than any other person knows. I only have a close proximity with Woody...he's a friend of mine. But I have no other insight other than my relationship with him."
Victor Bello/ Optimum Releasing
Journalist Chris Heath also notes to Johansson that her comments about Allen could be perceived as saying to a woman who has spoken out, "I don't believe you."
"Yeah," the actress replies. "I do understand how that is triggering for some people. But just because I believe my friend does not mean that I don't support women, believe women. I think you have to take it on a case-by-case basis. You can't have this blanket statement—I don't believe that. But that's my personal belief. That's how I feel."
And when it comes to her controversial casting in the movie Rub & Tug, in which she was set to portray transgender man Dante "Tex" Gill, Johansson knows she "mishandled" that situation.
In response to initial casting backlash, her rep had initially told media outlets, "Tell them that they can be directed to Jeffrey Tambor, Jared Leto and Felicity Huffman's reps for comment." The statement referred to three actors who have played transgender characters onscreen in the past.
Watch:
Scarlett Johansson Hits SDCC 2019 with "Black Widow" 1st Details
"In hindsight, I mishandled that situation. I was not sensitive, my initial reaction to it," Johansson tells Vanity Fair. "I wasn't totally aware of how the trans community felt about those three actors playing—and how they felt in general about cis actors playing—transgender people. I wasn't aware of that conversation—I was uneducated."
She adds, "So I learned a lot through that process. I misjudged that…. It was a hard time. It was like a whirlwind. I felt terribly about it. To feel like you're kind of tone-deaf to something is not a good feeling."
To read more from Johansson's cover story, head on over to Vanity Fair.