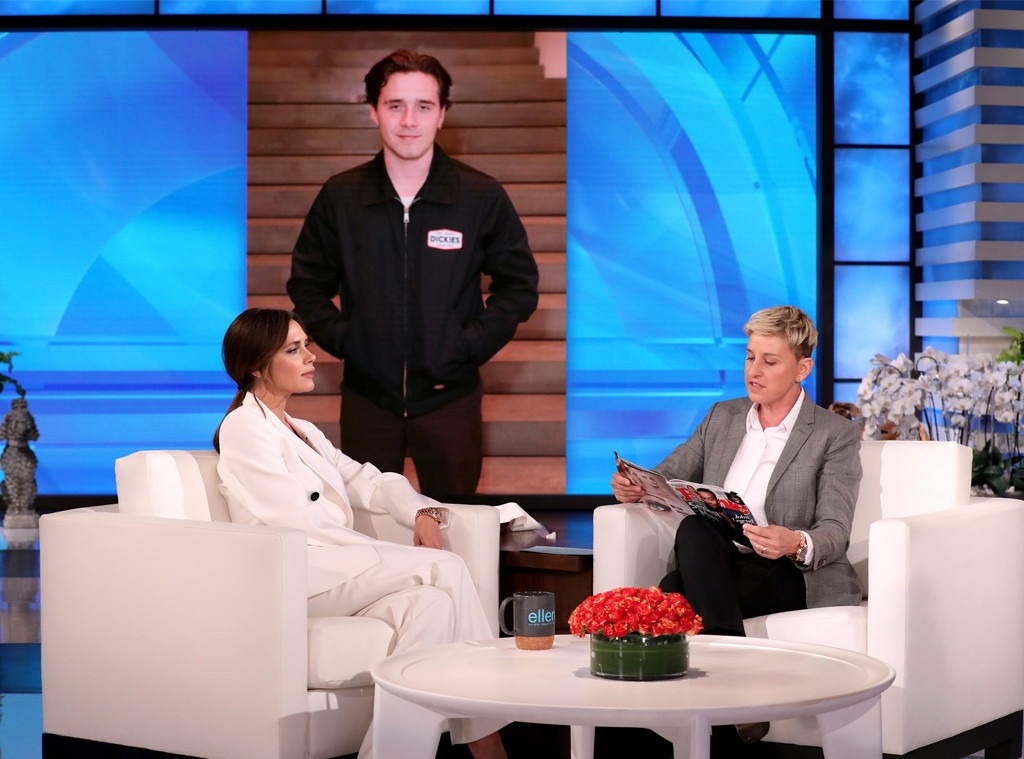 Michael Rozman/Warner Bros.
Stop right now!
Victoria Beckham is a proud mom, but she's not loving the fact that her eldest son Brooklyn Beckham is being dubbed "sexy."
The 20-year-old was featured in People's 2019 Sexiest Man Alive Issue and listed as one of the Sexiest Stars at Every Age. When asked if she knew about Brooklyn's new title during her visit to The Ellen DeGeneres Show, the fashion designer, who is also mom to Romeo Beckham, 17, Cruz Beckham, 14, and Harper Beckham, 8, had the best response. "I'm not sure if I want to know that," she told host Ellen DeGeneres. "I don't know if I need to know that."
Switching gears, the daytime host asked Victoria about some her viral social media moments—starting with her recent dance party in Times Square. The Spice Girls alum revealed that her Saturday Night Fever dance moves were the result of some tequila and that she loved getting down with the Times Square Cookie Monster.
Then, Ellen questioned Victoria on her signature foot pointe pose, which has now become her go-to on Instagram. Naturally, this led to the Victoria Beckham Beauty founder giving Ellen a tutorial.
After showing off their flexibility, Victoria explained that her leg up pose as become somewhat of a phenomenon.
"Do you know the great thing about Instagram, I mean, people will tag me in pictures of, literally, their cats doing, their dogs doing it, their babies doing it," she explained. "It's very entertaining. And keep them coming because I see all of them. It's hilarious."
Lastly, Victoria dished about her recent TikTok video with son Romeo, where the two danced to "Spice Up Your Life" together. Much to our surprise, the 17-year-old actually used the adorable mother-son dance number to rack up some more followers.
Watch:
Victoria Beckham Is Still Winning After 20 Years in the Biz
"He came home other day and he said, 'You know, Mum, I've just joined TikTok. Will you do a dance with me?' And I was like, 'Yeah, what should we dance to?' And he said, 'The Spice Girls.' And then he took my phone, he posted it on my Instagram and he said, 'That'll get my numbers up.' He used me!"
Watch Victoria relive her viral social media moments and weigh in on the possibility of another Spice Girls reunion in the video above!