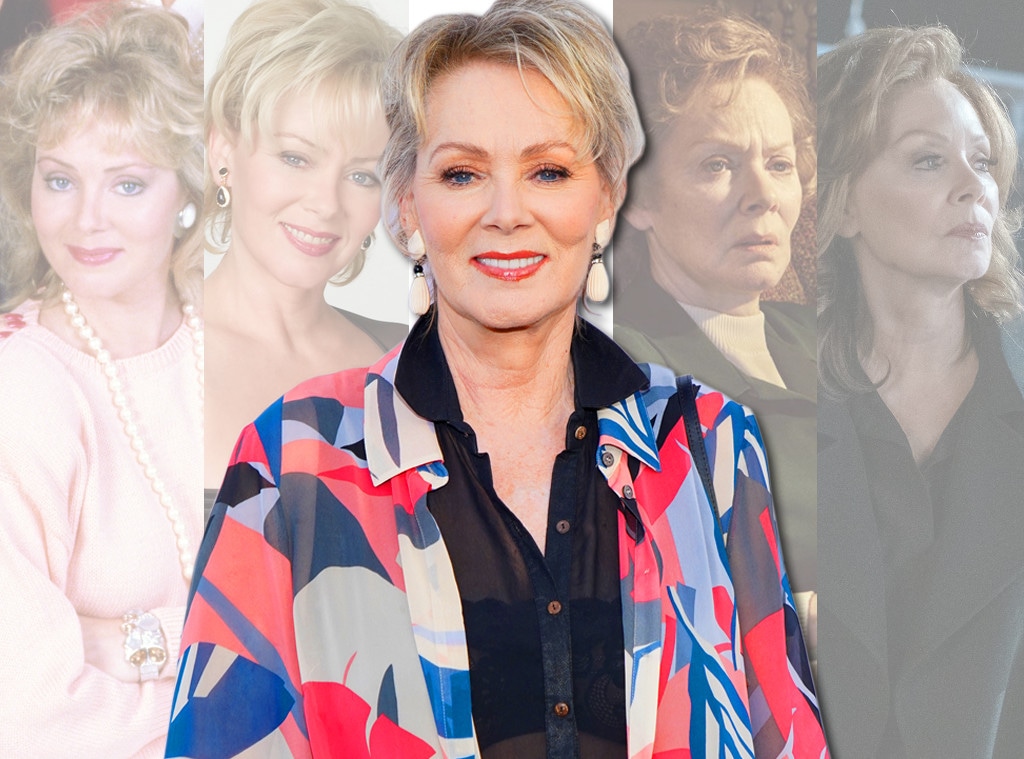 Sony, NBC, Rachel Luna/Getty Images, FX, HBO
For the last 40 or so years, Jean Smart has been many different people. She was the naïve and sweet Charlene on Designing Women; the serial killer Aileen Wuornos; Frasier Crane's old high school crush Lana Gardner; Melanie Bird, a psychiatrist to a powerful mutant on Legion; Fargo's Floyd Gerhart, the head of a crime family; and to viewers now she's Watchmen's Laurie Blake, the former vigilante known as the Silk Spectre who is now working as an FBI agent to bring down white supremacists.
It's safe to say there isn't a lot of audience overlap between Watchmen and Designing Women. The HBO drama is as far from laughing with the Sugarbaker women as one can go. But no matter the genre, audiences still take notice of Smart.
"I love that. I feel incredibly grateful for that…First of all, the fact that I'm still working so much is fantastic, and the fact that I still haven't been typecast, I know that that is kind of a rare thing. And so, I don't take that for granted at all. You know, I'm just enjoying it all enormously," Smart told E! News.
Smart grew up in Seattle, fell in with the drama department in high school, and received a BFA from the University of Washington Professional Actors Training Program. Designing Women would come in 1986, but before that Smart was on the stage. She said her first show in New York City, the play Last Summer at Bluefish Cove, will always hold a special place in her heart.
"It's a play about seven gay women who spend the summer in a lesbian community on Long Island. I was playing the lead and she meets the love of her life the summer that she's dying of cancer. And I just loved the part so much and it kind of jumped-started my entire career... It's something that's always going to be very near and dear to me," she said. And if there's ever a revival, she's in. "Oh, I would love to if they didn't think I was too old! I don't think I'm too old, but somebody else might," Smart laughed.
After a few short-lived shows and guest roles, Smart landed on Designing Women, a sitcom about the goings on inside a family-operated design firm. She played office manager Charlene Frazier opposite Dixie Carter, Delta Burke, Annie Potts and Meshach Taylor. The show recently became available to stream on Hulu, and while Smart said she hasn't tuned in, she has been in contact with Burke and Potts about it. Burke's been letting them know all about some "upsetting" edits that were made to their original product.
"I mean, I'm glad they're showing it, but…It just makes me miss Dixie and Meshach so much," Smart said.
When she started on the series in 1986, Smart said because of her theater background, she just saw it as another role.
"But the fact that it lasted so long, that was a new experience. I'd never been through anything like that...It was a wonderful, incredible show and I loved the character," Smart said. "You kind of become an actor because you don't want to do the same all the time." So, when contract time rolled around, Smart was ready to try something else. "You get used to kind of a nice cushy schedule and good money, and I started feeling like I was getting too used to all of that and I needed to do something else."
That something else was Overkill: The Aileen Wuornos Story, something wildly different than Designing Women.
Watch:
Jean Smart Talks Playing Blake Lively's Mom
"[Getting typecast] probably crossed my mind, because like I said, I had never done a role anywhere near that length of time. But the first job I got offered after I left the show was playing Aileen Wuornos, the serial killer. So, I thought, 'Well, that's certainly not typecast,'" Smart laughed. "The good, sweet, gullible Baptist girl to Aileen Wuornos."
Smart would bounce around between comedies and dramas on stage and screen for years. There were roles in The Brady Bunch Movie, her Emmy-winning turn in Frasier, 24, Samantha Who?, Garden State, Sweet Home Alabama, Getting On, Fargo, A Simple Favor and Legion, just to name a few. She counts her 2006 role in 24 and 2015's Fargo as turning points for her in terms of how people see her in the industry. Following Fargo, she signed on to star in Noah Hawley's other FX series Legion, a take on the X-Men comic book character. Her next brush with comic books would come when Damon Lindelof offered her the role of Laurie Blake in Watchmen, the HBO series based on the acclaimed comic book series by Alan Moore and Dave Gibbons of the same name.
"I knew nothing," Smart said about Watchmen. "My agent called me and said, 'You're getting offered this part,' and they sent me the script and I just fell in love with it."
The character of Laurie Blake aka the Silk Spectre is from the comic miniseries. As viewers and readers know, she's seen some, well, stuff. Her father, The Comedian, once attempted to rape her mother, the original Silk Spectre. Laurie went on to take up her mother's superhero mantle and later had relationships with both Nite Owl and Dr. Manhattan. While the character has no superpowers—she is still in that orbit as a former masked vigilante—Smart said she was surprised to find herself mixing it up with the costumed types.
"I just, I never saw myself playing this kind of a role, really, at this stage in the game. It's just been a delight," she said. The character has a biting wit and you can tell Smart is having a hell of a time with the zingers. "I just find her so fun and complicated. I don't put it in either genre [comedy or drama], because to me she's as funny as she is deadly serious. To me, she's a wonderful combination of the two, which is why I'm having so much fun with her," she said.
"I love the way she just messes with people. She's so disrespectful to everyone," Smart continued. "Like, when she was picking her teeth in Mirror Guy's—well, Looking Glass, excuse me—in Mirror Guy's mask. She's so funny. She's pretending to get a seed out of her teeth or something. And the way she treats everybody, she's condescending to absolutely every single person she meets from senators down to her assistant in a way that I found absolutely amusing. That, and her hair."
Smart has already wrapped production on Watchmen and is currently filming the limited mystery drama series Mare of Easttown opposite Kate Winslet. After that, she said she'd love to do an ensemble period drama and a comedy on par with Frasier, and she wouldn't mind playing a role similar to Designing Women's Charlene again. "I would I love it! Yeah. I mean, because I think I'm a lot more like that than other parts I've played, but people don't see me that way as much anymore. My husband would tell you that I am the most gullible person he's ever met, but people wouldn't think that necessarily just meeting me," Smart laughed.
Whatever is next for her career, Smart is just happy to still be entertaining audiences, whether it's in a sitcom or a gritty drama.
"Well, I guess I'm finally at a point where—because most actors are always crying, 'Oh God, I'm never going to work again, I'm never going to work again.' I think I've finally decided that I will work again," she laughed. "That I'll probably be able to pay the mortgage. That's nice, to be able to kind of relax in that sense, you know? I mean, I just, I feel extraordinarily fortunate. I really, really do."
Watchmen airs Sundays, 9 p.m. on HBO.