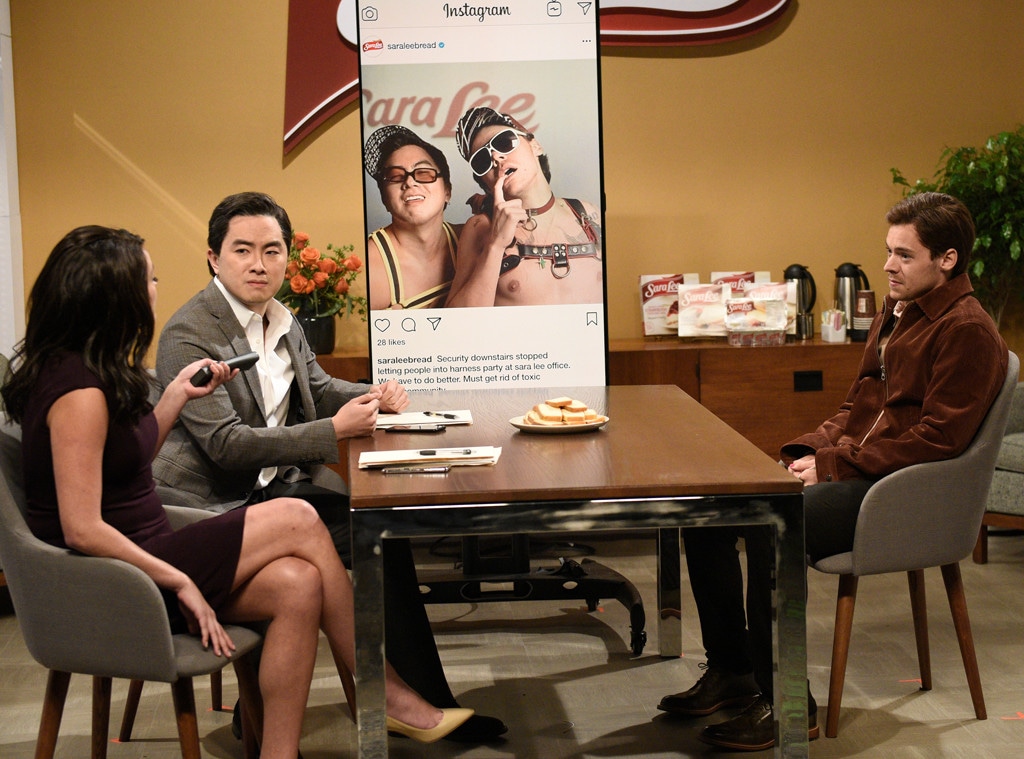 Will Heath/NBC
Pretty sweet perk! 
Saturday Night Live is known for pushing the envelope when it comes to their legendary comedy sketches. On the recent Harry Styles episode, the show did just that when they unveiled a hilariously awkward sketch, where Harry played a character who ran the Sara Lee Instagram account. Turns out, he was in trouble for posting some pretty NSFW musings on the company's page. 
Sara Lee got wind of the sketch, and while they didn't directly participate in it, they thought the bit was all in good fun. E! News caught up with new SNL cast member Bowen Yang at the American Museum of Natural History's 2019 Museum Gala, and he talked all about the epic sketch.
"We are going to ruin every bread company in the world," Bowen joked about the sketch. "How are we going to top it? There is no topping it. We are never going to unleash that kind of havoc on the world ever again. I don't think I could ever hope too." 
As for how he feels about the havoc he wreaked upon Sara Lee, he shared that the bread company was totally fine with it! "Some poor person on their team had to wake up on a Sunday and sift through all of that," he joked. "They were going to send us some pies...But I think the shipping got screwed up and we didn't get anything. But they sent us such a lovely note. They were good sports about it."
Watch:
Necessary Realness: Hot for Harry Styles
Sounds like a pretty sweet deal to us! Bowen also chatted a little bit about the highly anticipated return of Eddie Murphy to the show for the first time in 35 years. "We are all having these discussions in the office about how important he is to all of us, so we are all excited to have him back," he revealed. "SNL is so by the seat of your pants. I didn't realize even coming into SNL just how decisions don't get made till the week of. But it'll be good just because he's there." 
We can't wait to see what food brand they'll hilarious destroy next! 
—Reporting by Jessica Finn