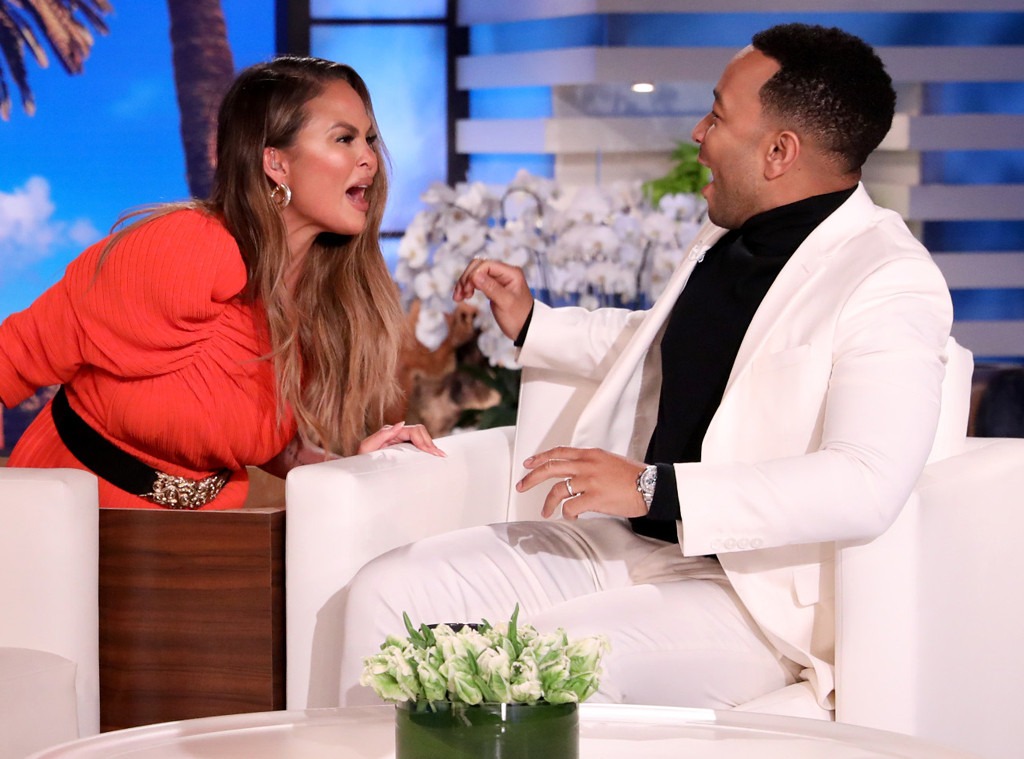 Michael Rozman/Warner Bros.
Chrissy Teigen never passes up an opportunity to troll John Legend.
People's 2019 Sexiest Man Alive took on the hosting duties on Friday's The Ellen DeGeneres Show, and the episode included a classic jump scare, but this time, with a twist. Instead of Legend scaring one of his guests like Ellen DeGeneres typically does, the singer was the one being scared. And by his very own wife!
The moment happened after the star shared a hilarious reimagined "All Of Me" music video (which the couple originally filmed in Italy the week of their 2013 wedding), this time starring DeGeneres appearing as a dancing handyman trying to seduce the singer.
As the video wrapped up, Legend said, "Don't tell Chrissy, guys. She'll be very, very, very, very jealous of Ellen." And then, out came the Queen of Twitter!
Popping out of the table next to her husband, Teigen yelled, "What are you f*#king talking about?!" as Legend let out a scream.
While scaring her man was easy, sitting quietly in the box? Not so much. As she quipped, "That was the hardest thing I've ever done."
Ever the gentleman, Legend then helped his wife by picking her up and out of the box, then they got to chatting about his hosting skills. And surprisingly enough, Teigen didn't troll him! Turning to the audience, she gushed, "You guys, he's pretty good, right?"
As the next moment revealed, the sexiest man alive cannot tout spacial awareness as one of his strong suits, given he had no clue the love of his life was hiding right next to him.
As Teigen quipped, "This helps, because he's very unaware of anything around him. We get in fights on the airplane and stuff. He'll hit people with his bag and I'm like, 'Apologize!'"
Trolling himself this time, Legend responded, "If you wanted to cheat on me, you could probably get away with it." To which the Cravings author joked back, "Oh, no. I have a million times."
Next on the agenda was the couple discussing Legend's new sexy accolade. As the mom of two said, "Oh my gosh, this has really gotten to you. It's well deserved, though, I will say."
Not everyone agrees that the La La Land alum is the hottest guy there is, however, as the Lip-Sync Battle star revealed the backhanded compliment the pair read earlier this morning.
As Teigen explained, "They were like, 'This just proves to you that it doesn't take good looks to be sexy.' But it was trying to be a compliment! But it was for the both of us. It was like, 'Look at this couple!'"
Chimed in Legend, "They prove that even very average-looking people can be sexy." Celebrating themselves, Teigen wrapped her interview with a sweet, "We can do it, baby! We did it!"
Yes, you did.