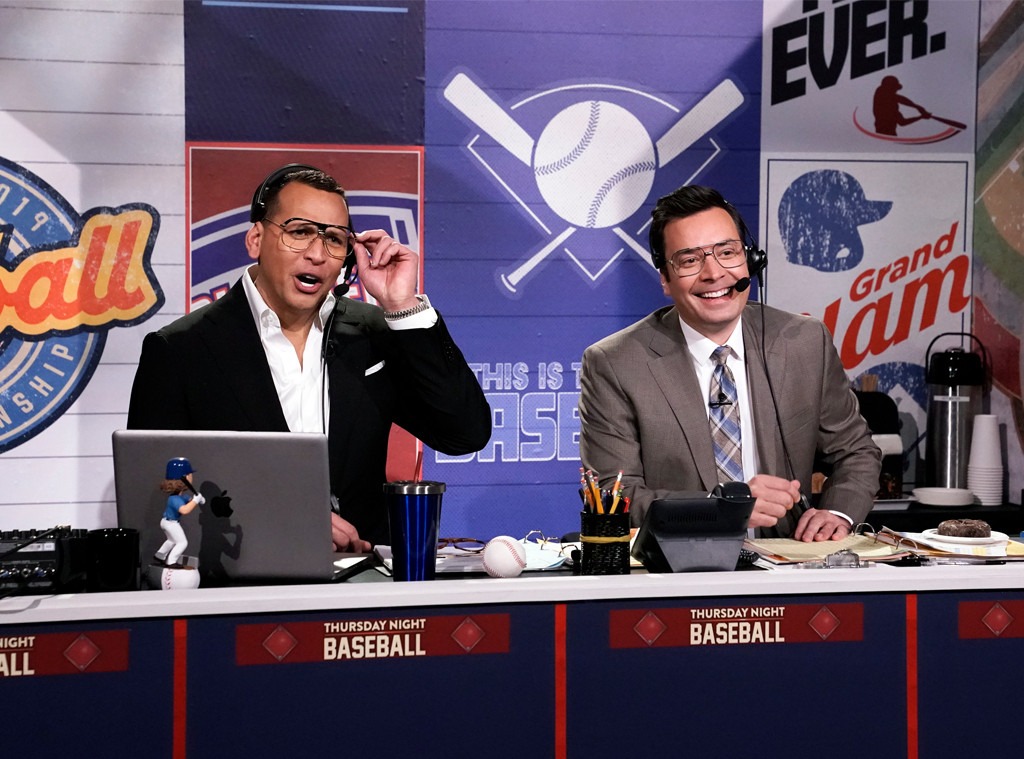 Andrew Lipovsky/NBC
Don't be fooled by the rocks that he's got! 
On Thursday, Jimmy Fallon took Alex Rodriguez back to the ballgame with a baseball-themed segment of "Teleprompter Tango" on The Tonight Show Starring Jimmy Fallon. For the fan-favorite sketch, the late night host and the former MLB superstar portrayed sportscasters and read never-before-seen lines from a teleprompter on air—one of which included a hilarious reference to A-Rod's fiancée Jennifer Lopez. 
"We actually had the chance to work together recently," Jimmy teased before heading to the broadcast booth. "We called a baseball game together and it was a lot of fun. But the teleprompter operator was kind of a loose cannon. He would put lines into the teleprompter that we had never seen before, so we'd end up reading things for the first time live on air. It was a little nerve-wracking, but I think we handled it all right."
Donning headsets and aviator-framed glasses, the duo sat behind a messy desk filled with baseball memorabilia and delivered their lines. A-Rod kicked things off with an awkward intro. "I'm Alex Rodriguez," the newly-engaged star said into the camera. "And you can call me Little Cutie."
"Wait, Juicy Fruit Booty," he continued before tossing things over to his co-anchor. "Uh, Jimmy, can I be honest? Uh, I have an idea. What am I doing here? And what baseball is?"
Next up was Jimmy, who got a little TMI with the audience. "Well, Gonzalez steps up to the plate," he began. "He's hoping to raise his batting average. But me, I'm hoping to raise my cholesterol, which is why I eat one hard-boiled egg at breakfast, one at lunch, one at dinner, and one right before making love."
To wrap up the segment, Alex gave J-Lo a special shout-out. "I actually won the MVP in 2003, '05 and '07," he said. "But he don't fool by the rocks that I got. I'm still Ally from the block. Bazinga."
After hanging up their sportscaster headsets, Alex joined Jimmy back on the Tonight Show stage and dished about his upcoming wedding to the "Jenny From The Block" singer. Despite pulling off such an elaborate proposal back in March, the Shark Tank star said that he's handed the reins over to J-Lo for the wedding planning.
"I would say it's stressful, but it's really not," he explained. "It's actually, um...You just let Jennifer plan everything and you just say, 'Alright.'"
Knowing that the couple is still in the early stages of wedding planning, Jimmy gave A-Rod some ideas to help ease the process. After suggesting that the future Mr. and Mrs. Rodriguez do a choreographed first dance at their reception, he insisted that the wedding should happen during Jennifer's highly-anticipated Super Bowl 2020 Half-Time performance. "It would just be epic," Jimmy said, making a convincing case for A-Rod.
Watch Alex and Jimmy discuss having a Super Bowl wedding and more in the video above!
(E! and NBC are both part of the NBCUniversal family.)