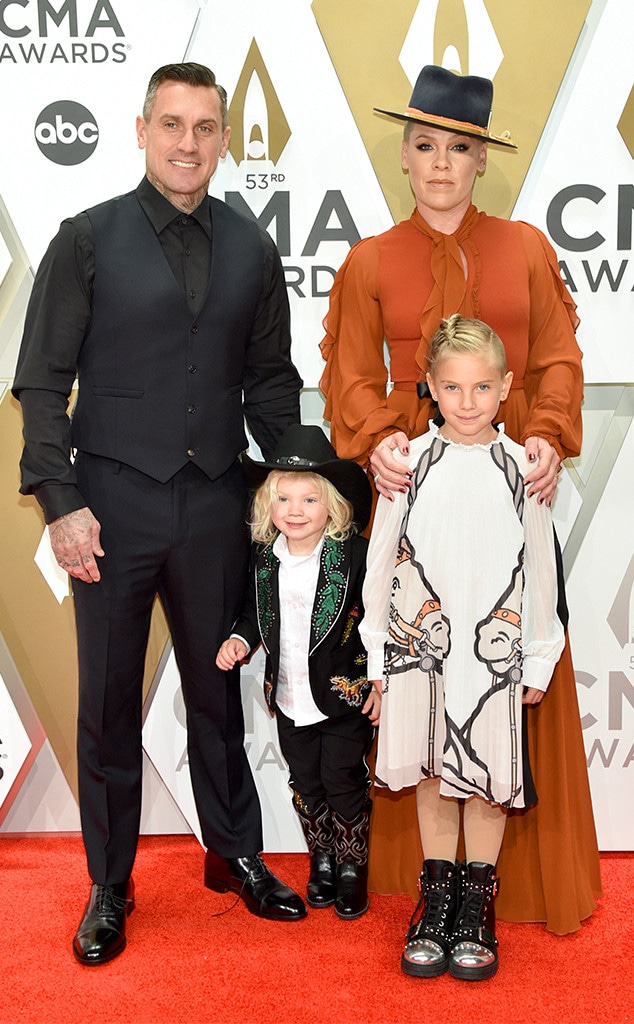 John Shearer/WireImage
Even the cutest fall down some times.
After stealing the show with her adorable family, Pink's 2-year-old son Jameson Hart took an adorable tumble on the 2019 CMAs red carpet. Speaking with Ellen producer Andy Zenor, the "What About Us" singer played a hilarious round of "Tequila Tube" before heading into the show.
Armed with a squirt gun of tequila, Pink did her best to shoot a shot into the producer's mouth. All the while, Pink's husband Carey Hart was trying to get the cowboy-clad tot and their 8-year-old daughter Willow Hart out of the splash zone. That's when his little fumble occurred.
Watching it all happen live from The Ellen DeGeneres Show studio in Los Angeles, host Ellen DeGeneres said, "Somebody's been drinkin' already!"
Jameson wasn't the only one to get caught in the crossfire. Pink accidentally got some tequila on Lady Antebellum's Dave Haywood. Thankfully, he was a good sport about it. "You're okay," he told the "Walk Me Home" singer. "It's for Ellen, it's okay!"
Andy was also in good spirits after the game. "Remember when you were a kid and you went underwater and you weren't ready for it?" he asked Ellen. "Yeah, that's where I'm at."
Watch:
P!nk Gushes Over Performing With Chris Stapleton at 2019 CMAs
Pink chimed in, "Remember your first Cabo trip?" 
As it turns out, both Willow and Jameson are huge Ellen fans! Before parting ways with Andy, Jameson gave the Ellen's Game of Games host a sweet shout-out. "I like YOU!" he yelled into the microphone.
Prior to the tequila shenanigans, Pink said that Ellen was Willow's favorite person. Then, the 8-year-old showed the host her red carpet face. 
Giving the camera a fierce smize, Pink asked, "Isn't that giving you a little bit, like, 'She Eats Brains For Breakfast' vibes?" 
Watch the hilarious red carpet moment in the video above!