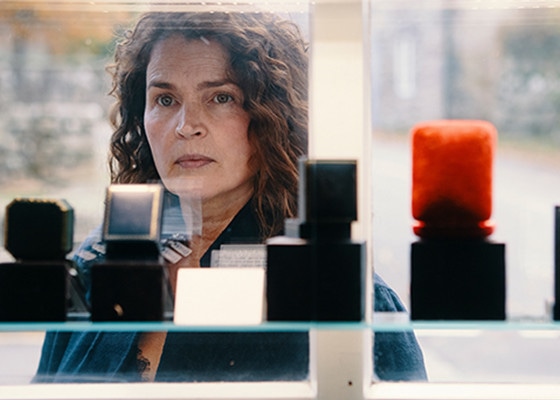 In case you haven't heard, English actor Julia Ormond is the star of new miniseries Gold Digger, premiering this Sunday on CTV Drama Channel. In Gold Digger, Ormond plays Julia Day, an accomplished and intelligent 60-year-old woman accustomed to putting her (ex) husband and children's needs before her own---until she gets swept off her feet by 30-something copywriter Benjamin Greene (Ben Barnes), that is.
Ormond's portrayal of a woman who finds herself at a major turning point late in life is impressive, but we'd recommend checking out some of her past performances as well. Here are a few of our favourites – one for each of Gold Digger's six episodes.
Sabrina
Imagine being told that you've landed a role in a movie in which your love interest in Harrison Ford. Then imagine learning that the character you're playing was originated by Audrey Hepburn. No pressure. Some may prefer the original 1954 version of Sabrina, but Ormond's portrayal of the titular character in the 1995 version is nevertheless a must-see.
The Curious Case of Benjamin Button
 In 2008, Ormond played the adult daughter of Brad Pitt's Benjamin Button and Cate Blanchett's Daisy Fuller in the Oscar-winning The Curious Case of Benjamin Button. Acting alongside two of Hollywood's most recognizable actors couldn't have been easy, but Ormond rose to the occasion.
Temple Grandin
 In Temple Grandin, Ormond faced the unique challenge of having to portray a real person---Temple's mother Eustacia Cutler---on screen. She did such a good job that she was nominated for a Screen Actors Guild Award and won an Emmy award for her performance---and fortunately, you can watch Temple Grandin right now on Crave.
My Week with Marilyn
In 2011's My Week with Marilyn, Ormond portrays Vivien Leigh. Yep, that Vivien Leigh. Also featuring Kenneth Branaugh as Laurence Olivier, Eddie Redmayne as Colin Clark and, of course, Michelle Williams as Marilyn Monroe, this movie is worth watching for the star power alone.
Witches of East End
Gold Digger doesn't mark the first time Ormond's had a starring role in a television show. In Witches of East End, which ran from 2013 to 2014, Ormond played Joanna Beauchamp (excellent name), the matriarch in a family of witches. Gone too soon.
Witches of East End
Mad Men
You may have a hard time buying Ormond as a put-upon wife and mother if you know her from her turn as Mad Men's posh, put-together Marie Calvet (the mother of Don Draper's one-time wife, Megan Calvet). Delivering lines in French as effortlessly as she does in English, Ormond made us believe that she really was the skeptical, reserved French-Canadian mother that Megan saw her as.
Don't miss Ormond's debut as Julia Day in the Gold Digger series premiere this Sunday at 9/6p on CTV Drama Channel. Check out the series trailer here.