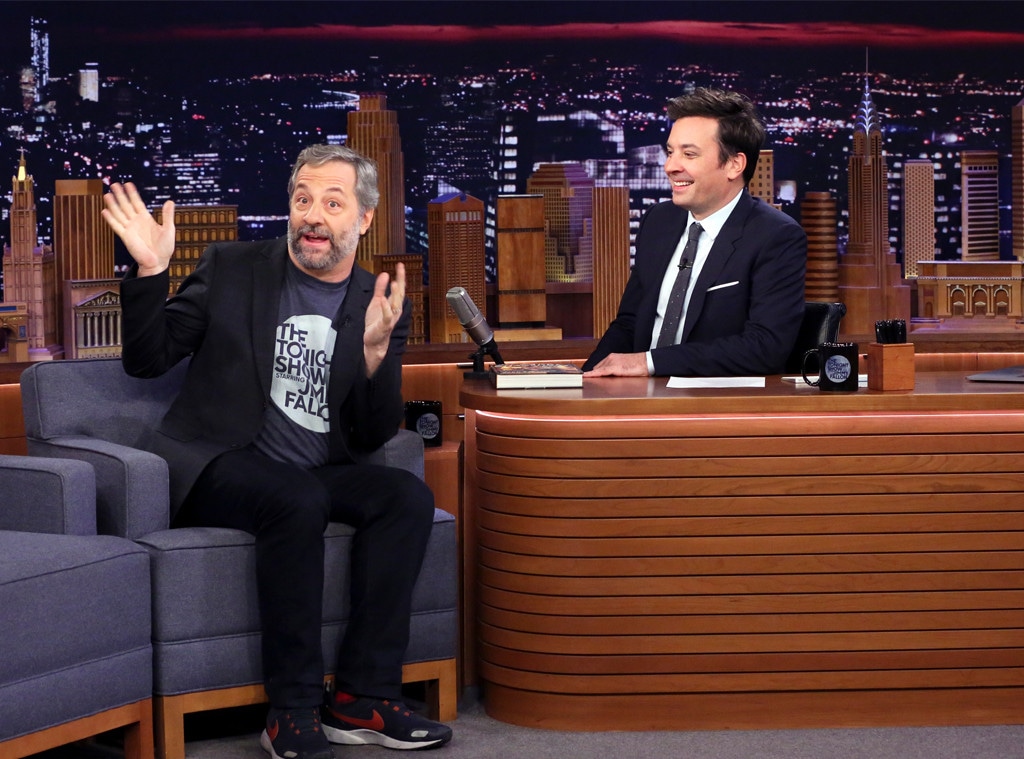 Andrew Lipovsky/NBC
Note to self: Never get into a candy fight with Jimmy Fallon.
On Tuesday, Judd Apatow stopped by The Tonight Show Starring Jimmy Fallon and revealed that his last appearance on the show didn't go according to plan. 
"I remember it exactly because it was terrifying," the stand-up comedian began. "The show provides a car—I don't think to be nice, but just to make sure you're on time and you show up. And so, I'm leaving. I'm in the car, driving down, I guess, like, Fifth Avenue, and suddenly something hits me in the face. And it's a piece of candy."
Of course, the culprit was none other than the late night host. "And I look left and there's Jimmy in his car, like laughing at me," Judd continued. "And so then, I take a piece of candy—you know, we're going like 30 miles per hour down the street—and I, like, toss one at him. And then you toss one at me."
"And then, just as a joke, I took the whole basket of candy and just threw it against the car," the father of two continued. "And it just, like, hit like a machine gun."
Naturally, things escalated quickly. "And then a siren goes off," Judd recalled. "And the cops pull us over. And now it's like, scary. And then the cop comes up to my window first. And he's mad. He's like, 'What kind of animal are you?! Why would you litter in this beautiful city?! You're an animal. You sit there! You sit there, I'll be right back!"
Expecting Jimmy to receive the same reprimanding from the officer, the 40-Year-Old Virgin producer said he eagerly watched the two have an exchange. But much to his surprise, Jimmy is an excellent negotiator.
"And then, like, two minutes later, he comes back to my car and goes, 'Hey, everything's cool. Jimmy said he'd buy us some steaks!" Judd said. 
Watch the duo relive the silly moment in the video above!
(E! and NBC are both part of the NBCUniversal Family.)