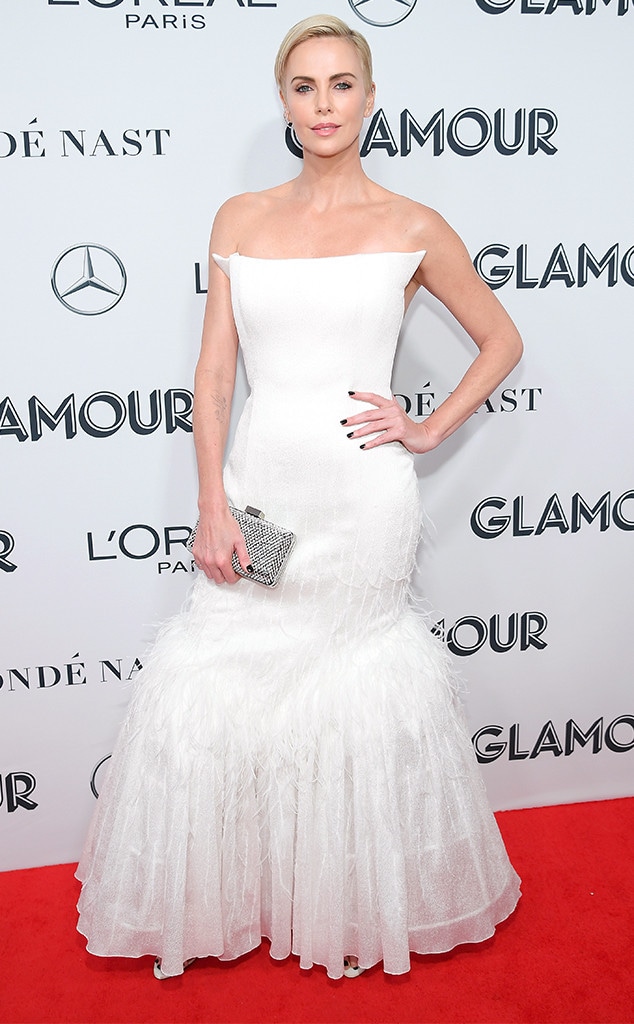 Dimitrios Kambouris/Getty Images for Glamour
Charlize Theron can make anything look good.
Don't believe us? Take her latest Instagram for example. The Bombshell star proved that she can work any angle with a glamorous shot of herself…on the toilet. Sporting an elegant white feathery dress from Givenchy and holding a champagne flute, Charlize struck a pose for the camera, captioning the photo, "Mondays amirite?"
So, what's the occasion for such a look? Charlize attended Glamour's Women of the Year Awards on Monday, where she was named one of Glamour's 2019 Woman of the Year honorees. For this year's ceremony, the publication celebrated fearless female leaders, trailblazers and rule-breakers who continue to shatter glass ceilings.
Charlize was honored alongside Grown-ish actress Yara Shahidi, professional soccer player Megan Rapinoe, filmmaker Ava DuVernay, teen environmental activist Greta Thunberg, novelist Margaret Atwood, fashion designer Tory Burch and the empowering women of RAICES, an organization that protects the rights of immigrants and refugees.
In fact, she was presented with the award from her Bombshell co-star Kate McKinnon. "So stoked to have this woman present to me at #GlamourWOTY tonight," Charlize said of the Saturday Night Live star on Instagram. "And just wait till you see her in @bombshellmovie. She will blow your mind. Kate, you're a real one x."
Speaking to Glamour in October, the Oscar winner opened up to the magazine about her stance on marriage and the confidence she's gained by working in the film industry. "I haven't been in a relationship for a very long time," she said. "I never wanted to get married. Those are things that are not hard for me, because they're innately my truth. I find people are somewhat perplexed by that, and also more with women, right?"
In addition to challenging societal norms and owning it on screen, Charlize said that she's excited to defy industry expectations with her upcoming projects. "There is a part of me that always feels like, 'Hey, I've been doing this for 25 years,'" she told the magazine. "I have a confidence in that. I've had enough experience that I can actually bring something and not just be a barnacle."
After all, she is not only an award-winning actress, but also a producer with her own company. "I think there's this conclusion that sometimes gets made, like, 'It can't possibly be a f@!king actress that put this thing together,'" Charlize added.  
Speaking of her next big role, Charlize transforms to play Megyn Kelly in Bombshell, which tells the stories of the female employees at Fox News who exposed the toxic male culture at the company that led to the downfall of media mogul Roger Ailes. For Charlize, she is grateful to commemorate such a momentous moment in today's society and to portray such powerful women. 
"We want to share this film with them," the actress told E!'s Carissa Culiner. "We're incredibly proud of it and we hope they're proud of it. We're proud of them. It's a landmark moment. They really catapulted us into this moment of conversation that just hasn't stopped. And for whatever you think of them or feel about them, they were part of something that changed our conversation."