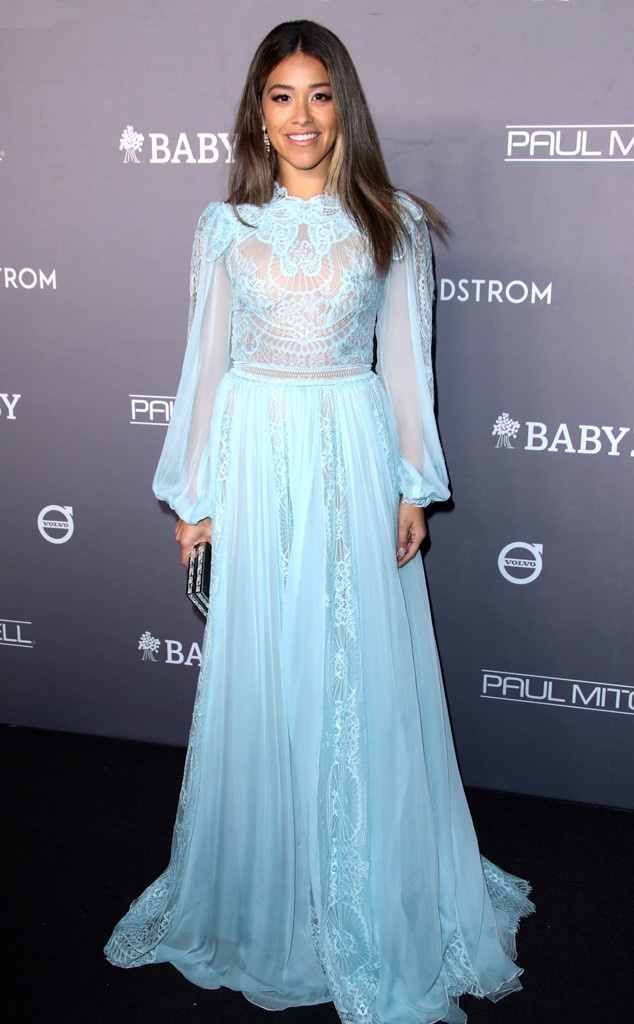 Matt Baron/Shutterstock
Gina Rodriguez is stepping out for a good cause!
The Jane the Virgin alum hit the red carpet on Saturday night with her husband Joe Locicero for the 2019 Baby2Baby Gala Presented by Paul Mitchell. She dazzled in a bright baby blue long-sleeve gown that featured intricate embroidery, a peek-a-boo bodice and a flowy silhouette. Her beauty look also matched the romantic, ethereal vibe she was going for. 
The 35-year-old star donned a pastel pink lip color, bold cat-eye and subtle highlight. Her straight hair was also styled effortlessly, which kept the focus on her whimsical ocean-blue gown and jewel-encrusted drop-earrings. 
She and her husband celebrated the star-studded event with guests that included Paula Abdul, Jordana Brewster, Nikki Reed, Kate Husdson and her partner Danny Fujikawa (to name a few). Notable sponsors for the fête were Paul Mitchell, Prada, Nordstrom, Volvo Cars, and Kayne Anderson Capital Advisors Foundation.
The fanciful affair raised funds for the celebrated non-profit organization, which provides resources to children who are living in poverty.
Rodin Eckenroth/FilmMagic
Back in October, the Jane the Virgin star received heat after many people called her out for saying the n-word while singing to "Ready or Not" by The Fugees and Lauryn Hill.
After receiving backlash over her use of the word, she released an apology over Instagram Story. "Hey, what's up everybody? I just wanted to reach out and apologize. I am sorry," she said in her now-expired video. "I am sorry if I offended anyone. My singing along to the Fugees, to a song I love that I grew up on, I love Lauryn Hill. And, um, I really am sorry if I offended you."
She later took to Instagram, where she shared a more detailed apology.
"In song or in real life, the words that I spoke, should not have been spoken," she wrote. "I grew up loving the Fugees and Lauryn Hill. I thoughtlessly sang along to the lyrics of a favorite song, and even worse, I posted it. The word I sang, carried with it a legacy of hurt and pain that I cannot even imagine."
"Whatever consequences I face for my actions today, none will be more hurtful than the personal remorse I feel," her statement continued. "Watching my own video playing back at me, has shaken me to my core. It is humiliating that this has to be a public lesson but it is indeed a much deserved lesson. I feel so deeply protective and responsible to the community of color but I have let this community down. I have some serious learning and growing to do and I am so deeply sorry for the pain I have caused."
Just two days ago, the 35-year-old actress posted a photo to Instagram for the first time since the backlash. "Love from Oregon," she shared, along with a selfie of her and her husband.
With her latest appearance, it seems she's slowly trying to get back into the spotlight.