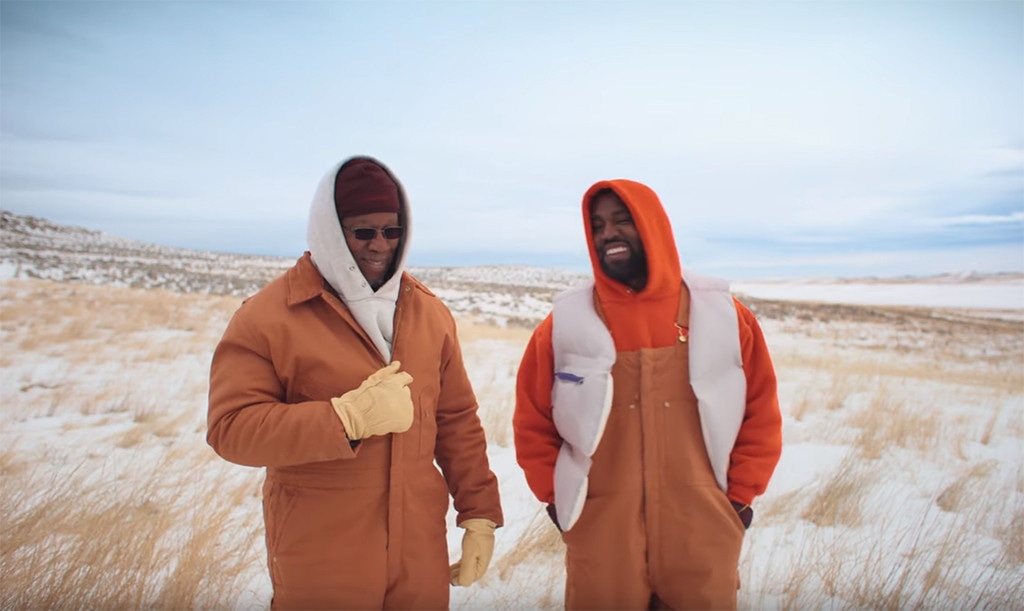 Def Jam, a division of UMG Recordings, Inc.
Kanye West released on Friday the first standalone music video from his new LP Jesus Is King and it features none other than his father, Ray West.
In the video, "Follow God," the 42-year-old rapper bonds with his dad on his and wife Kim Karashian's new $14 million ranch in Wyoming. Kanye and Ray smile as they walk together in the shallow snow and also have fun driving ATVs.
"What does it really mean to follow God?" a man says in a voiceover before the music starts. "Like as I stand here today, I'm reminded of the first time my children ever got an opportunity to be in snow. And when we walked outside in the snow, they were very fearful in terms of the steps that they would take. And what I did was, I walked in front of them and I took steps. And I said to them, 'Instead of creating your own footprints, walk in the footprints that I've already made."
"My dad came to visit me at one of our ranches in Cody, Wyoming. He talked about his love for fishing, and how he could come here in the summers," Kanye wrote. "It took me 42 years to realize that my dad was my best friend."
"He asked me, 'How many acres is this?' I told him 4,000. He replied with these three words: 'A black man?'" Kanye continued.
Watch the video below:
Ray and Kanye's mother, Donda West, divorced when the rapper was 3 years old. They had no other children together. After the divorce, Kanye, who was born in Atlanta, moved with his mom to Chicago. He spent summers with his dad in the Washington, D.C. area, according to the now-shuttered JET magazine. Donda died in 2007.
Ray is a former Black Panther, an award-winning photojournalist who was one of the Atlanta Journal-Constitution's first black photographers and is also a pastoral counselor, according to JET.
Kanye dropped Jesus Is King, his first gospel-themed album, and an accompanying IMAX film late last month. The rapper has led a musical Christian service every Sunday over the past year in the lead-up to his new music. The documentary contains footage of his choir singing in the Arizona desert.
Kanye's "Follow God" video was released a day after he said at the 2019 Fast Company Innovation Festival in New York, during a panel discussion with Yeezy head footwear designer Steven Smith, that "when people say it's crass to call yourself a billionaire, I say I might legally change my name to Christian Genius Billionaire Kanye West for a year until y'all understand exactly what it is."
"It will be on the license plate," he added.