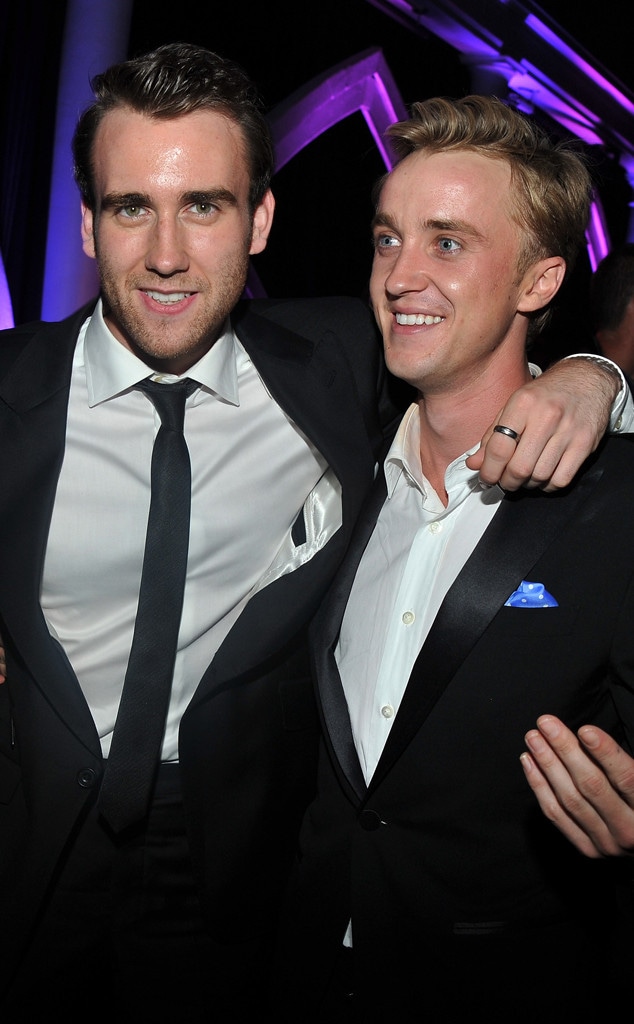 Stephen Lovekin/Getty Images
Matthew Lewis is trolling his former Harry Potter co-star, Tom Felton.
The British actors, who played Neville Longbottom and Draco Malfoy in the franchise, have remained pals since filming wrapped almost 10 years ago. While the Gryffindor and Slytherin students didn't get along on-screen, Lewis, 30, and Felton, 32, have had several reunions over the years, including one with Emma Watson. In Aug. 2018, Felton even tried to "convert" Lewis from Gryffindor to Slytherin, documenting the moment on Instagram.
"See how close he was to converting.... @mattdavelewis," Felton captioned the silly post, jokingly adding the hashtag #gryffindork.
So, we think it's safe to say these to enjoy joking around with each other, which is why Lewis' recent comment on Felton's Instagram made us LOL.
On Thursday, Felton posted a photo of himself dressed in his Slytherin robe, alongside a throwback picture of himself in character as Draco from Harry Potter.
"Agings a bitch," Felton captioned the Instagram post.
After seeing his pal's picture, Lewis, who had a bit of a glow-up post Harry Potter, couldn't help but tease him.
"Speak for yourself lad!" Lewis cheekily commented on Felton's post.
Lewis' comment, which was posted about eight hours ago, has already received close to 7,000 "likes" on Instagram.
Felton, who boasts over 5 million followers on Instagram, loves to show his Harry Potter pride on the social media platform. Back in June, Felton reunited with co-stars Rupert Grint and Evanna Lynch in Universal Orlando at an exclusive preview of Hagrid's Magical Creatures Motorbike Adventure in The Wizarding World of Harry Potter – Hogsmeade.
While in Orlando, Felton and Grint also explored the Jurassic Park River Adventure at Universal Studios Island Of Adventures, which Felton documented on his social media page.
Then in August, Felton shared a photo of him and Watson, which caused a social media frenzy. The picture, which received over 1 million "likes," showed Felton teaching Watson how to play the guitar.
Felton captioned the sweet picture, "Quick learner x."