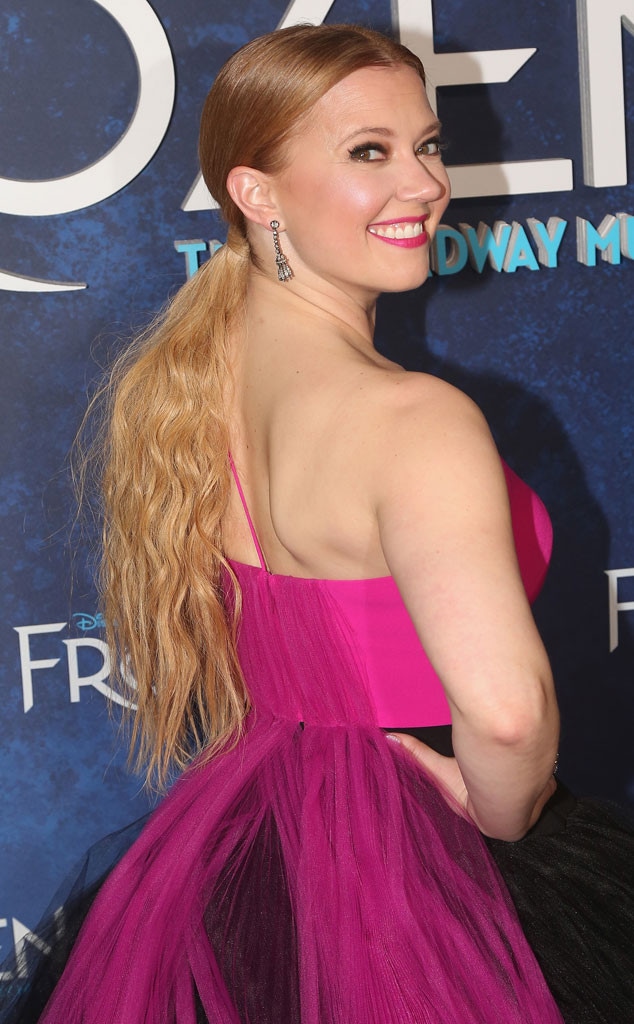 Bruce Glikas/Bruce Glikas/WireImage
Patti Murin knows the power of Twitter.
Murin, who originated the role of Princess Anna in Frozen on Broadway, is a regular tweeter. She's all in for ABC's Bachelor franchise, and last year she became intrigued by, and then obsessed with, Hallmark Christmas movies. And just like the world, she turned to Twitter to share her love. But unlike the rest of the world, her tweets got her a role in one.
"It's literally how it happened," Murin told E! News.
Murin said she was always aware of the Hallmark holiday movie tradition, and once she started watching, she understood.
"For some reason last year, I just decided to hop on the tweeting bandwagon 'cause it seemed like more and more people were tweeting about it," she said, noting she discovered a lot of people at the theater were all watching, unbeknownst to each other.
"And I just started tweeting and it kind of went from there," Murin explained. "Obviously, I love these movies, I want to be in one."
Thanks to her role in Frozen, Murin—and her tweets—got on the radar of producers and executives. "They were like, 'All right, well there's one shooting in Connecticut next month.' And I was like, 'Oh, OK great,'" she said with a laugh.
That's how she found herself in Holiday for Heroes. In the movie, café owner Audrey (Melissa Claire Egan) and a solider Matt (Marc Blucas) begin corresponding over the magic of Christmas coffee. They exchange letters for a year before meeting in person, around Christmastime, and you can guess what happens from there. Murin plays Pam, an employee of Audrey's who is delightfully quirky in the exact way you'd expect a best friend and side character to be in a Hallmark Christmas movie. Originally, there wasn't much there for Pam to do, but through collaboration with director Clare Niederpruem and executive producer Maclain Nelson, the character grew.
"[Clare] was this little tiny spitfire. It was so amazing to watch her work, especially in, honestly, a room that was mainly full of men, and just make it all happen while she was calm but strong. And she and Maclain just let me take whatever I had and kind of apply it to [Pam]. By the end it was almost like we developed her character as it went on. But it was very clear in the beginning that it was like, oh, I'm just going to take this line and kind of make it funny, or make it quirky, you know? So that was actually really fun. That was a fun sort of little challenge of, like, you take the three-word line and then you're like, 'OK, I can make that into something that's not just these three words.' And then by the end they were actually writing in more lines for me and stuff for the final scenes. So that was very nice too, because it was like, 'Oh, they do like me,'" Murin laughed.
There was a time when being in a Hallmark movie was considered a step down by some inside and outside the industry. That's changed. Murin said Hallmark has done an "amazing job" of giving work to talent, especially actresses, over the years.
"And they just work constantly on the Hallmark Channel and they do good work and they get to do different stuff... You just do so many different movies, it's like being on a TV series and every single time you get to play a new character. And honestly, they treat you so well and they are so kind, and they just hire the best of the best," she said. "I really do feel like there was a stigma that was sort of attached to it. Now everyone's like, 'Oh, wait a sec, wait a second,' because you're doing what you love and you're doing it in a really great, quality environment. And, also, the movies and that channel get more viewers than so many other programs that are out there. So, like for me it's a no-brainer, like, yeah, of course, absolutely."
With her Hallmark goal accomplished and her time in Frozen coming to an end, Murin is now looking toward the future.
Theo Wargo/Getty Images for Tony Awards Productions
"I'm looking forward to doing more writing in whatever form that is, I don't really know yet. Whether it's writing pilot scripts a book or just more blogs. More tweets is probably the likely immediate answer," she laughed. There are also some yet-to-be announced concerts, Murin teased, time with husband Colin Donnell and their pups, and the upcoming TV pilot season she'll be readily available for for the first time in years. That's not to say another stage musical is out of the question.
"You know, if the most amazing thing came up, the best thing that can happen, I'd be like, yeah, sure. I mean if you'd asked me six months ago, I'd be like, 'I'm never doing another musical ever again. It's too hard.' But now I'm sort of in a different mind frame of what's next? And I'm like, 'Oh, it would be really fun to do another musical,'" she laughed. "You know what I mean? I'm excited to get back into a development process, to take part in the readings and the workshops and the sort of stuff I wasn't really able to do with the role this size. I just couldn't extend myself that far and still actually show up for work every night and put on a good performance. So, I'm excited to kind of get back into that ground level thing, the exciting part of building it again."
Holiday for Heroes airs Friday, Nov. 8 at 8 p.m. on Hallmark Movies and Mysteries.