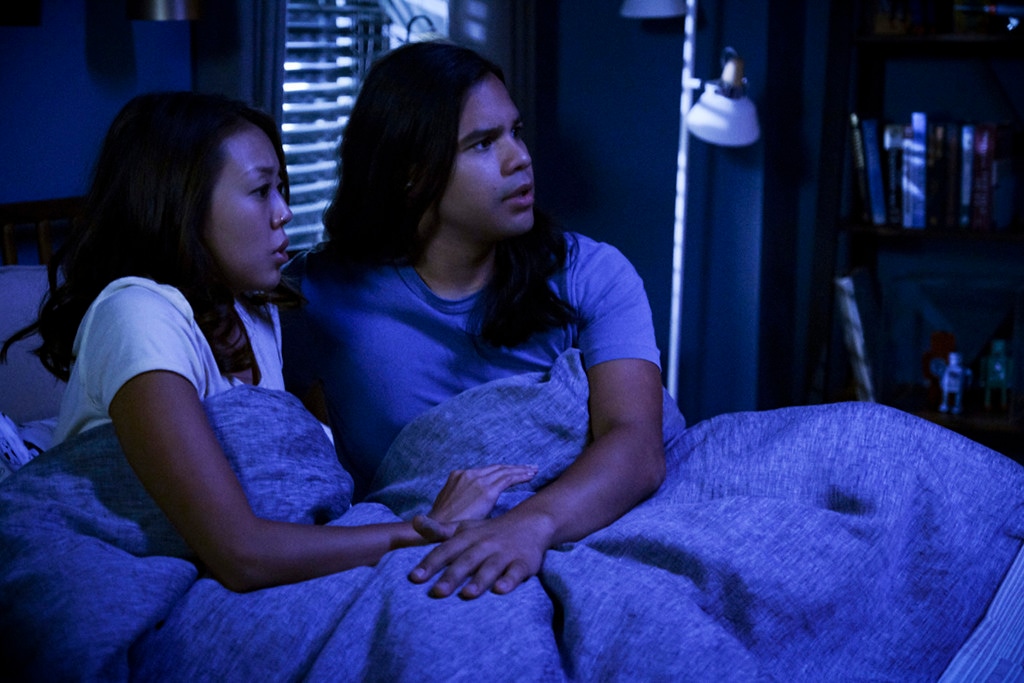 The CW
What a night for Cisco Ramon (Carlos Valdes). 
Just while he was coming to terms with the fact that the Flash is going to die and he's next in line for team leader, he suddenly found his own past showing up in an extremely unexpected and tragic way. Breacher, the dad of his ex-girlfriend Gypsy, arrived with news that Gypsy had been murdered, and that he thought Cisco was responsible. 
After some investigating, Cisco also thought this, but it turned out that Gypsy was murdered by Echo, an evil Cisco from another earth, and it was up to regular Cisco to outsmart him, which resulted in Carlos Valdes having to fight Carlos Valdes. 
Originally, Valdes told us over the phone, Echo was going to be a much more specific kind of villain until things changed at the last minute, literally the night before the episode was to begin shooting. 
"The previous version of this character was definitely more of a take on toxic masculinity, so we really tried to vilify that as much as possible. But I think that the writers, after stewing on it for some time, thought that that was too big of a risk to take," Valdes explained. "We have a big responsibility with a show like this, knowing that we have a sizable young audience watching the show and as much as we want to be able to tell stories that I think are important to tell in this time, we also don't want anybody to get the wrong impression. So I think it's tough to perfect that balancing act, so I think what we ended up settling on for this villain was more appropriate." 
Echo, as we met him in tonight's episode, used Cisco and Gypsy's relationship to get to her, making her think that Cisco was the one who was killing her, which made her hesitate just long enough for Echo to get her. 
He operated under the idea that Cisco couldn't outsmart him since they are essentially the same person, but Cisco managed it anyway, after they literally had to fight each other in one of the show's more grounded fight scenes, since nobody's got super powers. 
"I think we're very lucky to have the stunt department that we have, because they're the ones that made sure that it looked good, that it had the sort of gravitas that it needed, because you know...neither of these characters have special powers," Valdes says."It's really just a straight up brawl." 
It's also a straight up brawl between two men who are, in a lot of ways, the same person, who through that butterfly effect that separates all the doppelgangers in the Arrowverse, have gone on wildly different paths. 
"I think that, you know, Echo is an extension of that ideology," Valdes says. "And I think it's, it's a beautiful one because, you know, he's seen a tortured person and who knows what kinds of pain he experienced in his life that would have led him down that path." 
Cisco's dealing with the death of his ex and the discovery of an evil doppelganger at a particularly difficult time in his life already, in the face of the upcoming Crisis on Infinite Earths that might lead to him having to lead Team Flash alone, and Valdes says this story (which all happened while Barry was on vacation) was a pretty good test for Cisco's problem-solving abilities. 
"I think this is a perfectly timed story, a conveniently timed story, if you will, because I mean, you know, put yourself in Cisco shoes: Barry just told you that he wants you to be team leader and you're sort of trying to navigate your own personal feelings about that and try to try to muster the strength to, you know, step up to that responsibility and suddenly your whole world is flipped upside down because your ex is murdered and then you have to solve the crime and then in your efforts to solve the crime, your ex's dad thinks you did it and then wants to kill you. And then you're all torn up, and then you find out that the killer was actually you, but a different you. It's a lot," Valdes says. "So I think in terms of Cisco being tested to be team leader, I think the challenges that are presented to him in this episode are I think more than enough to prove that he has the emotional strength to become team leader." 
Valdes says this experience give Cisco some maturity and emotional strength that he's "not sure he knew he had before." 
"Knowing that he has the resilience but also the vulnerability to be able to make those decisions, which is what he's going to have to do as team leader, I think that endows him with a little more of the confidence that he needs to take the mantle.
Plus, Valdes says, strangely enough, solving his ex-girlfriend's murder brought Cisco and his current girlfriend, Kamilla, a whole lot closer, just in time for everyone's worlds to be rocked by Crisis in just a few episodes. 
For more times that actors have had to play multiple characters in the same show at the same time, scroll down! 
The Flash airs Tuesdays at 8 p.m. on The CW.