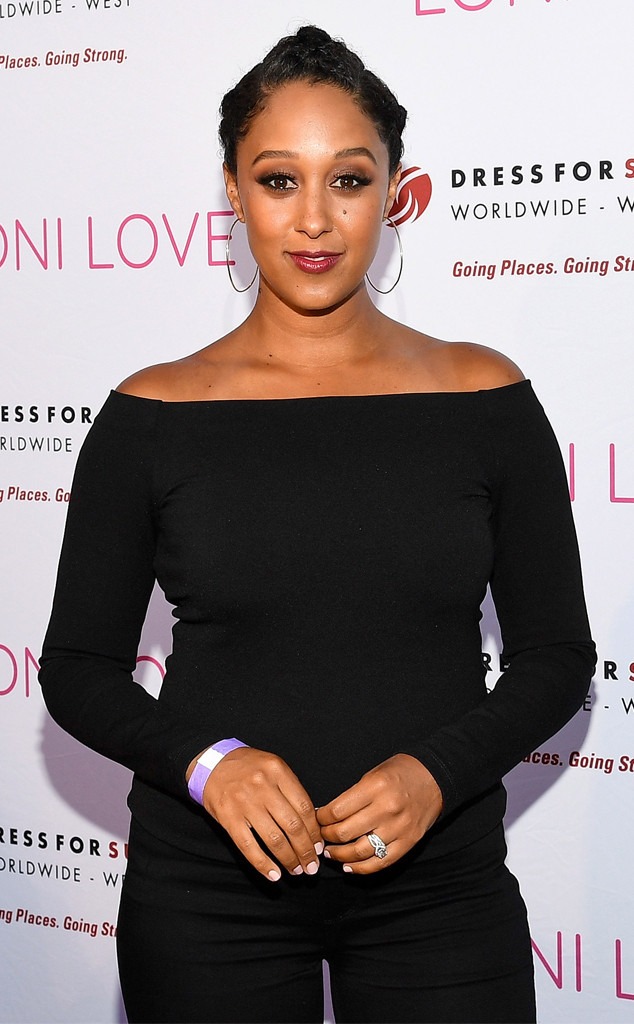 Michael Schwartz/Getty Images
Tamera Mowry-Housley knows what it's like to lose a beloved family member to gun violence.
One year ago today, The Real co-host learned her niece Alaina Housley was one of the 12 victims from the Borderline Bar and Grill shooting in Thousand Oaks, Calif.
"Our hearts are broken," Tamera and her husband Adam Housley shared in a joint statement to E! News soon after the news was confirmed. "Alaina was an incredible young woman with so much life ahead of her and we are devastated that her life was cut short in this manner."
While Tamera is the first to say she hasn't moved on from the tragic day, she's determined to make a difference for children and families across the country. In fact, she's using her voice to spark conversations and discussions about what Americans can do to one day end gun violence.
Two weeks after Alaina's life was cut short, Tamera returned to The Real where she immediately shared her new mindset.
"[Alaina] would want me to be here and she would want me to move forward," Tamera shared on her talk show with co-hosts Jeannie Mai, Loni Love and Adrienne Bailon. "I don't like to say move on because I don't think I'll ever move on with the fact that she's not here with me or with our family. But she would want me to move forward and to use her voice as a catalyst for change."
Throughout the past 12 months, Tamera has continued to address gun violence in a variety of segments on The Real.
Back in September, Sandy Hook Promise went viral with their "Back-to-School Essentials" video. During a segment of "Girl Chat," Tamera expressed disappointment about the lack of change in our country.
"We have a massive shooting, thoughts and prayers are followed and then you see Facebook debates. Then everyone forgets. Then Congress does absolutely nothing. We hear crickets chirping. Then the cycle happens again," she explained. "I'm over it. I feel like it should be every American's concern right now. I don't want to get to a point that it has to happen to you that your family's sensitive on the subject."
Tamera continued, "The hardest part is when the whole world moves on but you're still dealing with it."
During her shows, the Sister, Sister star has brought awareness to organizations like Everytown for Gun Safety and Mom's Demand Action. In fact, Tamera helped launch a foundation in Alaina's honor called Alaina's Voice.
The organization's mission is to inspire hope and kindness in our communities through education, music and mental health initiatives.
"It's obvious that we need change when it comes to gun violence. I don't care if I have to knock on the doors of the White House to do it, to advocate for change," Tamera proclaimed in an episode of The Real. "I believe that it starts from within. Our country is sick. It's diseased. It needs healing. It needs healing from within."
She continued, "We should never have to fight for the safety of our children. We should never have to fight for that. That should just happen out of your heart, out of human decency. I feel that if we talk to our representatives and talk from that place, just maybe, maybe we'll be able to move forward. And if it's up to me, I'll make sure it happens."
And as Tamera continues to have her voice heard, she hopes fans and followers will not forget about the innocent victims like Alaina.
During her freshman year of college, Alaina and her friends were simply hoping to enjoy a night of country music and line dancing when they arrived at the Borderline Bar and Grill. The night would ultimately end in tragedy.
Those close to Alaina remember her as the girl who coached children, volunteered to serve veterans and "helped everywhere" she could.
In several Instagram posts, Tamera can't help but admire her giant smile, giggles and love for her family.
"I miss the way you would so gracefully scoop up [my kids] Ariah and Aden, and the way you took their hands and walked away to play. You had a heart pure with love and kindness," Tamera shared on social media. "Oh what this world needs more of now. My children loved you. I loved you. I know I have a guardian angel with me now."
And perhaps Alaina knows she has a family ready to bring about change anyway they can.
"While we're helping these gun laws and trying to make that happen, before we can even get a consistent national gun policy, we have to understand that we as a country and as a society are at a crossroads," Adam said in a statement that was shared on The Real. "The hatred, the judgment, the polarization and the lack of heart. We are going to make a change I can guarantee it and Alaina is with us as we do this."