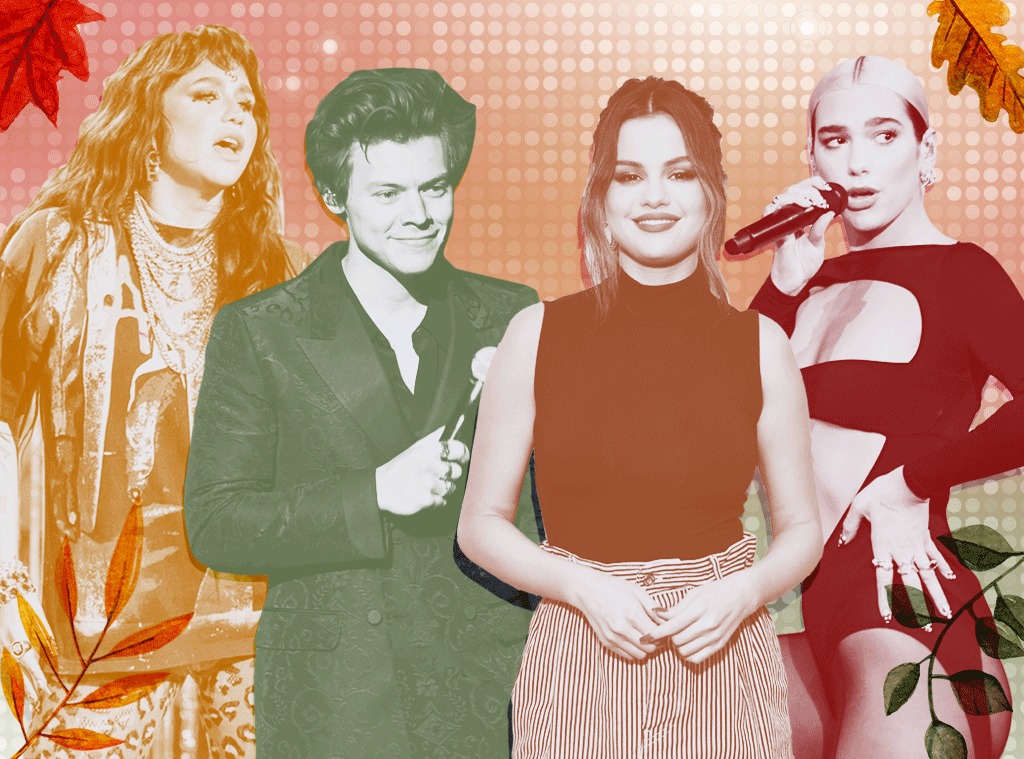 Getty Images/E! Illustration
Do call it a comeback.
While some of the biggest stories in music this year have come courtesy of deserving newcomers or breakthrough talents like Lil Nas X, Billie Eilish and Lizzo, the concept of the celebratory pop music return has been alive and well in 2019 thanks to long-awaited releases from the likes of Avril Lavigne, the Backstreet Boys, Madonna and, most notably (and successfully), the Jonas Brothers.
And it's that narrative—the one of the beloved pop act making their highly-anticipated and, in some cases, oft-delayed return—that remains the dominant one as the year comes to its eventual close, making fall the season of the pop music comeback.
The comebacks were set into motion almost as soon as summer segued into fall, beginning with the indomitable Celine Dion, who announced back in April that her first English-language album in six years (and since the tragic deaths of her husband Rene Angelil and brother Daniel, both from cancer and only two days apart, in 2016), released three songs from the aptly titled Courage, due on November 15, on September 18. 
"I think I went through a lot. And life had given me the tools… to find my inner strength, to find courage, and to keep going," Celine said of the new album back in April during a fan event. "The people that I love so much embraced the moments that were difficult. They gave me so much strength. And then a song came that was called 'Courage,' and it didn't take long for all of us to say, 'I think the album should be called Courage.'"
September also saw Niall Horan, two years removed from his successful debut solo album Flicker, kick off his new era by announcing the imminent release of his still-untitled sophomore album's lead single, "Nice to Meet Ya," as he teased the new LP (date still TBD) on Twitter. "I'm laying here listening to songs from my new record and I'm so excited to get going," he tweeted. "Can't wait for you to hear the fun I've been having over the last year."
But it wasn't until last month that the comeback floodgates really burst wide open with no fewer than six fan-favorite artists announced their impending returns to the scene and then began teasing out said returns, beginning with Niall's former One Direction bandmate Harry Styles. Like Niall, Harry also has two years between him and his lauded solo self-titled debut. Unlike Niall, however, Harry's formal return arrived with little warning, aside from a delightful Rolling Stone cover in September, with lead single "Lights Up" getting the surprise drop on October 10. For nearly a month, Harry, who is set to pull double-duty at host and musical guest on Saturday Night Live on November 16, kept details about the forthcoming album under wraps before announcing on social media on Monday, Nov. 4 that Fine Line will be released on December 13.
After Harry, the perennially elusive Frank Ocean made a surprise drop of his own with "DHL," his first new piece of original material since 2017, on October 19. He's since dropped a second track, "In My Room," while teasing three others on his website, giving fans everywhere hope that the full-length follow-up to 2016's Blonde is, at long last, on its way.
In what proved to be a thrilling week for music fans, days later saw the returns of not just Selena Gomez, who dropped "Lose You to Love Me," the emotional Justin Bieber-referencing, long-awaited lead single from her forthcoming third solo studio album that just became her first No. 1 on the Billboard Hot 100, on October 23 and the slinky dance track "Look at Her Now" a day later, but Kesha and Coldplay as well.
Kesha's drop, the rollicking dance track "Raising Hell" featuring a vocal assist from Big Freedia, made good on the wildchild's promise to return to her bombastic ways after a somewhat sojourn into solemnity on 2017's healing Rainbow for her forthcoming High Road, due just after the turn of the year. Meanwhile, Chris Martin and Co.'s dual drop of "Orphans" and "Arabesque" to announce their upcoming two-disc project Everyday Life, their first since 2015's A Head Full of Dreams and due on November 22, hinted that the world's biggest band had appropriately big things in store.
And while Selena hasn't offered any details on when we can expect her new album, or what it might even be called, she did make a big promise to Ryan Seacrest on his radio show while promoting her new material. "All I know is these two songs were me wrapping up a chapter in a pretty little bow and the rest of the album is all about where I am now and where I'm going," she said. "So, in my opinion, these are great songs, but I've saved the best for later."
As if those three major returns weren't enough, October 25 also saw the one and only Kanye West finally release his oft-delayed Christian rap album Jesus Is King. It was a big week.
Before October could come to a close, pop princess Dua Lipa wanted to get in on the fun and unveiled the first taste of hew new era on Halloween, releasing "Don't Star Now," the disco-kissed lead single from the untitled follow-up to her smash hit self-titled 2017 debut album. "I chose to put this song out first so I could close one chapter of my life and start another," she said in a statement announcing the bop. "Into a new era with a new sound! It's about moving on and not allowing anyone to get in the way of that. It also felt like a natural first song choice as I made it with the brilliant same crew I made 'New Rules' with." While details on the album are being kept close to the vest, we hope to hear more from Dua before the year is out.
And then, of course, there are the rumored returns. You know the ones, you've probably read about them on unverified tweets, promising new singles from the likes of Adele, Lady Gaga and, as always, Rihanna. While new material from anyone in this talented trio would be absolute music to our ears, we're not holding out breath just yet. Sure, where there's smoke, there's often fire, but we've been burned one too many times before, so we're taking a wait and see attitude.
Either way, this fall is shaping up to be one of the biggest music seasons in recent memory. And we couldn't be happier.