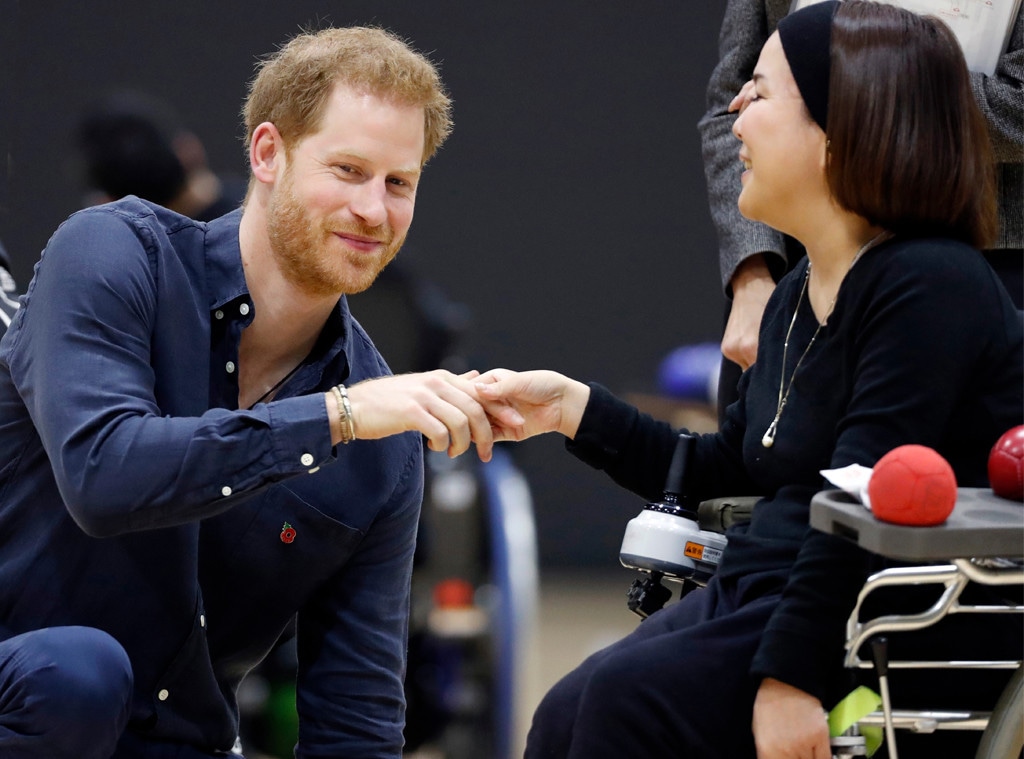 Shuji Kajiyama/AP/Shutterstock
The youngins are making Prince Harry blush during his visit to Japan. 
This weekend, the Duke of Sussex visited Japan to attend the 2019 Rugby World Cup Final between England and South Africa on Saturday, Nov. 2. But before heading off the rugby match, Harry made a pit stop to the new Para Arena training center where he met with Paralympic hopefuls. Additionally, Harry also met and hung out with a group of local schoolchildren where he posed for a picture with them holding up the flag of England. 
And while Harry was posing for a group photo with all the young students, it looked like one of the young girls beside him commented on how handsome he was. 
In the short clip shared by The Royal Family Channel on Twitter, Harry is seen playfully pointing to his ring finger and saying, "I'm married!"
As soon as Harry is seen walking away, the entire group of students broke out in laughter. 
Not even they can deny Harry's charms and great looks! 
Before the Rugby World Cup match, the Duke met with local Paralympic hopefuls as they participated in training sessions that included wheelchair rugby, boccia and powerlifting. He joined in on some of the training sessions. 
"This was especially meaningful to His Royal Highness, who five years ago founded @WeAreInvictusGames—which uses the power of sport to inspire recovery and support rehabilitation of wounded veterans who have physical or mental injuries. Japan is the first-ever country to host two Paralympic Games! Next year Tokyo will welcome over 4,000 athletes from around the world, creating a huge opportunity to help celebrate and promote diversity," the Instagram caption read. 
He even discovered that a couple of the athletes were rooting for England's opponents. 
While England did not take home the Rugby World Cup (England lost 32-12), Harry gave South African president Cyril Ramaphosa a congratulatory hug. Talk about good sportsmanship!
In another Instagram post, Harry wrote: "Tonight was not England's night, but the whole nation is incredibly proud of what @EnglandRugby have achieved over the past few months. Hold your heads high boys, you did an outstanding job and we couldn't have asked more from you. To the whole of South Africa - rugby unites all of us in more ways than we can imagine, and tonight I have no doubt that it will unite all of you. After last month's visit, I can't think of a nation that deserves it more. Well done and enjoy!"
Following the match, Harry also congratulated the rest of the South African team and he even shared a beer with the players as he posed for pictures. 
Harry also gave a brief speech and told the South African team, "Congratulations, that was outstanding. I genuinely that rugby has the ability to unite everyone around the world."