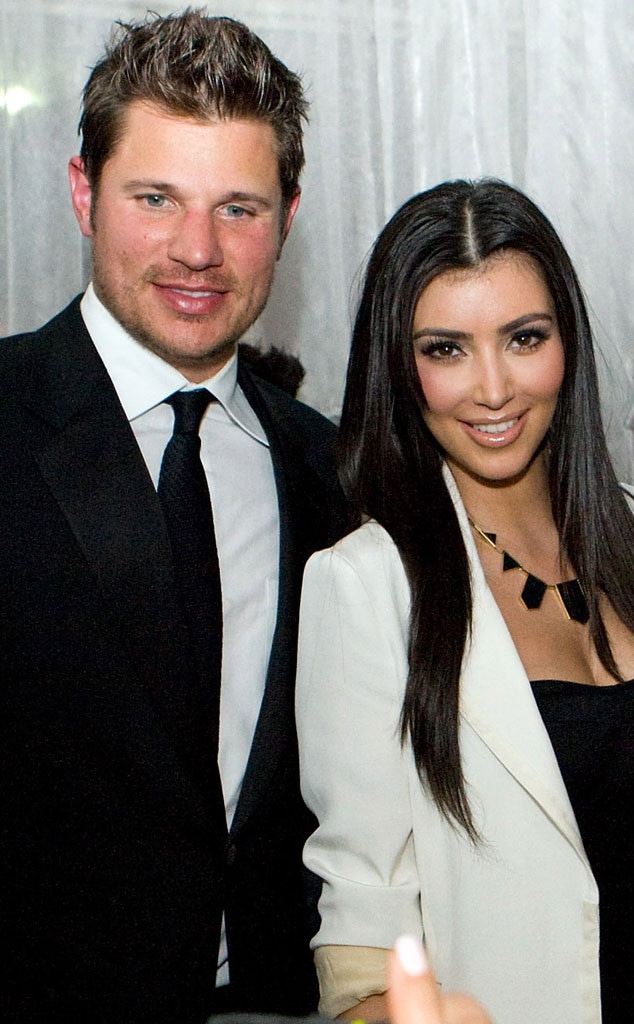 Joey Foley/WireImage
Nick Lachey wouldn't call Kim Kardashian his "ex." 
The 98 Degrees boybander and former Newlyweds reality star took a trip down memory lane on Thursday night during an interview on Watch What Happens Live With Andy Cohen. Among the fan questions was: "Did you ever hear from your ex Kim Kardashian when you and Kelly dressed up as her and Kris Humphries on Halloween the day they announced their split?"
Lachey proceeded to unpack that question, noting, "To say that she's my ex is a little bit of a liberal use of the term." As he recalled, the two went on one date together to see Ron Howard's The Da Vinci Code in 2006, the year of his solo hit, "What's Left of Me." 
"She left about halfway through and went to the restroom and then shockingly there were 25 paparazzi when we left the theater," he told Andy Cohen. "I think there were other things in play on our little rendezvous."
While the singer has his suspicions, he also had nice words for the reality star. "Couldn't be a nicer girl, had a great time, but no we don't keep in touch anymore."
So, when he and Kelly Ripa dressed up as Kardashian and her then-husband Kris Humphries for the Halloween episode of Live years later in 2011, the same day she announced her divorce from Humphries, no, Lachey didn't hear from her.  
"She doesn't call me and complain about me playing her on TV or anything," Lachey quipped. 
Another topic fans like to ask Lachey about is his famous reality show with ex-wife Jessica Simpson, Newlyweds. While the marriage is no more, the performer found a silver lining in the show. 
"That show gave me a chance to kind of show who I was because when you're in a band a boy band, nobody really knows who you are as a person, so although that chapter of my life is obviously closed, the show gave me a great platform to kind of say, 'Hey, this is who I am,' and got a lot of fans to this day because of the show," he said. 
However, he's not exactly sitting for marathons of it at home with his wife Vanessa Lachey and their three kids. 
"It does fascinate me though—it's been 15 years I think…people are still thinking about it like it was yesterday," he pointed out. "We don't sit around and watch it at the house as you can imagine. It's not family viewing."
And, if you were planning on quoting Simpson's famous Chicken of the Sea comment the next time you run into the Lacheys on the street, well, don't. As he put it, "That's a buzzkill."
(E! and Bravo are both part of the NBCUniversal family.)