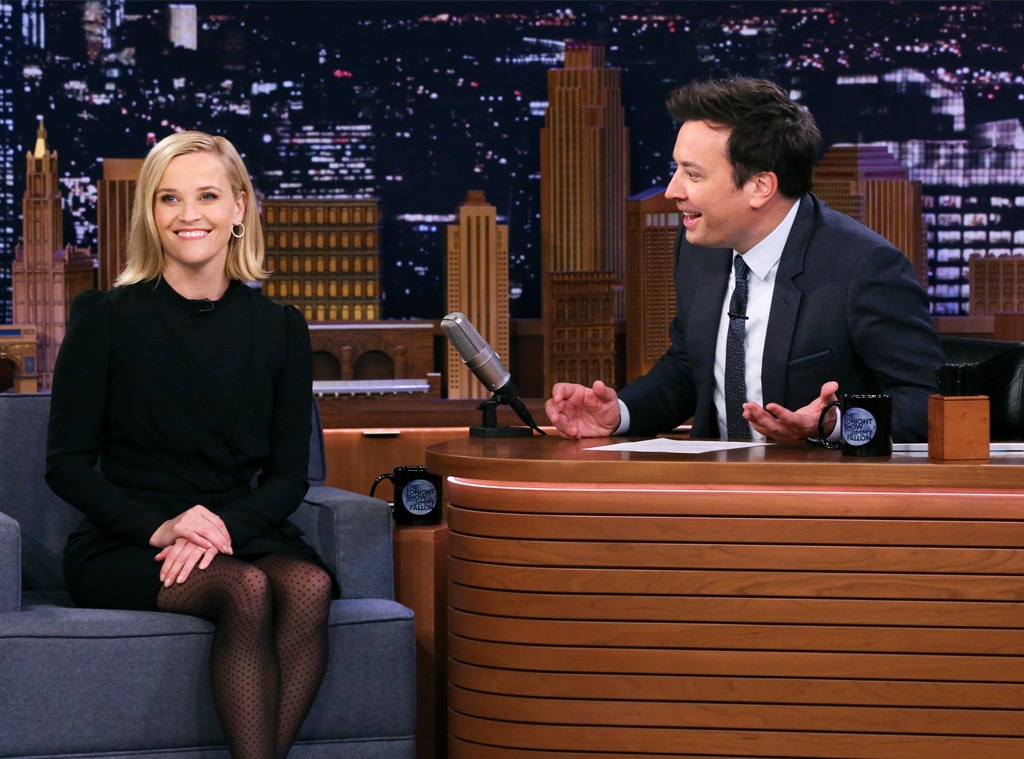 Reese Witherspoon isn't a regular mom, she's a cool mom!
Earlier this month, Reese made her TikTok debut with the help of her 16-year-old son, Deacon Phillippe. Now, she's keeping her cool mom status by hitting "The Woah." For those of you who are not in the know, hitting "The Woah" is a viral dance challenge where dancers make a quick circular motion with their fists and lean into a freeze position at the beat drop of a song.  
The mom of three showed off her moves on The Tonight Show Starring Jimmy Fallon and schooled host Jimmy Fallon on the latest dance craze. "Do you know how to hit 'The Woah?'" she asked Jimmy. Unimpressed by the late night host's attempt at the "Woah," Reese took it upon herself to show him how it's done. "It's like you're driving a car," she said. "That's how you hit 'The Woah.'"
After her quick dance lesson, the duo played a hilarious game of "Can You Feel It" together, putting their senses to the test. Reese and Jimmy were each given mystery objects to identify by sticking their hands into boxes—and it's safe to say that things got weird pretty fast. 
Reese also opened up about The Morning Show, which will be available to stream on Apple TV+ starting Nov. 1. "It's very cool and it's very topical and funny," she explained. 
In addition to starring in the upcoming show, Reese also serves as one of its executive producers. When asked what inspired her to get into the producing side of the industry, the Big Little Lies actress said all it took was one bad script. 
"I read a really crappy script," she recalled. "And it got me so mad. I was like, 'This is the worst script I've ever read in my entire life.' It was, like, 8 years ago and I was like, 'I don't want to do it.' And I called my agent and I was like, 'I'm not doing this, it's terrible.' It's like the girlfriend, she was dumb and she had no point. And my agent said to me, 'Every woman in town wants this part.' And I thought, 'If this was the kind of stuff that's in Hollywood, like I have to start making my own stuff.'"
(E! and NBC are both part of the NBCUniversal Family.)