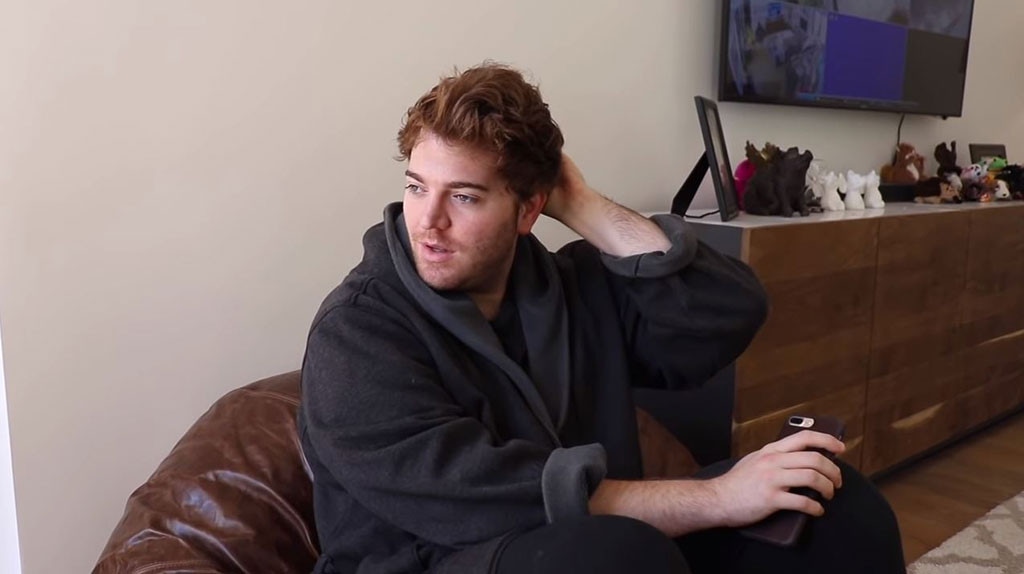 YouTube
There's never a shortage of drama when it comes to Shane Dawson and Jeffree Star.
Between feuds with other vloggers and cosmetics robberies it seems like it's always Shane and Jeffree against the world. But this time around, in the latest installment titled "The Failure of Jeffree Star and Shane Dawson", they're the ones butting heads.
The video starts off with Shane revealing he's making some lifestyle changes in order to improve the overall quality and health of his life, in addition to feeling more confident as he enters the world of beauty. This means that he's introducing frequent workouts, washing his face on the daily and, more importantly, ending the self-deprecating way he talks about himself. 
That feeling of progress and success is seemingly carried in to the office, where they see the mock-ups of their palette. Sitting before them is the packaging covered in black and white hypnotic swirls, which elicits exclamations of "what the f--k" from Shane.
Everything appears to be amazing Shane, until he suddenly tells them, "It's giving me Hot Topic." Not exactly a glowing recommendation. 
"After we left Jeffree's office, like the Conspiracy palette wasn't there. It just wasn't what we—I don't know. I just didn't have a good feeling about it," Shane later explains to Andrew. "Then it kind of got really frantic. It was definitely like, 'Uh oh.'"
Pressure continues to mount when the design team reveals that they only have one more meeting until they have to nail down the design. In other words, they're running out of time. 
"I am not liking the front of the palette. It's just not there. I'm not gagging, I'm not like, 'Wow,'" Jeffree says. This declaration from the head of Jeffree Star Cosmetics has everyone in the room looking tense, especially with their deadline fast approaching.
With the room reaching it's boiling point, Jeffree and Shane head to a separate office for a little pow-wow, where Jeffree can finally come clean: "I didn't like them either. I was waiting for your response and then I was going to tell you I hated it."
At the end of their discussion they agree that the problem is the palette shape and design that Shane chose, something that he now wishes he could "go back" in time to change. 
"I don't want to push you to do something, right? When you picked this, I was actually a little shocked," Jeffree announces in front of the entire room. This shock was evident on Jeffree's face in a clip that showed the moment that Shane picked the rectangular design (see above). 
Jeffree adds, "We're down to the f--king wire... I'm mad at myself for not pushing the pyramid."
So Shane, who's feeling the heat from the boss, responds, "Literally, next time just spit in my face. Just say, 'You're stupid.'"
Meanwhile, as that disaster unfolds, Shane and Jeffree begin to mentor Shane's fiance's sister, Morgan. The aspiring influencer/YouTuber is facing a bit of bullying at the hands of other influencers, to the point where she considered getting free lip injections.
This, sadly, is something that Shane and Jeffree have experienced in their career. Those experiences make it easy for them to tell Morgan to avoid going down the path, because they believe that more often than not, "a lot of those people get those things because they're trying to mask what they're feeling inside," Jeffree explains. 
Plus, Jeffree's had botched procedures and knows that the free lip filler isn't worth the misshapen pout. 
Watch:
YouTube Star Shane Dawson Is Engaged
And that's where they leave viewers wanting more—at least until tomorrow when the sixth part of the series drops and the final product is revealed in all its glory. On his Instagram Story, Jeffree says that part six is going to be a "f--king rollercoaster."
He also reveals that there was slight tension behind the scenes when "at the final hour Shane switched up a lot of ideas." But he insists that he's "grateful" about the way things went down because "everything that came out of Shane's mind is so genius."